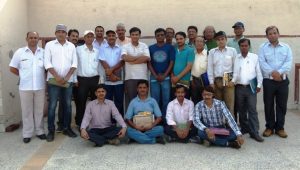 I never asked myself whether journalism is a mission or a profession for me. I never felt the need for it. So also, the question of what FORWARD Press meant to me never flashed through my mind. When you are running at a fast pace without a moment's rest, things sweep past you and get so intermingled that it is neither possible to see them in isolation nor do you have the time for it.
But as many people are looking back in this issue of FP, I also felt the need for doing so. When I look back, I find that I am first a journalist and a writer and only then something else. The choices which a journalist, a writer should make in his life, I have made the same choices. If I stand by the weaker sections of society, it is naturally my mission. What else can I do? I see my association with FP in the same way.
In the latter half of 2010, I came to Delhi for the second time with the intention of settling here. The reasons were personal. Prior to that, I had worked for many big and small newspapers and magazines in Shimla, Dharamshala, Jalandhar and Patna. They included small and medium newspapers like Bhartendu Shikhar, Gram Parivesh, Divya Himachal and Prabhat Khabar and relatively bigger ones like Dainik Bhaskar, Amar Ujala and Punjab Kesri. Premkumar Mani and I had launched an intellectual magazine called Jan Vikalp from Patna. My days at Jan Vikalp were intellectually very satisfying for me.
First encounters with FP
Today, when I look back at my passion for journalism, I find it strange. In 1999, I moved to Delhi from my city Patna to enrol in a BA course. I enrolled in Hansraj College but in the first year itself, I escaped to remote regions of Himachal Pradesh along with Saini Ashesh, an itinerant writer on the Himalayas to do some photojournalism. My formal education was sidelined and remained so for many years. Later, I quit these newspapers and went back to my home state where I began working for Prabhat Khabhar and acquired further degrees. But my desire for higher education remained unfulfilled. When I came to Delhi again in 2010, I was 30, which, in north India, is not at all considered a suitable age for education. But I felt that I needed a doctorate for doing what I was interested in apart from journalism and so I decided to go for it. Given my family's economic background, it was not difficult for me to quit journalism for a while and concentrate solely on education. But working only on my PhD was not acceptable to me. Journalism beckoned me.
When I was in Patna, Hindi poet Professor Surendra Snighdha had given me a copy of FP, probably a 2009 issue. I liked the magazine and declared to my friends that it was decidedly better than other intellectual magazines. What I considered most important was that besides intellectual content, it also had carried pieces meant for different members of the family – teenagers, women and the elderly. It mattered because generally, in the intellectual movements of north India, family life is out of public focus. This, when family is an important part of one's life, without which no effective movement can be complete. In south India, Periyar's followers paid attention to this aspect. Yet, very few people have taken note of this secret of his movement's success.
While in Patna, I had done a survey on the representation of deprived sections in journalism. It was published in the form of a booklet. I had mailed a copy of the booklet to the editor of FP. I also had a brief telephonic discussion with the then Hindi editor about it. Later, when he came to Patna on a personal trip we met. He talked at length about his personal affairs but did not utter a word about the magazine he was editing or about the booklet I had sent him. In those days, the booklet was much talked about. On the one hand, India Today (Hindi) and many other Hindi periodicals had carried reports praising it but on the other hand, Prabhash Joshi, the founder-editor of Jansatta, had rubbished it and had charged me with spreading casteism. At that time, Twitter and Facebook were not as ubiquitous as they are today and the world of social media was confined to blogs. Posts criticizing Prabhash Joshi dominated the Hindi blogs for many months, triggering a debate on the stake of the deprived sections in the media. But the FP Hindi editor either was unaware of it or was not interested. As a result, I then felt that this magazine was not for me.
At Forward Press
After I shifted base to Delhi in 2010, an unknown blog published a brief description of the survey in English. Shortly afterwards, I received an e-mail from Ivan Kostka, the founder and editor-in-chief of FP, seeking an article from me on the subject. I was surprised but did not reply as a lot had been discussed on the issue in the Hindi media and I was not at all in a mood to write anything more. Maybe my disillusionment with the magazine had something to do with it. Two months later, Dilip Mandal, a common friend of Mr Kostka's and mine, told me that if I wanted to do journalism along with pursuing my PhD, I should join FP. He also told me that Mr Kostka was in need of an editor to oversee the Hindi section. I remember that it was with great hesitation that I went to meet Mr Kostka. But after meeting him I was convinced that not only could I work with him but also that I should. Mr Kostka too, obviously, found me eligible and in May 2011 I joined FP.
Be that as it may, the democratic behaviour of Mr Kostka was a pleasant experience for me, used as I was to the feudal world of Hindi journalism. In my first interaction with him, I found him a first-rate journalist with an abiding interest in and curiosity about a wide range of issues. That wasn't all. We were on the same plane ideologically on most issues. His singular interest in Phule-Ambedkarism was also surprising. Additionally, he had a global aesthetic sense regarding the layout of the magazine and was up to date on the fast-paced developments in the cyber world and printing technology. This appealed to me greatly. Over the years, I have learnt a lot from him.   
But I also discovered that there was a major faultline between us. He is a person with great faith in Jesus Christ and he believes that he is motivated by divine inspiration in much of what he does. He is unwavering and insistent in his belief in God. For instance, he would say without any hesitation that my joining FP was not a coincidence but God's will! In contrast, I have never had any faith in any particular religion. For me, the launch of a magazine like FP was just a part of the continuous material process. Initially, during work, we also used to discuss these things. It was but natural that, having worked together for such a long time, we developed personal and family ties. Whenever I visited his residence, I found that FP had become his life! His deteriorating health and the fact that the FP was bleeding Mrs Kostka and him white made me wonder what the source of his strength was, what was it that was making him persevere so hard. And that is why, now, whenever Mr and Mrs Kostka pray for the families of their staff or for the welfare of Bahujans, I say "amen".
But I suppose they must be somewhat pained that I am not ready to acknowledge the power of faith; but I also sometimes wonder why they do not accept the truth of materialism. As I see it, this dialectics has been the strength of FP. We discussed this in great detail in the FP newsroom and came to the conclusion that with the advent of modern discourses, the Bahujan community is also caught up in a similar dialectics of different religious philosophies. The Kostkas and I have radically different views but we never tried to thrust our views on each other and neither did we allow them to affect the magazine in any way. We all had different ideologies and beliefs and belonged to different sects but we had a common objective – to put forth an example of journalism that does not consider only the news of atrocities committed on deprived sections worth publishing but gives priority to their traditions, culture, literature and their life-values. Many hurdles were put in our way as we tried to stick to these journalistic values. We had to face police repression and, many a time, we became the target of the ire of brahmanical forces. Our readers are well aware of these incidents and that is why I do not propose to go into the details. I have the satisfaction that we never came under the influence of any individual, corporate group or political party and never wavered from our chosen path.
Looking back, looking forward
As I put together this last print edition of FP, I am happy to recall that the magazine's newsroom and its columns were always informed with a grand intellectual democracy and we gave equal place to all views rooted in human values.
I also cannot but remember my old editorial colleagues, including Ashish Alexander, Nawal Kishore Kumar, Pankaj Chaudhary, Ashok Chaudhary, Amrit Chaudhary and Ramlagan, who, each in their own way, enriched the magazine. Sanjeev Chandan, Amrish Herdenia and Anil Varghese are still my colleagues in the editorial department and they will be part of our onward journey. Rajan Kumar, our designer, will be involved in the FP Books project. Chandrika Prasad, Dharmendra Chauhan, Hashim Hussain, Sohan Singh and Dhananjay Kumar helped run our office.
More than 100 people, including Birendra Yadav, Rajesh Machal, Ramprasad Arya, Abhinav Mallik, Sanjay Mann, Ashok Azad, Santosh Kumar, A.R. Akela and Upendra Kashyap, were associated with the magazine as correspondents in various places. You will see this team in the web edition of FP too. I need not name the writers who have contributed to FP. You all know them and they will continue to be with us. In fact, we shall be able to give them more space than in print and hope to present some of their regular blogs on the FP website.
1 June: Red-letter day for Bahujans
The web-exclusive edition of FP will be operational from 1 June. Thus when the last print edition is in your hands, we will be launching our web journal. It may be just a coincidence but we would like to remind you that on 1 June 1869 Jotiba Phule's Pavda on Shivaji Maharaj was published and then, on 1 June 1873, Gulamgiri (Slavery) came out. Ramswaroop Verma established Arjak Sangh on 1 June 1968.
Published in the final print (June 2016) issue of the Forward Press magazine