Forward Press has been reported on programmes held on Mahishasur Day and issues related to it and published books on them. Mahishasur is an ancestor and a hero of the Bahujans. In the tradition of honouring ancestors and heroes, there is no place for idol worship. That is why we believe that these events should take the form of resolution meetings that prohibit idol worship. For more about celebrating Mahishasur Day, see here: Mahishasur Martyrdom Day: Satiating your curiosities
Indigenous peoples are expressing their freedom. Adivasis are becoming culturally conscious and thus throwing away the yoke of the brahmanical slavery. All this is happening across the country. The cultural revolution that is taking place in the various parts of the country is engendering a sense of pride in the ancestors, ideals and heroes of the indigenous peoples. Bengal, which has established its distinct cultural identity, is not untouched by it.
This year, while the Savarnas worshipped Durga, Dalitbahujans remembered their own ancestor and hero Mahishasur. I was fortunate enough to get an opportunity to participate in such an event courtesy of my friend Susaman Chowdhury, who works in the Bhubaneswar Airport. He invited me to accompany him to Malda to take part in the events held in honour of Mahishasur. Our team of five people – I, my daughter, wife and Susaman Chaudhary –embarked on the journey.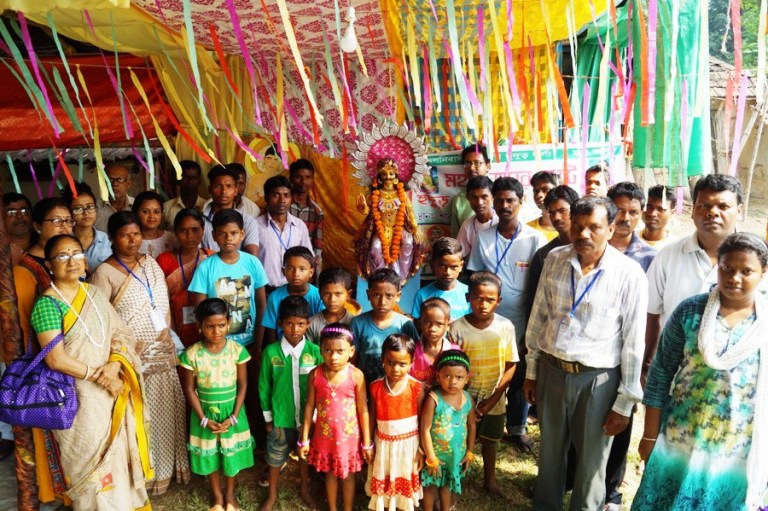 On our way to Malda, we passed several pandals of Durga Puja. The markets have turned the puja into a grand event. But more than the market it is a question of society. This is a society in which we all of us live. Our Constitution also supports diversity. Here, everyone has the right to follow their own traditions. However, Savarnas' tradition has enslaved the indigenous people. They observe Durga Puja (in Bengal) and Dussehra (North India) and celebrate of the slaughter of Mahishasur and burning of Ravana – the cultural icons of non-Aryans or Asurs.
Clearly, Savarnas have employed for centuries this effective method of enslaving the indigenous peoples by intruding on their cultural and ideological traditions. That is how Dalitbahujans became the slaves of the brahmanical system, forgetting its identity and self-respect in the process. By forgetting their own cultural heritage and by adopting the traditions of the upper castes, Dalitbahujans joined in the celebration of the humiliation and defeat of their own ancestors.
But I was glad to see the indigenous people becoming culturally conscious. The Santhal Adivasis of Malda district have taken a vow not only to reclaim their lost tradition, culture and heritage, but also to preserve it through a clear understanding of their enslavement by the upper castes. They have understood the entire conspiracy of the Brahmins, who build schools and indoctrinate naïve young students from Dalit families with the maxims of Brahmanism. This is done to ensure a systematic perpetuation and propagation of the brahmanical system and philosophy. Therefore, the indigenous peoples have decided to counter the brahmanical hegemony by opening schools on the tenets propounded by the likes of Babasaheb Ambedkar, Jotirao Phule, Periyar, Birsa Munda and Raghunath Murmu and teaching their children to walk on the path to freedom.
On 18 October, a group of 25 members of Scheduled Castes held an Asur Smaran Sabha (Asur memorial meeting) at the residence of Susaman Chowdhury in the city of Malda. David Das began the proceedings by introducing Hudur Durg briefly. Then, Baba Hansda, Ashish Roy, Pradeep Hazra, Nirmal Biswas, Sanatan Rishi, Kanai Lal Mandal and I also shared our thoughts. Plans for large-scale celebrations of Asur Day were discussed in the meeting.
In Malda, over the past seven years, a Bahujan group named Majhi Pargana Gawant has built a chain of about 20 schools, naming them after Pandit Raghunath Murmu. This has given an opportunity for the new generation of Tribals and Backwards to be educated and liberate their minds from the vice-like grip of the brahmanical system. Even more impressively, since the year 2012, the martyrdom day of the great Asur king Hudur Durga has been celebrated with great fanfare and pomp.
The success of this movement can be gauged from the fact that Mahishasur Day is not just being celebrated in a few public spaces but in the homes of the backward and tribal people. Now they revere their own ancestors, instead of the gods and goddesses of the upper castes. Last year, about seven hundred people publicly celebrated Mahishasur Martyrdom Day. Their numbers have swollen appreciably this year. Seeing all this, I am convinced that the foundation of a cultural reinvigoration laid by the movement of the indigenous peoples, is not only being strengthened, but assuming a national character.
I come from a the Namasudra family. Namasudras are Scheduled Castes, originally from East Bengal (now Bangladesh). I was born in Dhanbad, in then undivided Bihar. From 1986 onwards, I have lived and worked in Odisha. Therefore, I am adept in Bangla, Hindi and Oriya as well as in English. Bangla came in handy in Malda. I enjoyed talking to people who had gathered to remember their ancestor, Mahishasur.
This event took place on 18 October 2018, in which my family, my friend Susaman Chaudhary's family and the likes of Kanhailal Mandal and Rasik Chand Kisku were also present.
We first reached Shrirampur village, served by the Dhaladigi Post Office. Here, the Santhals held a function in honour of Asur king Hudur Durg on the premises of the Pandit Raghunath Murmu School. Here, for the first time, I garlanded a statue of Asur caste, my own ancestor. Meghrai Hansda, secretary of the local unit Majhi Pargana Gawant, said that this was the third time such an event had been held. On this occasion, Jayanti Madi, resident of a local village, sang a Santhali song dedicated to Hudur Durga (that is, Asur king Mahishasur) in her melodious voice and touched everyone's heart.
Dasain and Buaan are tribal dances in which men are dressed in women's clothing. It is believed that when Durga deceitfully kidnapped and killed Hudur Durga, the tribal men, dressed as women and carrying arrows and bows, searched for their king.
Majhi Pargana Gawant was the result of the tireless efforts of Charan Besra. He has resolved to fight against culture and traditions imposed by the Brahmanvadis. He efforts resulted in the awakening of the cultural consciousness among the Adivasis here. His ideas became reality in front of our eyes.
After celebrating Mahishasur Martyrdom Day here, we passed Balrampur, Ralghoutu, and Amridanga on the way to Chaknagar village. We reached our destination on the evening of 19 October 2018. We were witness to cultural resistance and avowed loyalty to ancestors in many of the tribal dances and songs that were part of the local custom.
Additionally, the youth enacted a part of the film Shudra the Rising. This performance was greatly appreciated. It was nice to see that the young men of the indigenous communities are now ready to take on the Brahmins on every front. Interestingly, in Chaknagar village, Durga Puja was also being held right next to this Asur function. However, people were more intrigued by the function held in honour of Mahishasur. On our way here, we had seen dozens of small, local Hudur Durga programmes.
The next day, 20 October 2018, the central committee of Majhi Pargana Gawant held a more elaborate meeting on the grounds of Kendpukur High School in Habibpur, Malda district. When we arrived at this meeting, we found that the arrangements were as impressive as for a meeting to be graced by a national leader or minister. On the way to the venue, guards carrying bows and arrows were deployed to regulate the movement of vehicles. There were separate access routes to the venue for men and women. Apart from the pandal over the main stage, there were several others too. They served myriad purposes: one was for registration, others had books, and one even sold herbal products. The event was punctuated by dance and song performances, which made me realize that our lost cultural identity was actually being re-established and reasserted right before my very eyes.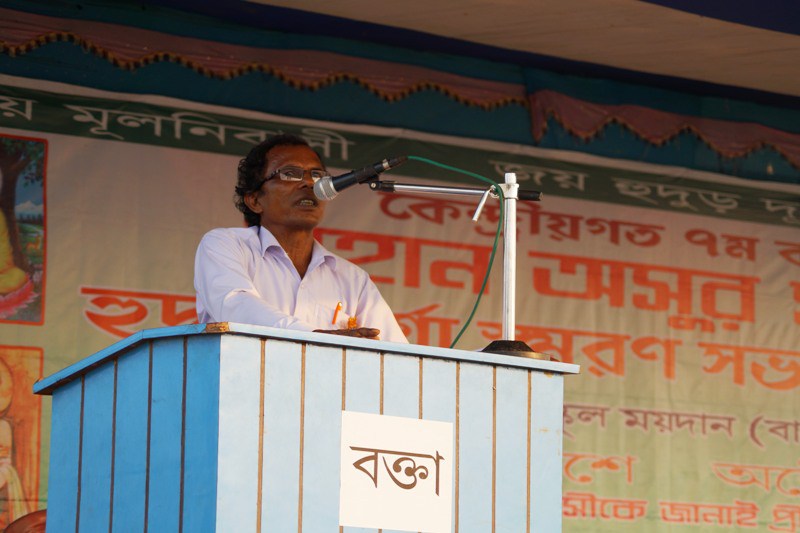 Rhetoric-laden speeches weren't part of the programme. Only the organization's chairman, Charan Besra, was seated onstage. Gaining access to him was a difficult task. After wracking my brain on how to get to him, I decided to bide my time and wait.
The venue was chock-a-block with a crowd of eight to ten thousand people. Apart from the Santhali community, members of Mahato, Rajvanshi and Namoshudra communities also participated in great numbers. I and my fellow travellers decided to sit down in one place and enjoy the cultural programme presented by the indigenous peoples. The cultural performances were followed by Charan Besra's speech.
He gave a lot of well-reasoned arguments and advice. He said, "If we have to fight the enemy, that is the brahmanical system, then we will have to return to our own culture first. We have started this movement by building schools to teach our indigenous children about our ideals."
Besra added: "We made an Asur our icon because the Savarnas will not co-opt him. They have always been presenting the Asurs as villains. They have not even spared Lord Buddha, have they? By putting him in the list of incarnations [of Vishnu], they have snatched Buddha from us." He called on the people to oust the Brahmins from power, which, he said, would ultimately cause them to leave the country itself.
Anil Hansda, editor of Majhi Pargana Gawant magazine, along with co-editors Mantu Murmu, Mrinal Kanti Tudu, Devtosh Hembram and Mohan Murmu played key roles in putting together this event.
At the end of the function, I finally met Besra. I thanked him and assured him that I would do my best to spread this movement that he had started, among the Santhalis of Odisha, where I live. Momita, who is researching Mahishasur in Oslo University, Norway, was also with us at the function. She was gathering information for her research.
Translation: Zeeshan Ali; copy-editing: Anil
---
Forward Press also publishes books on Bahujan issues. Forward Press Books sheds light on the widespread problems as well as the finer aspects of Bahujan (Dalit, OBC, Adivasi, Nomadic, Pasmanda) society, culture, literature and politics. Contact us for a list of FP Books' titles and to order. Mobile: +917827427311, Email: info@forwardmagazine.in)

The titles from Forward Press Books are also available on Kindle and these e-books cost less than their print versions. Browse and buy:

The Case for Bahujan Literature

Dalit Panthers: An Authoritative History

Mahishasur: Mithak wa Paramparayen