The health of democratic society can be gauged by the feeling of security experienced by the minorities. Similarly, freedom of expression is a measure of democracy in society. We see that India has been slipping on both counts. There have been observations that religious minorities are being relegated to second-class citizenship. Muslims and Christians have been feeling more insecure in the past few years. It's not that things were perfect for them earlier. "Security of religious minorities" and "freedom of expression" have been constantly undermined for decades, and this situation has reached its nadir since the Rashtriya Swayamsevak Sangh-powered, Bharatiya Janata Party (BJP)-led National Democratic Alliance came to power. As such, security of minorities and freedom of expression run parallel to each other.
This fact came to the fore yet again when Naseeruddin Shah, one of the living legends of Indian cinema, poured his heart out while mentioning the murder of Inspector Subodh Singh in cow-related violence in Bulandshahr, Uttar Pradesh. Shah was talking to Karwan E Mohabbat. This group, led by the indefatigable activist Harsh Mander, has been a humane response to the rising hate crimes. The group has taken upon itself to visit and show solidarity with the families of the victims of hate crimes, to try to put a soothing balm on their wounds of those having lost their dear ones. This remarkable gesture is steeped in compassion and love for the members of our diverse society.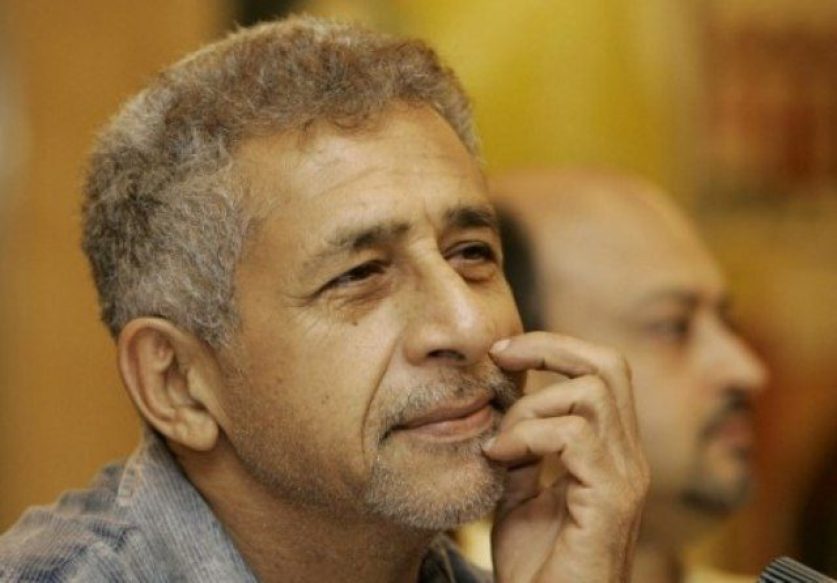 Shah said, "In many areas we are witnessing that the death of a cow has more significance than that of a police officer … I feel anxious thinking about my children. Because they don't have a religion… tomorrow if a mob surrounds them and asks 'are you a Hindu or a Muslim?' they will have no answer. It worries me because I don't see the situation improving anytime soon. These matters don't scare me, they make me angry." He likened the hate prevalent in society to a genie in a bottle that has been released and now may be difficult to put back in. He observed that the people have become emboldened to engage in violence as they know that they can get away with it.
In any society where love and amity are the norms, this statement from a citizen would have made the society introspect. Some of our progressive organizations, such as the Progressive Writers Association, released a statement in solidarity with him. While some other people like Ashutosh Rana also stood with him, Anupam Kher, his co-star in many films, ridiculed him saying that there has been freedom to throw stones on the army and freedom to bad-mouth top military officers, so how much freedom Shah wants? Uma Bharti, a Cabinet minister in Modi Government, said that people like Shah are part of the conspiracy of divisive politics. Baba Ramdev, the godman cum business tycoon, called him anti-national and some others went on say that he can go and stay where he feels secure! The Uttar Pradesh BJP chief called Shah a Pakistani agent. To cap it all, Shah was booed in the Ajmer Literary Festival and prevented from speaking.
It is not the first time a Muslim actor has been treated so shabbily. We recall that in 2015, when Shah Rukh Khan commented on the growing intolerance in society, he was compared to Pakistan's Hafiz Saeed. The same year, when a large number of writers were returning their awards in protest against rising intolerance, Aamir Khan shared that his wife Kiran Rao feared for their child. He was also told off in a similar vein.
What has been happening during the last few years? It is true that there has not been any violence in the scale of the 2002 Gujarat or Kandhamal 2008 or Muzaffarnagar 2013. What has been happening is that violence is becoming endemic and some ghastly individual incidents are coming to the fore. These frighten the Muslim community. Attacks on and disruptions of prayer meetings of Christians are making them feel unsafe. Cow-related violence, including Mohammad Akhlaq and Rakbar Khan's murders, has given the signals that food habits will be dictated by the foot soldiers of communal politics. To cap it all, those accused have been given recognition by people in the government: Union Minister Mahesh Sharma draped the body of the person accused in the murder of Akhlaq with the national flag and Jayant Sinha honoured men accused in another lynching case.
In Love Jihad-related violence in Rajasthan, Shambhulal Regar killed Afrazul in dastardly fashion and went on to share online the video of the murder captured by his nephew. Then, a committee was constituted to honour Regar. What is this divisive politics of which Shah is being accused by worthies like Uma Bharti? What is divisive? Propagandizing about Ram Temple, the cow or Love Jihad, or stating one's fears in the light of these massive violations of human rights? What had irked Shah most was that in the wake of the murder of the police officer in Bulandshahr there was more concern for the killing of the cow. The mobs spreading hatred towards religious minorities have been emboldened in the past few years. Shah's anger should be a wake-up call for the democratic spirit of our society – to try and put back the genie of hatred back in the bottle and discard the genie and the bottle.   
---
Forward Press also publishes books on Bahujan issues. Forward Press Books sheds light on the widespread problems as well as the finer aspects of Bahujan (Dalit, OBC, Adivasi, Nomadic, Pasmanda) society, culture, literature and politics. Contact us for a list of FP Books' titles and to order. Mobile: +917827427311, Email: info@forwardmagazine.in)

The titles from Forward Press Books are also available on Kindle and these e-books cost less than their print versions. Browse and buy:

The Case for Bahujan Literature

Dalit Panthers: An Authoritative History

Mahishasur: Mithak wa Paramparayen