Claiming inspiration and guidance from Waman Meshram, President of BAMCEF and Bharatiya Mukti Morcha, a group of Dalitbahujan activists announced the launching of a new political party. The announcement was made on 6 December 2012, Ambedkar's Mahaparinirvan Diwas at Garhwal Bhawan in New Delhi. Around three thousand activists resolved to work for the new party with the war cry of 'Jai Mulnivasi' (Victory to the original inhabitants).
RK Akodia, a former judge of the Rajasthan High Court has been named president of the party. The founders of the new party said that they were inspired by the Waman Meshram BAMCEF and the Bharatiya Mukti Morcha movements. "We will field at least 250 candidates in the 2014 Lok Sabha polls", they said. It was also announced that the new outfit enjoyed the good wishes of Meshram and would work under his guidance.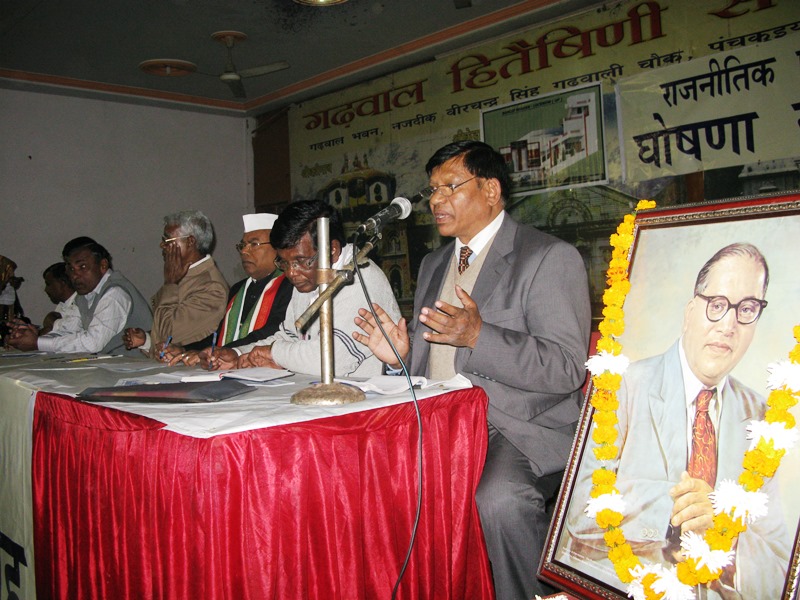 Addressing the function organised to announce the launching of the party, Akodia said that in the 65 years since Independence, India had become one of the poorest nations of the world. Barely three per cent of the country's population controlled 97 per cent of the land, water and other assets of the country while 97 per cent were forced to make do with only three per cent of the assets. He said that the new party's primary objective was to ensure that the exploited and Backward classes get their due share in power and resources and to bring the original inhabitants of the country to the centre of the national stage. Meanwhile, uncertainty surrounds the naming of the new party. Initially, it was decided to christen the party as Jansatta party. However, the Election Commission refused to register the name as it is already registered with the EC. Now, the party is scouting for alternative names. Be that as it may, BAMCEF's decision to float a political party has raised many eyebrows. Whether the new outfit provides a non-BJP, non-Congress political alternative to the Dalits and Bahujans of India or keeps its agenda limited to opposing the BSP remains to be seen.
Published in the January 2013 issue of the Forward Press magazine
---
Forward Press also publishes books on Bahujan issues. Forward Press Books sheds light on the widespread problems as well as the finer aspects of the Bahujan (Dalit, OBC, Adivasi, Nomadic, Pasmanda) community's literature, culture, society and culture. Contact us for a list of FP Books' titles and to order. Mobile: +919968527911, Email: info@forwardmagazine.in)