Ashok Das decided to launch his own magazine Dalit Dastak when he realized how casteist the mindset of media persons was. He is now the editor and publisher of the magazine. The magazine, which addresses Dalit issues and expression, has made its presence felt in the Hindi belt. Ashok Das also runs the web portal Dalitmat.com. He spoke to Yashwant Singh, the editor-director of Bhadas4media.com.  
I come from the Gopalganj district of Bihar. Today, when I look back and try to see what made me take up journalism, I feel that I was just setting out and doors kept opening before me. Journalism happened by chance. One problem with living in a small city is that the canvas of one's dreams also becomes small; that is because no one in our families or among friends dreams big. I was sure about one thing: I would not do a government job. This much I knew. When I realized that one has to do something in life, I decided three things. One, I did not want a job with a fixed salary; two, I did not want a ten-to-five job; and three, I wanted to do something in which I could soar as high as my abilities would allow me to. I did not want a life in which I leave for office at 10 in the morning, tiffin in hand and my wife waving bye-bye from the balcony, and then I come back from the office in the evening, have my meal and go to sleep. Some sort of restlessness always pervaded my being. I never applied for any government job. But yes, I did like writing.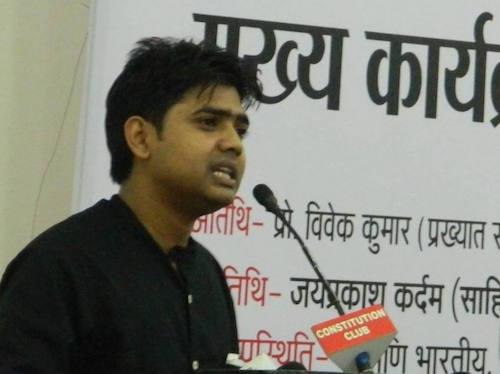 From my childhood, I enjoyed reading everything – from newspapers to books. I read every single book available in my district. One day, as I was flipping through a newspaper, something about IIMC caught my eye. I was an ordinary graduate and that was just what was needed for joining the institution. My elder brother Rajkumar, who lived in Delhi, sent me the application form. I filled it up. Till then, I had no idea of the prestige and stature enjoyed by the Indian Institute of Mass Communication (IIMC) in the field of journalism. I sat for the written examination in Patna. Some of the candidates had reached the exam centre in big cars. I cleared the written exam and was asked to come to Delhi for an interview. As I had never studied in a university, IIMC felt like a dream. I could not clear the interview. But I decided that if I had to study anywhere, it had to be IIMC. Writing was my hobby from a very young age. I used to vent my frustrations on the pages of my diary. It was something akin to an aspiring singer humming tunes in the bathroom. Then, I got admission in the IIMC the next year. That was the academic session 2005-06. This was how I became a journalist.
It is not that there was no discrimination in IIMC against Dalits. I had to face casteist biases, but the discrimination was very subtle – so much so that at times I could not even understand it. But today I realize how people discriminated against me. For instance, I felt that some "special" people were promoted and encouraged. There were also ideological groupings – like left-wing and right-wing, etc. At that time, I did not even know what ideology was all about. I learnt all this as I faced discrimination and slurs. I was subjected to what may be called "micro discrimination". The issue of caste continued to pester me while working in Amar Ujala and other media houses. After passing out from the IIMC, I got my first job with the Lokmat group. I was posted in Maharashtra's Aurangabad district. While I was there, I avoided confronting the issue of caste. I tried to skirt it by lying. I was always apprehensive, fearful. I started feeling suffocated. I felt that something in me wanted to come out but was unable to. Then, I got a job as a reporter in Amar Ujala (Aligarh, UP). My caste came back to haunt me. This time, I decided to hit back. Without beating about the bush, I straightaway declared that I am a Dalit. I remember that ten of us, all new recruits, were sitting together. They all were shell-shocked. I had created a stir. All of us were new to the place. We were planning to live together in twos or threes. But no one wanted to be my roommate. Ultimately, the editor had to intervene and I moved in with one of my colleagues. But after staying with him for a short while, I moved in with Shrinarayan Mishra. He was elder to me and somehow we had developed affection for each other. He was also ridiculed and scoffed at for letting me stay with him. But he sided with me. I also got great support from Mrityunjay Bhaiyya there. But when the time came for promotion, despite Shashi Shekhar, the editor-in-chief, having given his word to me, Giteshwar Singh, the editor, did not promote me. Shrinarayan Mishra was also penalized for sharing a flat with me. He was also not promoted even though he was the senior-most among us and the most competent, too. This was obvious discrimination – against me for being a Dalit and against Mishra for supporting a Dalit.
But I was not the one to take things lying down. I complained against my editor to Shashi Shekhar, who was stationed in Delhi. I challenged him openly before all of them.
Later, in a fit of anger and emotional outburst, albeit with my eyes on a bigger objective, I quit Amar Ujala. My heart was filled with rage. I wanted to react. Due to the direct and indirect discrimination I was subjected to for years, I was smouldering from the inside. This is how it happened. One night, after work, when I reached my room, I saw on TV scenes of Raj Thackeray's goons bashing up people from UP and Bihar. I found them disturbing. I decided to register my protest. I did not know whether my protest would have any impact but I did not want to keep quiet. I was dying to protest, I was desperate to shout at the top of my voice. This event gave me an opportunity and I decided to grab it. I went to the editor and told him that I wanted to do this and sought leave. He asked me to resign. I told him that I would not resign and that he could sack me if he wanted to. Then, along with four other students from Aligarh, I started going from one university campus to another for a signature campaign against Raj Thackeray. Prempal Singh and Amit Chaudhary helped me a lot in this venture. I spent around 20 days visiting Aligarh, Lucknow, Banaras (BHU), Gorakhpur, Patna, Meerut and Delhi (DU and JNU). Later, along with around five hundred boys, I took out a protest march from the railway station to Jantar-Mantar in Delhi and submitted a memorandum to the Election Commission and the president.
When I launched the signature campaign, a Bhadas4media.com covered it. By then I was acquainted with Yashwant Singh. He was among those who had encouraged me. After this campaign, I left Aligarh and shifted base to Delhi. I was no longer in a mood to join a regular job. I wanted to do something different. I started working for Bhadas4media.com. I got the idea for Dalitmat.com from there. While running Dalitman.com, I came in touch with Devpratap Singh, JNU Professor Vivek Kumar and Buddhist thinker Anand ji. My acquaintance with them changed my life. Thus Dalit Dastak came into being.
The website has readers in more than 12 countries. The magazine is also growing fast. This is our thirtieth month of publication and we are already selling upwards of ten thousand copies in 135 districts of 15 states. This is our collective effort and our entire team is working dedicatedly. For us, this is a mission. Our objective is to take the ideology of Babasaheb Ambedkar, Jotiba Phule, Buddha and other Bahujan heroes to the people and to make them aware of the present condition of the Dalit community.
Published in the June 2015 issue of the FORWARD Press magazine