Before analyzing the news stories published in Bihar media about the programme held in Patna on 1 June 2015 to mark the third death anniversary of Ranvir Sena founder Barmeshwar Nath Singh (Brahmeshwar Singh), alias Mukhiya, it would be better to examine the process of "creation of news" and how it is influenced by the social background of those who create it.
A news story is neither "objective" nor an eyewitness account. The contents and nature of any news depends on which aspects of any incident the writer chooses to highlight, and the language and form he uses. Hence, the dominant ideology of the contemporary society plays a much bigger role than the "facts".
It is this ideology that indirectly determines which fact or incident is news and which is not. Then, the mindset and attitude of those who write news items come into play and determine which parts of the "facts" or which aspects of an incident are news and which are not. The language, tone and tenor of the news item depend on the "commitments" of their writers. Ideally, every professional journalist should be as objective as possible. But complete objectivity is a utopia. Commitment is key. By analyzing any news item, we can get an idea of the commitment of its writer – whether he or she is with the weak or with the powerful; whether his commitment is to justice and morality or to his personal and societal vested interests.
In the Hindi belt, members of the upper castes rule the roost in the media. Unfortunately, their caste is the key determinant of their commitment. The upper castes' hold on newspapers of Bihar has remained intact despite a string of social movements initiated by the lower classes. According to a 2009 survey, 100 per cent of the decision-making positions in media organizations of Bihar are controlled by the Dwij community. Even in junior positions like reporters and sub-editors, the lower, deprived sections are grossly under-represented. OBCs (including EBCs) occupied only 10 per cent of these positions, Pasmanda Muslims (including in Urdu newspapers) only four per cent and Dalits a measly one per cent. (See Table 1)
Table 1: Representation of different communities in lower positions in the media in Bihar
| | |
| --- | --- |
| Upper-caste Hindus | 73 per cent |
| OBCs and EBCs | 10 per cent |
| Dalits | 1 per cent |
| Ashraf Muslims | 12 per cent |
| Pasmanda Muslims | 4 per cent |
Reference: Media Mein Hissedari, Praja Samajik Shodh Sansthan, Patna 2009
The social background of the journalists of Bihar affects the commitment of the newspapers. The news channels and newspapers of Bihar are opposed to almost everything that lends strength to the voice of the deprived communities. They are friends of every ideology, every sociopolitical power that can help maintain the domination of the upper classes.
The infamous Ranvir Sena was founded in the 1990s to crush the movement launched by the CPI (ML) seeking economic justice and social respect for the deprived. The chief of Ranvir Sena was Barmeshwar Nath Singh, a Bhumihar by caste and a resident of Khopira village, Arrah district, Bihar. This organization has been charged with murdering more than 300 Dalit-OBCs in different massacres (See Table 2). The massacres were carried out in the most heinous and brutal manner. The perpetrators targeted women and children because they believed the women give birth to Naxals and the children become naxalites when they grow up.
Table 2: Massacres carried out by Ranvir Sena 
| | | | |
| --- | --- | --- | --- |
|        SN   Village  | District | Date | Number of persons killed  |
|  1.  Khopira | Bhojpur | 29 April 1995 | 5 |
|  2.  Sarthua | Bhojpur | 25 July 1995 | 6 |
|  3.  Noorpur | Bhojpur | 5 August 1995 | 6 |
|  4.  Chandi | Bhojpur | 7 February 1996 | 4 |
|  5.  Patranpura | Bhojpur | 9 March 1996 | 3 |
|  6.  Nanaur | Bhojpur | 22 April 1996 | 5 |
|  7.  Nadhi | Bhojpur | 5 May 1996 | 3 |
|  8.  Nadhi | Bhojpur | 19 May 1996 | 3 |
|  9.  Morath | Bhojpur | 25 May 1996 | 3 |
|  10.  Bathani Tola | Bhojpur | 11 July 1996 | 21 |
|  11.  Purhara | Bhojpur | 25 November 1996 | 4 |
|  12. Khaneth | Bhojpur | 12 December 1996 | 5 |
|  13.  Ekbari | Bhojpur | 24 December 1996 | 6 |
|  14. Baagar | Bhojpur | 10 January 1997 | 3 |
|  15. Machhil | Jehanabad | 31 January 1997 | 4 |
|  16.  Haibaspur | Patna | 26 March 1997 | 10 |
|  17.  Aakopur | Jehanabad | 28 March 1997 | 3 |
|  18.  Ikbari | Bhojpur | 10 April 1997 | 9 |
|  19.  Naagri | Bhojpur | 11 May 1997 | 10 |
|  20.  Khadaseen | Jehanabad | 2 September 1997 | 8 |
|  21. Katesar Nala | Jehanabad | 23 November 1997 | 6 |
|  22.  Laxmanpur Bathe | Jehanabad | 31 December 1997 | 61 |
|  23.  Aiyarra Rampur | Jehanabad | 25 July 1998 | 3 |
|  24.  Shankar Bigha | Jehanabad | 25 January 1999 | 23 |
|  25.  Narayanpur | Jehanabad | 10 February 1999 | 12 |
|  26. Sindani | Gaya | 21 April 1999 | 12 |
|  27. Sonvarsha | Bhojpur | 28 March 2000 | 3 |
|  28. Panchpokhari | Rohtas | May 2000 | 5 |
|  29. Miyanpur | Auranagabad | 16 June 2000 | 33 |
|  30. Rajbigha | Nawada | 3 June 2000 | 5 |
On 1 June 2012, Barmeshwar Nath Singh, alias Mukhiya, who was also known as Brahmeshwar Singh, alias Mukhiya, was murdered in mysterious circumstances (See FORWARD Press cover story "Whose 'Magic Bullets' Murdered 'Butcher of Bihar'?", July 2012). After his murder, his supporters created a ruckus in many parts of the state. And for many days after the murder, the newspapers and television channels of Bihar glorified Mukhiya and sang paeans to him. So vulgar and so blatant was this praise that anyone with a sense of morality and justice would have been shocked. What difference one's commitments makes to how one sees an event is evident in a piece written by Dalit writer Kanwal Bharti on Mukhiya's murder.
He wrote: "Mukhiya was a murderer of Dalits and the Dalits are not distressed or upset. Only a brute can grieve over the death of a fiend who founded Ranvir Sena to crush Dalit labourers, who attacked Dalit settlements and gunned down Dalits, who hurled infants into the air and shot them, who cut open the wombs of pregnant women and hacked the foetuses with a sword." (FORWARD Press, July 2012).
A large number of politicians belonging to Brahmeshwar Mukhiya's caste participated in the function organized by his son Indrabhushan Singh in Patna on 1 June, his third death anniversary. It is the norm today that if politicians participate in a function, it is considered newsworthy. So, it was natural that it got coverage in the media. But the Bihar media did not limit themselves to covering the event. They saw the event as another opportunity to glorify Mukhiya. Barring Dainik Jagran, all Hindi newspapers described it as a function to mark the "martyrdom day". Even if the organizers of the programme had described the function in this manner, should the newspapers have referred to the murderer of hundreds of poor people as a martyr? Shouldn't they have described it merely as a "function/event to mark three years of Mukhiya's murder"? This difference in nomenclature gives ample indication about where the sympathies of all those involved in the writing of news stories lie. Before analyzing what the newspapers had to say about the event, let us see how the newspapers reported on the function and which statements made in the event – which lasted several hours – were highlighted by the newspapers. (See Table 3)
Table 3: Presentation of the news item in the Patna edition of different newspapers 
Newspaper
Title
Subhead/ Title of box
Placement
Prabhat Khabar
Brahmeshwar Mukhiya martyrdom day observed
None
Page number 6 with photo and caption
Dainik Bhaskar
Support to BJP only if C.P. Thakur is CM candidate
1      Leaders talk politics on Brahmeshwar Mukhiya's martyrdom day2      Mukhiya ji was not a person but an institution
Lead on page 4; four columns with picture
Rashtriya Sahara
Project Thakur as CM; will lend my support
1.     Said former Union minister Akhilesh Singh on third martyrdom day of Brahmeshwar Mukhiya2.     Will bring jailed Ranvir Sena leaders into the mainstream of society
Lead on page 4; four columns with picture
Aaj
Brahmeshwar Mukhiya remembered on martyrdom day
Meeting to pay tribute to martyr Brahmeshwar Mukhiya motivated by politics, lies
Lead on page 3; 8 columns with photograph
Dainik Jagran
Emphasis on formulating pro-farmer policies

Brahmeshwar Mukhiya's death anniversary celebrated at SK Memorial Hall
Demand to install his life-size statue

Page 10; 4 columns with photograph
Without a single exception, all newspapers, in their reports of this event, referred to Brahmeshwar Mukhiya as "Mukhiya ji". Generally, Hindi newspapers avoid the use honorifics like "Shri" and "ji".
Hindustan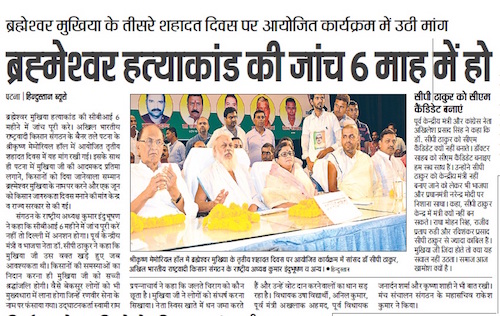 Dainik Hindustan titled its story "Demand to complete probe into Brahmeshwar murder case within six months raised at third martyrdom day of Brahmeshwar Mukhiya". The intro of the news says that at the martyrdom day function, "It was demanded that the state government should erect a life-size statue of Mukhiya ji in Patna, that the award for farmers be named after Brahmeshwar Mukhiya and that 1 June be declared Farmers' Awareness Day." The newspaper
addressed Ram Prapannacharya, who inaugurated the programme, as Swami Ram Prappannacharya and quoted him calling Mukhiya a great fighter. The newspaper referred to former Union Minister C.P. Thakur's comment that "Mukhiya ji stood up when it was needed" and "the innocent persons who have been framed in the name of Ranvir Sena will have to be brought back into the mainstream".
Prabhat Khabar
Prabhat Khabar carried a small but highly objectionable news item on the programme titled "Brahmeshwar Mukhiya's martyrdom day celebrated". The caption of the photograph read, "Third martyrdom day of immortal martyr Brahmeshwar Mukhiya was celebrated at the SK Memorial Hall under the aegis of Akhil Bharatiya Kisan Sangathan."
Dainik Bhaskar
Dainik Bhaskar titled the news "Leaders talk politics on martyrdom day of Brahmeshwar Mukhiya; Support to BJP only if C.P. Thakur is declared CM candidate". The intro of the news item said, "Leaders talked politics at the martyrdom day celebrations of Brahmeshwar Mukhiya, the founder of Akhil Bharatiya Rashtravadi Kisan Sangathan, on Monday." Quoting Ram Prapannacharya, the newspaper said, "Mukhiya ji awakened the people, organized them and readied them for struggle. He gave a new meaning to their life by teaching them how to stop being impotent and fearful … Today we need to tread the path shown by him." Bhaskar also quoted former minister Akhlaq Ahmed saying "Mukhiya ji was not an individual but an institution. We need to learn from him and do better than him."
Rashtriya Sahara
Rashtriya Sahara titled the news thus: "Former union minister Akhilesh Singh said at the third martyrdom day of Brahmeshwar Mukhiya: Project C.P. Thakur as CM, I will lend my support". Quoting Akhilesh Singh, the newspaper said, "Brahmeshwar Mukhiya was not only courageous and honest but he was a peasant leader who did not hesitate in calling a spade a spade. People like Mukhiya ji are born on this Earth only once in 100-200 years."
Aaj
Aaj carried the news as lead over eight columns on page 3. The story was titled "Brahmeshwar Mukhiya remembered on his third martyrdom day". It mentioned everything that was said
in the programme in praise of Mukhiya. It also carried in a box a statement of Shamsher Bahadur Singh, the rival of the programme's organizer Indrabhushan. The box item described Shamsher Bahadur Singh as the area commander of the banned Ranvir Sena and the news was based on a press statement issued by him after a secret meeting. The title of the box, quoting the press release, said, "Ranvir Sena: 'Meeting to pay tribute to martyr Brahmeshwar Mukhiya motivated by politics, lies'". The news said that Indrabhushan Singh, along with his sycophants, was insulting the martyrdom of Mukhiya. Clearly, this is an even more objectionable and criminal method, employed by the newspaper, to glorify Mukhiya and Ranvir Sena.
Dainik Jagran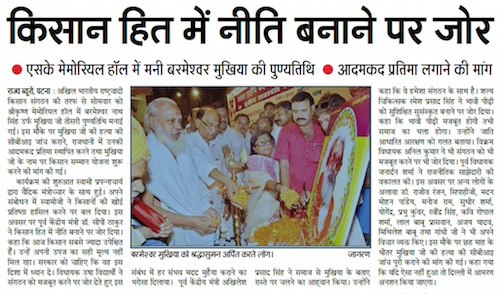 Dainik Jagran, known for its upper-caste bias, published the news with a more balanced title than other newspapers. The word "martyrdom day" was not used in the entire article. The item was titled "Mukhiya's death anniversary celebrated at SK Memorial Hall: Emphasis on drawing up policy for farmers". The newspaper has used Mukhiya's real name Barmeshwar Nath Singh instead of Brahmeshwar Singh. However, the newspaper also addressed him as "Mukhiya ji" and quoted former union minister Akhilesh Prasad Singh "calling upon the people to tread the path shown by Mukhiya".
News channels
The electronic media was not far behind in glorifying Brahmeshwar Nath Singh. The channels tried to establish Mukhiya, who was shot by unidentified criminals, as an icon. ETV, Kashish and Aryan – three regional news channels – devoted at least five minutes of their prime time news to the programme. There is nothing new in this coverage by Bihar media. Whenever the history of journalism in Bihar will be written from a Bahujan perspective, these news media will emerge as villains for throwing professionalism to the winds and for obstructing the path of social change.
 (With inputs from Nawal Kishore Kumar, Patna)
Published in the July 2015 issue of the FORWARD Press magazine