"Johar Saheb", I heard someone say. It was a hot May afternoon and I was passing through the forest of Saranda in Jharkhand. On hearing the greeting, I turned back and saw a group of Tribals, armed with spears, axes, bows and arrows, and catapults. They were on a hunting mission. Nothing unusual about that – what was unusual was that these Tribals were not Indian citizens. So, when they saw us, they abandoned their hunting plans and began relating to us their tale of woes. They, perhaps, thought that we were government officials who could help them secure citizenship and civic rights. They said that they have no documents to prove that they are the citizens of India.
Political and civil rights are crucial for all of us. It is unfortunate that this great democracy is denying citizenship and voting rights to these Tribals. They are worried that if they do not get land ownership documents under the Forests Rights Act, they may be labelled encroachers and hounded out of the forests anytime. And if they resist, they would be thrown behind bars as "infiltrators" or "Naxalites". In the 1960s, inspired by Mahatma Gandhi's non-violent movement, Martin Luther King Jr had launched a civil rights movement to secure voting rights for the African Americans. Will the Tribals also have to launch a similar movement to get citizenship and voting rights?
The game of eviction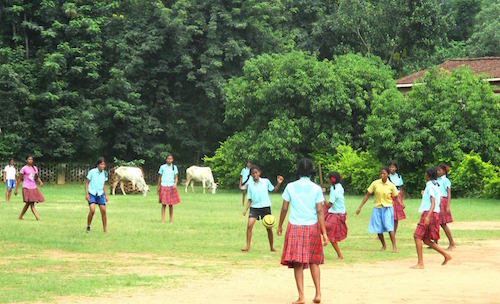 Holding bow and arrows and covered in sweat, Vijay Kerai said that during the forest movement of the 1980s, around 105 members of 20 Tribal families had cleared a part of the jungle and settled there. They named their village Jojodera. When the Forest Rights Act came into force in January 2008, the villagers approached the Manoharpur block office seeking ownership rights over the land. However, their application was rejected. They say that the government had leased out land near the village, at Karmapada, to the Mittal company for extracting iron ore and was not giving them "pattas" so that the company does not face any problems in seeking forest and environmental clearances for its mining project.
In Saranda, instead of doing its primary duty of protecting the forests, the Forest Department is busy implementing its "divide and rule" policy. Some outsiders are being settled in the area and this is being opposed by the original settlers. This dispute may be used to evict all the residents from the forest. The forest mafia and Forest Department are in cahoots and every day, thousands of people ferry logs of Sakhua tree on bicycles and supply them to forest contractors.
Not only that, but in the name of the anti-naxal campaign, CRPF jawans have burnt down the forest spread over thousands of acres on both sides of the road.
Sushil Barla, an activist of Manoharpur, conducted a sample survey of 17 forest villages in the Bihand area of Saranda forest to get a feel of the ground situation. None of the 1,918 members of 431 Tribal families residing in these villages has any document to prove their citizenship. They don't have a voter ID card, ration card, Aadhaar card or any other document. It is clear that legally, they are not citizens of India and can be evicted from the Saranda forest anytime. Salika Jojo of Jojodera wants to know, "Are we Indians? Why have we not been given any documents to prove our citizenship? We supported the Jharkhand movement but still did not get justice. Have we committed any crime by living in a forest? Why is the government discriminating against us? Is it because we are Tribals?
Details of villages that don't figure in the census
Sr No

 

Name of village

 

Number of families

 

Total population

 

 

1.
Kulatupa

47
213
2.
Badikudar

21
109
3.
Jojodera

20
105
4.
Gatigada
12
55
5.
Marida
23
93
6.
Topkoy
19
96
7.
Koynarbeda
31
108
8.
Jamardeeh
33
113
9.
Toybo
15
76
10.
Kasigada
24
93
11.
Ratamati
10
57
12.
Nuyigada
47
226
13.
Rogada
24
109
14.
Gundijora
23
118
15.
Chumagdiri
20
105
16.
Lailor
42
171
17.
Nurda
20
71
                Total
431
1918
Deaf and dumb government
Taking cognizance of the complaint of Sushil Barla, the National Commission for Scheduled Tribes, on 17 October 2014, wrote to Secretary – Tribal Welfare of the Government of Jharkhand and Deputy Commissioner of West Singhbhum district, seeking to know why the 3,000-odd Tribals residing in the 35 forest villages of Saranda had not been given land ownership rights under the Forest Rights Act 2006; why, despite being dependent on agriculture and forests for their livelihood, they have no voter IDs and ration and Aadhaar Cards and are being deprived of basic educational and health facilities.
Using powers bestowed on it by the Article 338(A) of the Constitution, the Commission ordered the Jharkhand government to ensure that voter ID cards, ration cards and Aadhaar cards are issued to the Tribals at the earliest. Also, that they should be provided basic facilities like roads, power, education and health. The Commission had asked the state government to respond within 15 days. But the state government still hasn't responded. Interestingly, in the year 2001, the IGP of West Chhotanagpur had written to the home secretary and DGP informing them that there were around 200 villages in the Saranda forest which had no mention in the government documents. However, the communication went unheeded.
Sometime ago, the Union government announced that the Hindu refugees from Bangladesh would be given Indian citizenship. Isn't it ironical that the Tribals of the Saranda forest are being denied citizenship rights when they are original inhabitants of Singhbhum? This is not only illegal but shameful and unjust, too.
Published in the August 2015 issue of the FORWARD Press magazine