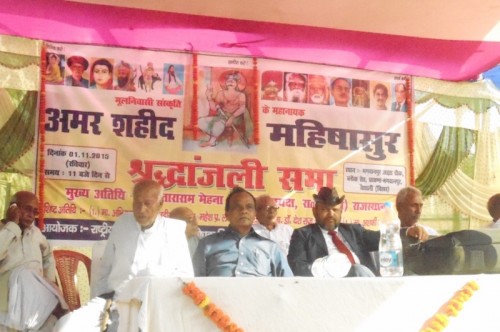 When, on 25 October 2011, a handful of students of Delhi's Jawaharlal Nehru University celebrated Mahishasur Martyrdom Day for the first time, no one could have imagined that the movement would spread like wildfire. In just four years, these events have not only created a nationwide stir but have provided a common basis for unity between Tribals, OBCs and Dalits. This year (2015), Mahishasur Martyrdom Day or Mahishasur Remembrance Day was celebrated at more than 300 locations in the country. This is not all. The new tradition has crossed the country's borders and reached Nepal, too.
The size of the events, which went unnoticed by the mainstream media, ranged from 10-15 enthusiastic youths holding placards to huge public meetings attended by 1,000-20,000 people. These events clearly show that through them, the Dalit identities of India are writing their new cultural history.
Durga Puja, which is a celebration of Durga's victory in the battle between gods and demons, no longer enjoys unquestioned acceptability. Those who celebrate Mahishasur Day say that it was a battle between the Aryans and the non-Aryans, and as non-Aryans, Mahishasur is their ancestor and hero. Mahishasur, who was the mythical hero and god of the Tribals, is now being described as a martyr by members of the deprived Bahujan communities like Yadav, Kushwaha, Kumhar, Kurmi, Nishad, Manjhi, Rajak and Ravidas.
Talking to the organizers of Mahishasur Day functions in different parts of the country was a novel experience for us. Each of them had many things to say, but they had many things in common that drew one's attention. Almost all of them said, "From our childhood, we used to wonder why the Asurs in idols of Durga resemble us in looks and why the body type and clothes of those who killed Asurs were similar to today's Dwijs!" Subsequently, when they thought about it and went about exploring, they were in for a surprise. They discovered that many Asur traditions relating to Manuj Dewa, Maikasur, Daityera, Karas Dev, etc were alive around them and in some cases, in their homes. Some organizers believe that Mahishasur was not a mythological figure. He was a historical personality – the protector of their clan, a valiant king and people's hero. All of them are against worshipping Mahishasur and do not follow any rites or rituals, which is probably the real strength of these events.
In the last four years, this event has also assumed a form of cultural politics. It is being organized not only on campuses of prestigious universities but also in remote villages and towns. The state governments are aware of the development and at many of these functions, they have provided security.
Mahishasur is linked with the ancient culture of India's primitive "Asur" tribe. The strength of this tribe now is barely nine thousand. Few among them are literate. Anil Asur, a social activist who lives in Vishunpur sub-division of Gumla district, says, "I have read in my schoolbooks that the gods had killed Asurs. Those were mass murders of our valiant ancestors." Ashwini Kumar Pankaj, editor of Johar Dishum, published from Ranchi says, "Those who insist that Mahishasur was a villain should understand that he is the hero of Tribals, OBCs and other deprived sections." According to Pankaj, this year Mahishasur Day was celebrated at more than 350 places in the country.
According to those who celebrate Mahishasur Day, after the murder of Mahishasur by Durga and other gods, his disciples held a huge public meeting on Ashwin Purnima in which they vowed to preserve their egalitarian culture and win back their lost glory. That is why in most of the places the functions are held on Ashwin Purnima. This Purnima (full moon day) falls on the fifth day of Dussehra.
In some places, it is held on the Durga Puja day and in other places, the organizers have fixed a day that suits their convenience. Again, in some places, it is called Mahishasur Martyrdom Day and in other places it is observed as Mahishasur Remembrance Day.
Come, join us in sampling the Mahishasur-related celebrations to understand their nature. Owing to time constraints, we haven't been able to draw up a list that is representative of the regional diversity. Nevertheless, it does give us a glimpse:
In the Jhalagaowda village of Kashipur sub-division in Purulia District, West Bengal, a huge function is held on Mahishashur Martyrdom Day. This year, around 20,000 people gathered in the village to observe the day. Most of them were Tribals, OBCs and Dalits, including Santhal, Bavri, Rajhad, Mahali, etc. The event here is organized under the leadership of Charian Mahto. A Kurmi himself, Mahto not only organizes the event here but has inspired Tribals in many other areas to observe the day. He says the roots of agricultural and pastoral communities like the Kurmis lie among the Tribals and that is why they feel that Mahishasur is their hero, too. Mahto says, "We started celebrating this day here after we heard the news of the celebrations in JNU, Delhi, in 2011. But I had this desire from a much earlier time. In 1997 itself, I had written an editorial on this in my Bangla weekly Naya Suraj." Under the title "Durga festival is against humanity and nationalism", he wrote that Mahishasur was an indigenous inhabitant of India and Durga Puja celebrated his murder by the alien Aryans, which was akin to glorifying invaders. In 2010, he elaborated his thoughts in his article published in Akhda – the Bengali organ of Kurmi Milan Sangam published from Purulia. It was much talked about. After reading it, local social activists Ajit Prasad Hembram and Shatrughan Murmu proposed that they should jointly oppose Durga Puja. But that was easier said than done in the circumstances prevalent then. So, they decided to observe Mahishasur Day on Durga Puja and give expression to their opposition. Swapna Biswas, joint registrar general, Government of India, was the chief guest of the first function. Since then, a large number of bureaucrats, technocrats and other influential personalities hailing from the Bahujan community have been attending the programme every year. Charian Mahto has the details of Mahishasur-related events in West Bengal at his fingertips. "After the function I organized in 2011, it was celebrated in Malda from 2012 onwards," he says. "In 2013, Mahishasur Day was celebrated at 24 locations in West Bengal. In 2014, that number rose to 74. It is growing very fast. This year, Mahishasur Day was celebrated at 182 places in the state."
Mahishasur Day was celebrated for the first time this year in Veerabandopalli, which falls under the jurisdiction of Ashok Nagar Police Station, in the 24 Parganas (North) district of West Bengal. The function was held on 20 October 2015 and around 400 people took part. One of the organizers, Sursenjit Vairagi, said that Dalits, who are in a majority in the area, attended the function with great enthusiasm. Muslims and OBCs also joined in big numbers. The local police had served a notice on Vairagi, asking him not to hold the function. However, he didn't bow to the pressure. "I asked the police whether the administration's permission was needed to celebrate the birthday of one's family members or hold a condolence meeting after the death of a loved one," he recalls. Ultimately, the police decided not to intervene. According to Vairagi, Durga Utsav is not only a celebration of the murder of our ancestors but the idols made for the occasion depict the gory end of a human being, which has a very bad effect on society. Under the leadership of Kolkata-resident Saradindu Biswas, Mahishasur Day was celebrated this year, too. According to Biswas, the day was celebrated this year at dozens of places in 15 districts of the state, including 24 Parganas North and South, Midnapore East and West, Burdwan, Bankura, Birbhum, Murshidabad, Jalpaigudi, Cooch Behar and Malda.
For the last two years, Mahishasur Martyrdom Day is being celebrated at several places in Kolkata and its suburbs. The celebrations in the city were an initiative of the Bengali fortnightly Nirbheek Samvad, edited by Samudra Biswas. Biswas says he consistently publishes news items and reports related to the preparations for the event. He also publishes articles supporting the idea behind and the concept of Mahishasur Martyrdom Day. These have rapidly increased awareness about the event among the deprived sections of society. Biswas also brings out a literary fortnightly Janman and has written a book titled Durga Puja Aantru (The inside story of Durga Puja) that presents the Mahishasur story from the Bahujan perspective. This book was released in 2014 at the Kolkata Book Fest. According to Biswas, Asur Diwas has been celebrated at Kaalcheeni in West Bengal's Jalpaigudi district since 1985. After the 2011 movement in Delhi, it has become a statewide phenomenon. This year, even a rabid Durga Puja supporter newspaper like Anand Bazar had to concede its growing popularity and publish positive reports about it.
Mahishasur Martyrdom Day is celebrated at Doomri, near Deoria, in Uttar Pradesh under the direction of Chandrabhushan Singh Yadav, editor-in-chief, Yadav Shakti magazine, and Rajvir Singh, editor of the magazine's Lucknow edition. Yadav Shakti celebrated the day on 26 October 2015. At the event, intellectuals of the deprived classes laid emphasis on cultural freedom. Those who take part in the celebration say that Mahishasur Martyrdom Day is being organized at a number of locations in the state for the last two years.
At Mugma, in the Nirsa sub-division of Jharkhand's Dhanbad district, Mahishasur has been remembered annually since 2012. This year (2015), Mahishasur Martyrdom Day was observed here on 1 November. Speaking at a seminar organized on this occasion, Dr Ramashish Ram, Bahujan Samaj Party leader from Ghazipur, Uttar Pradesh, said, "Mahishasur was a great hero of the Bahujans. Unity among Bahujans is essential to rewrite our history. We have no faith in the history written by the Manuvadis." Around 100 people were present at the seminar. Most of them were OBCs.
Mahishasur Day is celebrated at many locations in the Giridih district of Jharkhand. Senior advocate Damodar Gop has taken the lead in organizing these events. Gop was a member of the CPI (ML) for many years but he felt that "under the pressure of upper castes, the communist parties want to perpetuate the cultural and social enslavement of Bahujans". He asks: "Are we as human beings entitled to only food, clothes, a house? Is cultural pride the exclusive preserve of the upper castes? Talking of only economic empowerment without cultural and social freedom is nothing but a mirage. Only a society that has deep cultural and social roots can become economically prosperous and sustain its prosperity." Similarly, Arvind Paswan organizes Mahishasur Day programmes in the Dhanwar subdivision of the district. This year (2015), they were held on 24 October. He says that from the next year onwards, Mahishasur Remembrance Day will be held on a large scale on Ashwin Purnima in Giridih and the neighbouring districts. A Jharkhand State Asur Sangh will be constituted, he adds, and plans are afoot to hold a state-level Asur convention.
At Sikandarpur Kundal, in Muzaffarpur, Bihar, Mahishasur Day was celebrated this year on 26 October 2015 (Ashwin Purnima). Around 100 students attended seminars held as part of the celebrations. The Eklavya Sena organized the event. Prior to this, some activists of Eklavya Sena had gathered at the Khudiram memorial, opposite the District Collector's residence, on Dussehra. They declared Dussehra a "black day" for Dalits and OBCs and appealed to these communities not to join in the celebrations of their ancestor's murder. Naresh Kumar Sehni, chief of the Eklavya Sena, says, "Right from my childhood, I've wondered why Asurs do not have a family tree that the so-called gods do. Later, when I read an article published in FORWARD Press, I realized that there are others who think like me. That article gave me the courage to speak out what I felt." He adds: "There is a sub-caste of our caste Nishad (Mallahas) called Mahishi. They are mainly cattle-rearers. Mahishasur was the ancestor of us Mallahas." Unsolicitedly, he explains: "I don't think the caste system existed in Mahishasur's time in the present form. That is why, his caste cannot be determined. Yadavs and other castes also consider him their ancestor. All Dalit, EBC and OBC castes have tribal roots. Mahishasur is the hero of all indigenous inhabitants of India."
Mahishasur Festival was also celebrated at Bhagwanpur, in Muzaffarpur (Bihar). Heera Yadav was the chief organizer. When asked whether he faced resistance, he replied: "Earlier, I did face resistance. When I started organizing this event in 2011, even my family members opposed it. They argued that Durga is the goddess of the Hindus; how could I go against her? But now, everyone has understood that it was not a religious war. It was a battle between the Aryans and the non-Aryans. Hence, it is a historical incident. It had nothing to do with religion. Brahmins do not represent all Hindus."
In the Chittra village of Minapur sub-division, Muzaffarpur (Bihar), an idol of Mahishasur was built in 2014. However, idols did not figure in this year's Mahishasur Remembrance Day celebrations. As people are becoming aware that the Tribals' traditional beliefs do not involve idol worship, increasingly, such events have just a picture of Mahishasur put up and feature speeches or cultural programmes. About 1,500 people from the nearby villages took part in the function at Chittra. Traditional songs of Bahujan castes were sung and pro-people cultural programmes held.
Hareram of Madhepura, Bihar, is a teacher by profession and a social activist at heart. Mahishasur Day was celebrated on 26 October 2015 at a school ground under the direction of his team. There were around 150 participants. A seminar was also organized but no newspaper carried the news. Hareram says that he had sent a press note and photographs of the event to all newspapers but no journalist either turned up to cover the function or deemed it newsworthy. But for the Bihar Vidhan Sabha elections, which were underway at the time, he says, at least 1000 people would have attended the function. "Because BAMCEF founder Kanshi Ram's movement was quite active in this area, I faced no problems in convincing people about Mahishasur Day," Hareram says.
Mahishasur Martydom Day is being celebrated at Nawada, in Bihar, since 2012. In 2014 an idol of Mahishasur was installed here and a large number of people gathered. The organizers of the programme, Ramphal Pandit, Advocate Jairam Prasad, Umesh Singh, Suman Saurabh and Ramswaroop Manjhi, say that the function created quite a stir in the social circles. They say that people have realized that they can get economic and social freedom only when they throw off the yoke of brahmanical culture and that "these functions have also brought about political awareness".
A huge public meeting was organized on I November 2015 at Bhagwanpur Atta, about 16 km from Hajipur, a Bihar town situated on the banksof the Ganga. Around 1000 people, including a good number of women, were present on the occasion. The organizers were the Rashtriya Moolniwasi Sangh and the Satyashodhak Vichar Manch. Divided into two sessions, the function began at noon and went on till 2 am. The questions addressed in the first session were: "Who was Mahishasur? Why was he murdered? Do his descendants know about his murder? What has been the fallout of not knowing about his murder? The second session dealt with the following questions: "Our mythology talks of Aryan-non-Aryan, Dev-Danav, Sur-Asur, Savarna-Avarna struggles. Who were the non-Aryans, Danavs, Asurs and Avarnas? And after they were defeated through deceit, what happened to their descendants and how can we identify them today?" Social and cultural activists from all over the country spoke on these weighty issues at length and drew applause from the audience. Key speakers included Shivaji Rai (a Yadav), convener of Rashtriya Satyashodhak Manch; Tararam Mehna (a Bhil/Tribal), national president, Rashtriya Moolniwasi Sangh; and Dr Deshraj (a Dalit), president of the Delhi unit of BAMCEF. Addressing the function, social activist Neelam Kushwaha said, "The Manuwadis have insulted women by portraying them as goddesses and that the goddesses can't be the ideal of the present-day women. Women's empowerment doesn't mean they have to be shown as born from the 'tej' of men. Today's women should learn to differentiate between true empowerment and humiliating allurements, and stand by those social forces that are battling for justice." Udyan Rai suggested, "We should try to get celebrations of the murders of our ancestors banned by the Parliament and the courts." The function was also addressed by, among others, Mahendra Rai, Dileep Pal, Mahavir Das Sisodia, Rajnarain Gupta, Vinod Kumar, Babykumari Prarthna, Tanisha, Mahendra Rai, satirical poet Gaya Prasad, Satyendra Paswan and Parasnath Rajak. Local leader Subodh Rai presided over the function and Jeveleshwar Prasad was the host.
Several other people are involved in educating the people of Bihar about Mahishasur by organizing martyrdom/remembrance days: Advocate Manish Ranjan, journalist Nawal Kishore Kumar and Rakesh Yadav in Patna; Abhunandan Kumar in Supaul; Ramnaresh Ram and Pradeep Yadav in Sewan; Birendra Gupta in East Champaran; Raghunath Mahto in West Champaran; Chandrika Sahu in Shivhar; Ramshreshtha Rai in Sitamarhi; and Radhakrishna Das, the mahant of Thawe temple, in Gopalganj. Similarly, at Jugwa, in Kaushambi, Uttar Pradesh, N.B. Singh Patel and Ashok Vardhan hold a large function every year. Last year, they announced that their village would be renamed "Jugwa Mahishasur" and that a signboard with the new name would be installed. Others parts of Uttar Pradesh also have been witnessing Mahishasur Day celebrations, courtesy of Kamal Patel and Surendra Yadav in Mirzapur; Laddu Singh and Rammanohar Prajapati in Allahabad; Mohit Verma in Banda; and Krishnapal, Arvind Gaud and Ripudaman Sahu in Benaras. The Mahishasur Day celebrations have begun in Mysore, Karnataka; Hyderabad, Telengana; Morari colony, Balaghat, in Madhya Pradesh; and in many cities and towns of Odisha. The functions organized by Swapna Kumar Ghosh in Purulia, West Bengal, and by Narayan Bagarthi, in Kalahandi, Odisha, have got ample media coverage. Outside India, there've been reports of the celebrations from many places in Nepal. However, due to a lack of time, we could not contact their organizers.
(The article was coauthored by Ravi Prakash, who is a multimedia journalist regularly on assignment for BBC Hindi and Doordarshan. He has been resident editor, Deoghar, of Prabhat Khabar; editorial head at Dainik Jagran, Kolkata; deputy editor at Dainik Bhaskar, Ranchi; and the editor of inext's Ranchi, Patna, Agra and Jamshedpur editions.)