It was in the beginning of August that the news of women being gang-raped by musclemen of Bhumihar caste in Shiromani Tola of Nayagaon village, Parbatta block, Khagaria district, Bihar, began filtering in. Reports said that the Bhumihars attacked the village and molested women. The news was shocking. The source was an e-mail sent by Kumar Parvez, secretary, state office, CPI (ML). I called up the then SP of Sablaram district to confirm it. He told me there was a violent clash between two groups in the village but that there was no report of any gang rape. Before I could probe any further, he hung up. The local media had also not reported any such incident.
I then contacted the local SHO Ashutosh Singh, who parroted the SP's version, barring one additional piece of information – that the dispute was related to a love affair. Preet Kumar Sharma, a young man of the OBC Tanti caste, married a woman who was already married to another man. This led to the Bhumihars attacking Shiromani Tola. No newspaper published from Patna carried a word about the incident. Hence, the only way to know what exactly happened was to visit the place.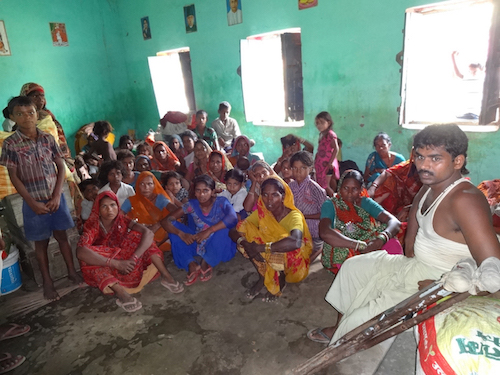 At around 11 in the night, I caught a bus for Khagaria from the Patna bus stand. At 4.30 in the morning, I was at Maheshkhoot. It was pouring and I took shelter in a tea shop. Ordering a cup of tea, I asked about the way to Nayagaon. I was told that jeeps were available for Manasi and that Nayagaon fell on the way. It would take around an hour to reach the place. Barely 15 minutes later, a jeep pulled up. Shouting "Manasi", "Manasi", the driver started soliciting passengers. I got into the jeep.
The sun was just rising when the jeep started for Nayagaon. I had told the driver to let me know when we arrived at my destination. About an hour and fifteen minutes later, we were at the road leading to Nayagaon. I got off and the jeep went its way. I looked around and saw some people. They looked like labourers. I asked one of them about Nayagaon. He was visibly surprised. "Don't go there. It is dangerous. There is a lot of trouble there", was his unsolicited advice.
I introduced myself and told him about the purpose of my visit. He pointed at another road, which, he said, would take me to a settlement called Rehma, where the residents of Shiromani Tola had taken refuge. I began walking on the road. The labourer again came to me. "Come on, I will take you there", he said. I had no reason to say no and readily hopped on his bicycle.
As we headed down the road built in 2013 under Prime Minister's Rural Roads Programme, he filled me in on the social equations of Nayagaon. He said that Nayagaon was a Bhumihar-dominated village. The Tanti community was confined to Shiromani Tola. There were around 10 houses of Brahmins and 20-25 houses of Yadavs. About the incident, he said a Tanti boy and a Bhumihar girl had been in love since their school days. Last year, they eloped from their homes and had a court marriage. They returned to the village after about a fortnight. The girl's father then married her off to a middle-aged man, a resident of Begusarai. The girl and her lover kept in touch on the phone. This month, they eloped again, and all hell broke loose.
It was around 8 and I was feeling hungry. I had not eaten anything that night. I saw a roadside eatery and asked him to stop. He said it would only serve tea at that time. Then, he suddenly thought of something and stopped the bicycle. He brought me a "datvan" (neem twig to brush teeth) and then took out a bundle from his bag and handed it over to me. "Sir, you eat this. I will eat after reaching home", he said.
Soon, we were at the settlement where the residents of Shiromani Tola had taken refuge, about a kilometre from Nayagaon. Many people surrounded me and started presenting their version of the incident. It was after my request that I was taken to the Tanti family of the young man who had the courage to fall in love with a Bhumihar girl. A woman who introduced herself as the mother of the boy came out to talk to me. Crying bitterly, she said, "The bastards destroyed everything. They even pulled down the [thatched] roof of our house. They did the dirty thing with my elder daughter-in-law and 12-year-old daughter too." Then she showed the lathi marks on her feet. Such marks were clearly not confined to below her knees. Other women showed up. I asked them when they planned to go back to their homes. "What will we do by going to a village where our honour is not safe? The local MLA is with the people of his caste and so are the police. No one is ready to hear us." I telephoned the police station in-charge. He did not receive the call. I then sent an SMS saying that I was with the victims of Shiromani Tola. There was no reply. Then I tried to contact the local JD-U MLA R.N. Singh. His phone was unreachable. Just then a government vehicle drove in. The village Mukhiya received it. We were told the BDO had sent food grains for the victims. Soon began the race to grab more and more of the government largesse.
While returning in the company of the same man with the bicycle, I was thinking whether this is the same Bihar that is being ruled for the last 25 years by leaders who describe themselves as socialists.
Published in the September 2015 issue of the FORWARD Press magazine