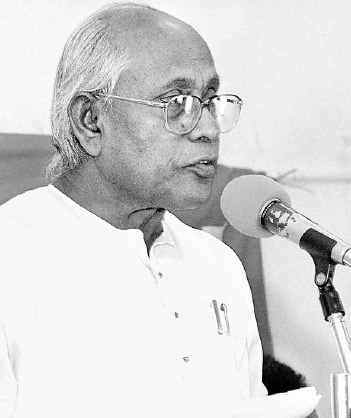 "I know Kanti Biswas is a Brahmin from West Bengal. To get political mileage, given the large concentration of Scheduled Caste population, he has obtained a fake Scheduled Caste certificate."
This was how Prof Murli Manohar Joshi, the union minister of human resources development in the Vajpayee government, went hammer and tongs against Kanti Biswas in a meeting of state education ministers he had convened in Delhi. He, however, had prefaced his attack with a word of praise: "I hold West Bengal education minister Kanti Biswas in the highest esteem. I'm yet to see anybody who is as knowledgeable and capable in handling his portfolio." Then he had added: "But I hate him also. He is a lair."
In a spirited and spontaneous rebuttal, Kanti Biswas said, "Why do you call me a lair? On what basis do you say a man born into a low caste cannot acquire knowledge? How and why do you believe that merit is the exclusive preserve of the Brahmin? I declare again that I belong to the Scheduled Caste community. I condemn your attitude tainted by caste prejudice. Your claim that I'm a Brahmin is totally baseless. I strongly denounce you for this."
In 1911, the census authorities had listed 10 disabilities of the "depressed" castes. Kanti Biswas was a Namasudra, whose three disabilities were identified as follows: The Namasudras "are not served by good Brahmans; are denied access to the interior of [an] ordinary Hindu temple; and cause pollution by touch or [coming] within a certain distance" (Census of India 1911, vol. V, Part I, Report, p. 232). These disabilities were based on a brahmanical yardstick characterized by puritanical whims and orthodoxy. The authorities had shown that tens of millions of people in India were subjected to discrimination and hatred.
Kanti Biswas writes about his face-off with Murli Manohar Joshi in his memoirs in Bengali titled Amar Jeevan (October 2014, Calcutta), or "My Life". A Namasudra, an euphemism for Chandal, Kanti was deeply involved in the student politics of Dacca University, starting with the Bengali Language Movement. (Four students were killed in a police firing in Dhaka on 21 February 1952. In 1999, UNESCO declared 21 February as the International Mother Language Day.) Kanti was a native of Faridpur district, the home of Sheikh Mujibur Rahman, who is now known as the Father of Bangladesh. Kanti stood against Rahman in an election in which he represented the National Awami Party of Maulana Abdul Hamid Khan Bhasani, another legendary political leader. In 1960, he migrated to West Bengal, India.
He contested the assembly elections of 1977 on a Communist Party of India (Marxist) ticket and was sworn in as a minister after he protested against the exclusion of Scheduled Castes from Jyoti Basu's Cabinet. He was allotted the Youth Affairs and Home (Passport) portfolio, four months after Basu formed his cabinet. Kanti excelled as a minister and soon found himself in the limelight. He won his seat in the assembly election of 1982 and was assigned the challenging portfolio of primary education, which he held till 2006 in the Left Democratic Front government. The orthodox brahmanical elements had found it difficult to accept a Chandal as the education minister. The CPI-M leader Promod Dasgupta one day handed Kanti a bunch of 400 letters he had received and asked him to pick one randomly and read it out. The writer was one Chakraborti from Bhatpara (24 Parganas district), the bastion of brahmanical orthodoxy. Chakraborty wrote that notwithstanding his proven administrative competence and efficiency as the minister of youth affairs, Kanti Biswas was a Chandal. He wrote that with the son of a Chandal as education minister, Bengal would not receive education. Educational progress, as a result, he added, would suffer. Chakraborty's suggestion was that Kanti should be allotted some other department with higher responsibilities in recognition of his merit and abilities.
Ironically, over the two decades as education minister, Kanti ended up leaving his imprint at the national level. The central government set up the Committee on Autonomy of Higher Educational Institutions in India on 8 September 2004 and appointed Kanti to head it. Earlier, the central government had also set up the National Committee on Women's Education and asked Bimala Prasad Chaliha, the education minister of Assam, to be the chairperson. Chaliha agreed to do so on the sole condition that Kanti Biswas would be there to assist him. Kanti played a key role in that committee, too.
Kanti was invited by the Soviet Union to address the students and faculty of Patrice Lumumba University in Moscow. (Today, this university is ranked third in Russia by the country's Ministry of Education after Moscow State University and Saint Petersburg State University.) Those in the audience listened to him with rapt attention for an hour and a half and the venue exploded into cheers when he finished. In an uncommon gesture his stay was extended by ten days during which he was received at various places in the Soviet Union as an official guest.
The invitation to Kanti Biswas by the Soviet Union caused much heart-burning among the comrades in Calcutta. They asked why a schoolmaster would go to the Soviet Union. But Jyoti Basu dismissed all objections from his cantankerous upper-caste comrades, explaining that Soviet Union would not invite anyone without a thorough examination of their credentials. After the visit, Kanti received a glowing letter from his hosts. The British education minister was also highly appreciative of the West Bengal education minister's comments and observations in an education commission's report, a copy of which was officially sent to him.
The common man's saying goes, "Lotus blooms in the mud and slush." The members of the upper-caste intellectual class believe that they alone are meritorious and efficient. If merit blooms among the Bahujan by dint of sheer hard work and perfectionism, like the lotus in the mud and slush, they are quick to move them up the caste hierarchy to one of their own.
Didn't Ambedkar say, when the Hindus wanted the Vedas, they needed Vyas; when they wanted Ramayana, they called for Valmiki; and when they wanted the Indian Constitution, they harnessed the talents of Ambedkar? None was a Brahman. All were low-born.
Published in the October 2015 issue of the FORWARD Press magazine