Why should we celebrate the murder of one of our own? Holika, like me, was a Bahujan, an indigenous inhabitant. She was an Asur who was killed by the Vaishnav Aryans. She was burnt alive. Why should we celebrate her immolation year after year?" These were the words of Baby Sinha, a schoolteacher from Aurangabad (Bihar) who had come to attend the "Veerangana Holika Shahadat Diwas" (or Holika Martyrdom Day) function. She wants to unite women and launch a campaign against Holika Dahan.
On 20 March, Holika Martyrdom Day was celebrated at the Maharaja Sayajirai Gaikwad Auditorium, Samrat Ashok Vijay Chowk, in the city of Aurangabad. The organizer of the event was Rashtriya Moolniwasi Buddhijivi Sangh. The mainstream media may have been unaware of it and the so-called people's "social media" may not have picked it up, but this was actually the fifth straight year that the event had taken place. The response has been good and growing. This year, braving the BJP-RSS combine's concerted campaign to stifle alternative voices, a large number of people gathered at the venue. Before the speeches, Panchsheel and Aashtangik Marg were recited.
Holika Martyrdom Day is one of the events being organized by non-Brahmin castes and tribes to oppose the brahmanical culture and to explore and establish their own culture. It may be mentioned here that in February, speaking in both houses of Parliament, Union Human Resource Development Minister Smriti Irani had launched a bitter attack on the holding of one such event – Mahishasur Martyrdom Day – on the Jawaharlal Nehru University campus, going to the extent of describing theorganizers as anti-national. Her diatribe was not only condemned by intellectuals but, according to media reports, OBC, Dalit and Tribal MPs of the BJP had also registered their protest against the tone and tenor of her speech with the party leadership. It took a rap from the leadership for Irani to turn mellower. The fact is that such events have captured the imagination of the oppressed Bahujans of the country over the last five years. No major political party can afford to win elections by pouring scorn on such events and thus hurting the sentiments of the majority. No wonder, a tug of war is on between the BJP – which has to fight elections and win them – and its parent organization the RSS – a brahmanical cultural body.
Be that as it may, a seminar on the topic "Moolniwasi Sanskriti: Parva Evum Purvaj" (Culture of Indigenous Inhabitants: Festivals and Ancestors) formed part of the Veerangana Holika Shahadat Diwas. The speakers said that the culture and festivals of the indigenous inhabitants had been Brahmanized. A week before this event, Holika Martyrdom Day was celebrated at Holika Nagar, Mahishasur Chowk (Chilki Mod), about 15km from Aurangabad.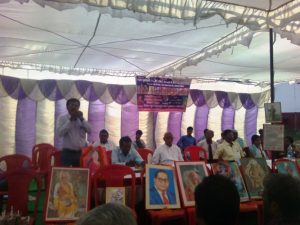 Dr Vijay Kumar Trisharan said that the indigenous inhabitants were nature worshippers and their festivals were celebrations of different seasons and of farming. The brahmanical forces murdered Holika and thrust the event on the indigenous inhabitants as a cause for celebration.
The organizers also presented their own narrative of Holika Dahan through a re-rendition of brahmanical myths and folktales. This narrative claims, in contrast to what the brahmanical sources say, that Hiranyakashyap was a just and benevolent king who believed in equality and a patron of Bahujan culture. His son Prahlad was brainwashed by the Aryans into joining their ranks. Prahlad, along with his Aryan backers, conspired to burn alive his father's sister Holika, who was a well-known Bahujan warrior.
The pamphlets and banners of the event drew one's attention. They carried portraits of Mahishasur, Buddha, Chandragupta Maurya, Ashok, Kabir, Ravidas, Birsa Munda, Jotiba Phule, Savitribai Phule, Ambedkar, Periyar, Sant Gadge Baba, Jagdev Prasad and Kanshi Ram. Through these portraits, they sought to convey which castes were on their side in their battle against Brahmanism. They also depicted "Veerangana Holika" in their banners and posters as a member of an ordinary agricultural family. Besides the re-rendition of myths, folktales and history, the organizers also made an attempt to identify and interpret the dangers facing Bahujans today. Dr Vijay Gop noted that the names of the localities of Aurangabad were being Brahmanized. For instance, Peepardih had been renamed Gandhinagar and Danibigha had become Satyendra Nagar. Chittorgarh and Shrikrishna Nagar have also emerged in the city. Most of the residents of these localities are Bahujans.
"As always, Brahamanization continues," said Periyar Saryu Mehta, who organized and chaired the event. "Mutts called Viharas were established for propagating Buddhism. Today, the Viharas in Bihar have been occupied by Dheli Baba, Teli Baba, etc, who are performing pujas there. This is how Brahmanization is being done. Brahmins have grabbed thousands of acres of land that belonged to mutts like Umga, Dev, Patalganga, Kishunour, Parta, Dema, Sikria, Saraiyya and Dhundhua – all located within a 60km radius of Aurangabad. Sensing this danger of Brahmanization, those infused with Bahujan consciousness have also started a renaming drive, hence Mahishasur Chowk, Holikanagar, Sayajirao Gaikwad A Auditorium and so on. They are trying to secure government recognition for the new names.
Social activist Saryu Mehta, associated with Holika Martyrdom Day, said: "Here in Aurangabad, we also celebrate Krishna Matryrdom Day. The Vedas present Krishna as an Asur who was killed by the Aryan king Indra through deceit. There was a battle between Krishna and Indra. After his defeat, Indra breached the dam on the Yamuna river. To protect themselves from the resultant flood, Krishna and the people of his area had to ascend the Govardhan mountain." He also says that Krishna's grandson Aniruddha was married to Usha, daughter of Banasur, which also proves that Krishna was an Asur. He claims, "Holika was a Bahujan warrior and that is why in this event, men and women of almost all DalitOBC castes, including Yadav, Kushwaha, Kurmi, Ravidas, Chandravanshi and Baitha, show up in huge numbers."
Usha Yadav, a schoolteacher says, "All Hindu festivals celebrate the murders of Bahujan indigenous inhabitants. This happened because the Brahmins dominated our collective thinking. We are slowly becoming conscious. Neither do we perform Holika Dahan nor are we in favour of others performing it." She notes that the event has not only to do with hurting Bahujan sentiments but is also about beating up and burning a woman alive. Women have to face oppression from many different quarters and hence this issue must also be seen from the perspective of "Bahujan feminism". Other speakers too had so much to say and reveal that if all of it was put on paper, one would get an idea of the sea of discontent simmering below the surface in the Indian subcontinent. The media is neither aware of its existence nor of its possible fallout. It is this fallout that the RSS fears. (We will be publishing detailed reports on these topics in the web edition of FORWARDPress and in the books we plan to bring out soon – Editor).
Those who attended the meet included Anand Baitha (journalist), Dr Dhirendra Verma, Dr Vijay Gop, Dharmendra Ram (schoolteacher), Dr Ranjeet Verma (homoeopathic doctor), Anil Chandravanshi, Kuldeep Mehta, Kuldeep Prajapati, Surendra Mehta, Balram Mehta (student), Ramsuchit Paswan (schoolteacher), Fakiranand Yadav (social worker), Kaliprasad Yadav (former mukhiya), Vinod Thakur (ward corporator) and Shambhu Yadav (social worker).
(Additional reporting by Upendra Kashyap)
Published in the April 2016 issue of the FORWARD Press magazine