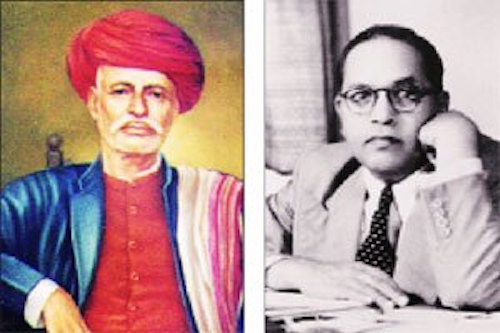 Of late, the country has been witnessing an unprecedented spurt in public display of reverence for Dr Ambedkar. The coexistence of spiralling social violence and Ambedkar-worship is definitely ironical. The forces of dominance are the same in all societies; only how they operate differs. Dr Ambedkar had a cogent understanding of how these forces operated in Indian society and that was why he used to repeatedly tell his well-wishers and supporters that he should not be elevated to the status of god. In May 1938, addressing the Dakshin Konkan Panchmahal Asprashya Parishad, he said, "The British will leave India but you will have to face the capitalists and the priests". Replacing his ideology with grand celebrations in his name suits the interests of both the capitalist and the priestly class. Needless to say, both are trying their utmost to make Ambedkar a god. The capitalists and the priestly classes were always in cahoots with each other but their perfect synchronization is a relatively recent phenomenon and indeed unprecedented. Today, an honest Ambedkarite cannot but fight against this synchronization and the resultant inertia that seems to be gripping the country.
Dr Ambedkar considered Mahatma Phule his guru. While dedicating one of his important books Shudra Kaun The? (Who were Shudras?) to him, Ambedkar wrote that Phule had made the lower castes aware of how they were slaves to the higher varnas and propounded the principle that establishing social democracy was more important than freedom from foreign rule. Among his three gurus – Buddha, Kabir and Phule – Ambedkar was the closest to Phule.
Here, it is important to note that Phule was the first to use the word "dalit" in the new sense. He used the word Brahmanettar (other than Brahmins) very rarely. His favourite word was Shudratishudra. Atishudras were central to his concerns. He used to view and examine every activity, initiative and policy of individuals, society and government from the viewpoint of atishudras, ie Dalits. He was a powerful pro-people and original thinker of his era.
Ambedkar must have borrowed a lot from Phule but there were also some crucial differences between the two epochal personalities. The first one relates to the Aryans. Phule believed that the Aryans were aliens and that they had entered India as invaders. Ambedkar did not subscribe to this theory. He was dead opposed to the theory of "race". Phule was not an atheist. He believed in an omnipresent, shapeless god. In contrast, Ambedkar had no faith in god. But both agreed that religion was essential for society. They saw religion as a moral code of conduct – as a set of eternal values like equality, love and justice. Both were for elimination of caste. Patchy reforms were unacceptable to both. Both emphasized education, especially women's education, for building a new society.
Both tried to educate their life partners. Phule succeeded but circumstantial compulsions did not allow Ambedkar to introduce Ramabai, who somehow managed her household by making cow-dung cakes, to the world of letters. Both were staunch opponents of the mentality that regarded women as slaves. They recognized women as "humans". Both underlined the need of modern education to free women from cultural and economic slavery.
Phule's contemporary Bal Gangadhar Tilak was of the view that modern education would make women "sanshayatmas" (suspicious), ideals would collapse and families would break up. Tilak was a highly respected personality. He was a great mathematician, jurist and an unmatched Sanskrit scholar. When even he was not a supporter of women's education one can just imagine what the views of the people at large must have been. Phule said that human beings were superior among all living beings and among humans, women were superior. He also pointed out that men had written all religious scriptures. That was why they protected the rights of men but discriminated against women. Had women been the writers of scriptures, they would have protected the rights of women without compromising on the rights of men. "Would you like women to keep two to three men in their homes like you do?" He asked the men. If this is improper then how can polygamy be justifiable? The logic and tone and tenor of Phule are clearly reflected in Tarabai Shinde's historical essay Stree-Purush Tulna (Comparing men and women).
The forces of dominance spread all sorts of disinformation about Phule and Ambedkar. They circulated rumours and cultivated prejudice. A fertile ground was already available for discrediting them. One of their stratagems was to declare these two men heroes of particular castes. What could be more ironical than confining someone who worked for the annihilation of caste all his life to one caste. As part of a well-planned endeavour to brand these thinkers as casteist, they were called anti-Brahmin. Even a cursory glance at their lives would prove that this charge was baseless. It is true that both were unsparing in their criticism of brahmanical values. And if the Brahmin community was the patron of these values – as it indeed was – a ruthless analysis of its mentality was imperative. Phule and Ambedkar did exactly that. But their ruthlessness should be seen as the ruthlessness of a competent and committed surgeon.
Towards the end of 1848, Phule started his first school to educate Brahmin girls. When due to intense opposition of the conservatives, he was driven out of his home, he opened the same school in the house of Annasaheb Chiplunkar in Pune in July 1851. Chiplunkar was Phule's friend and a Brahmin. He had requested Paranjpe to teach Savitribai. And Paranjpe was also a Brahmin. Phule also started a school for the untouchables. In 1868, he opened the pond in his house to Dalits.
The Sati system was a disease confined to the Savarnas. Phule launched a campaign against it. Brahmin widows led a miserable existence. They were tonsured and subjected to innumerable restrictions. They were easy victims of sexual violence inside and outside of their homes. If they became pregnant, foeticide, infanticide or suicide were the only options open before them. Phule formed an organization of the barbers to try and persuade them not to tonsure widows. In 1863, he converted his home into "Balhatya Pratibandhak Grah" (Child-murder prevention house). A Brahmin by birth but an unyielding critic of the brahmanical mindset, "Lokhitwadi" Gopalrao Deshmukh wrote that due to the ban on widow remarriage, every year, two to three thousand children were killed in Pune and the surrounding areas alone. Phule had great respect for "Lokhitvadi" and it was due to his efforts that the number of such murders fell substantially. The identity of the women who came to Balhatya Pratibandhak Griha was not revealed and neither was the news of their delivering babies. The Phules were childless. A boy called Yashwant whom they had adopted and declared their successor was born of a Brahmin woman.
There was a fair number Brahmins among the well-wishers and close friends of Ambedkar. The executive committee of the Bahishkrit Hitkarini Sabha founded by him is testament to this fact. During the Mahad Satyagraha of 1927, it was G.N. Sahasrabuddhe who proposed that the burning of Manusmriti should be made a part of the protest. Sahasrabuddhe was a Brahmin from Pune. The proposal was accepted by Ambedkar the very next day.
Phule and Ambedkar are also accused of being pro-British. It is beyond one's comprehension as to how those struggling for liberty can be in favour of slavery. They did not want the perpetuation of the British rule. But they favoured taking the help of the British rulers in breaking the bonds of social slavery. Dr Ambedkar had bared the character of British imperialism in his DPhil research paper. He used to say that the British had not come to India for the welfare of the untouchables. Very few people know that a Marathi newspaper Deenbandhu had started serializing his book Kisan Ka Koda. But it was stopped after the publication of two chapters as Phule had severely criticized the British rule in the book. Ultimately, the book was published in 1967, some 85 years after it was written.