Behenji versus Buaji and the BSP Supremo: An Evaluation
Bahujan Samaj Party chief and former Chief Minister of Uttar Pradesh, Mayawati said in a recent statement that she is neither 'Bua' (aunt) of those who are accused of Saharanpur riots  nor does she share any blood relations with them. Her statement came with reference to the young Dalit leader and Bhim Army chief Chandrasekhar Azad alias Ravana. This statement of Mayawati is akin to Mahatma Gandhi's declaration that he had nothing to do with Sardar Bhagat Singh, who was guilty of violence. It has anguished crores of Dalits. The Bahujans of the country are conscious of the fact that Manuwadi hooligans had connived with the assassin of Phoolan Devi, Sher Singh Rana and not only set ablaze the houses of Dalits but also attacked their daughters and wives with swords. All this took place under the patronage of the police. Behen Mayawati herself went to meet the victims. She had also announced financial assistance to them. When a young man resists the rioting, he is charged with National Security Act (NSA), put behind bars and prosecuted for treason. Close to the 2019 elections, he is freed from jail. All this is part of a political strategy. Crores of Bahujans of the country know who all are behind the killings of Narendra Dabholkar, M. M. Kalburgi and Gauri Lankesh and who are the people involved in mob lynching incidents and brutal murder of innocents in the name of cow slaughter.
It is true that Chandrasekhar is not a seasoned leader. He is simple. Perhaps, he has not even read much about the history of Bahujans and is not very mature. That is why, he feels great in being 'The Great Chamar'. I feel sorry for the intellect of those who term this slogan casteist. Considering the surroundings where Chandrasekhar spent his childhood, where the so-called upper castes felt pride in being Rajputs and oppressing Dalits (Chamars), why shouldn't he feel proud of being the 'Great Chamar'? The term 'The Great Chamar' in this context is an expression of the pride of Bahujans i.e. the Dalits and the backward people. It is not an expression of merely a caste. It is a proclamation of social revolution. It is a rebellion against Manuvad. This is a strong section of the oppressed castes, which is raising its voice, whose flag is blue and whose slogan is Jai Bhim. Its uniqueness lies in the fact that it has developed spontaneously. It is not Mayawati's sponsored speech which is written by someone and read by someone else.
Sadly, while the real culprits (those who are seasoned rogues) are let off and a Dalit young man fighting for social justice is declared a traitor, the former Chief Minister speaks the language of the rulers and states that she has no relations with the accused of Saharanpur riots. Gandhi also did not share any relation with Bhagat Singh, but history judges all. Today, Bhagat Singh and not Gandhi is the youth icon of the nation. Many informed people also believe that Chandrasekhar could have escaped the charges under NSA while he was being jailed if Mayawati had resisted. Even on that occasion, Mayawati had stated that she had no relations with Chandrasekhar.
When did Mayawati lead any movement on issues of reservation and price rise?
Installation of the statue of Periyar Ramasamy Naicker in front of Vidhan Sabha Bhavan was stalled by Mayawati
Defection of leaders like Swami Prasad Maurya to other parties is not in the interest of BSP
Behen Mayawati also said that if someone wants to struggle for Dalit rights, they should do so under the banner of BSP. However, the significant question is – when has BSP led any struggle? In the language of media, I can say that 'BSP Supremo' does not struggle but only issues press notes. She is always under Z-plus security cover. Which struggle did she take to the streets?  The functionaries of her party are not even free to take decisions at local level. Can someone tell when was the last time BSP started a movement against price rise or in favour of reservations? Did BSP play any role in the Bharat Band on 2 April? It is obvious, if you have to start a movement, a different organization has to be set up. Be it Bhim Army or various other Dalit organizations, they all are the outcome of Mayawati's bankruptcy. In any case, social movements are not led by political parties. Social organizations have their own role to play in social movements which cannot be ignored. Social organizations have also contributed to the credibility enjoyed by BSP today. Else, no one is a friend in politics. Once you get a ticket, you go your own way.  The character of defectors is well-known. Mature political parties nurture and promote social organizations because they form the core of their strength. Their utter disregard is suicidal. BJP is a live example. Thousands of Hindu organizations are associated with the BJP. But, Mayawati has given an embarrassing statement by announcing, "Since years, thousands of such organizations have been formed time and again within these social groups (Bahujan Samaj) that become a tool to propagate vested interests." I feel like telling her – as you have been distributing tickets by collecting money, so has your opinion regarding social organizations evolved. What a narrow perspective Mayawati holds towards social organizations!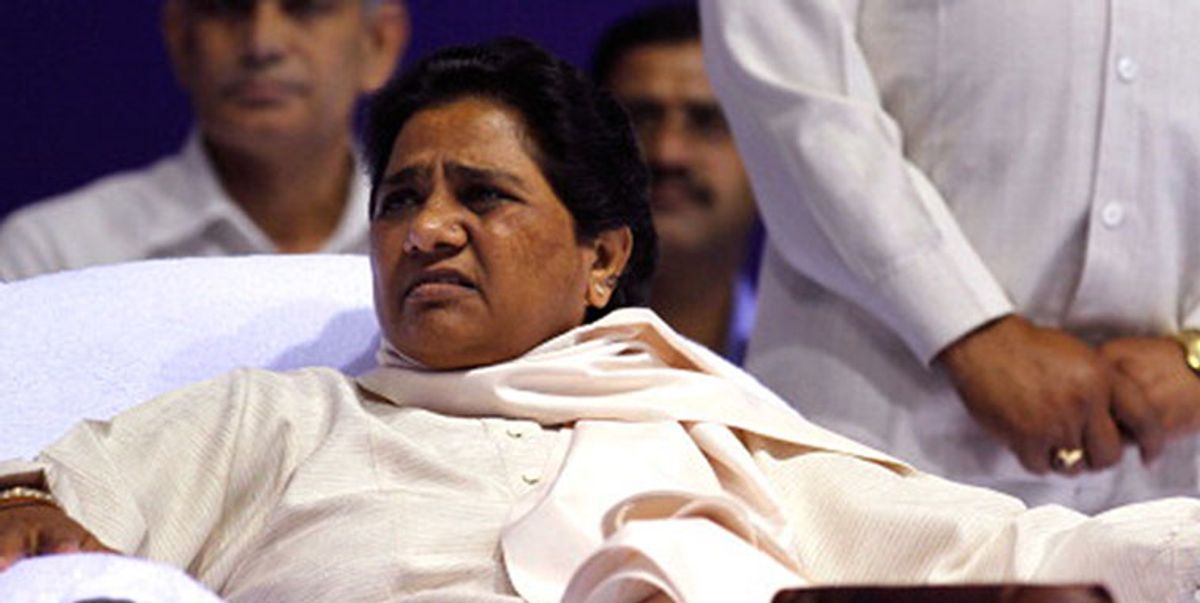 Having formed government with BJP several times before, when BSP got the opportunity to form government with full majority for five years, what revolutionary work was done by Behenji? This should also be evaluated. Certainly, she did a lot for public welfare. Several districts were named after Bahujan heroes and many colleges and universities were opened and named after champions of Bahujan cause.  She built many parks where statues of Bahujan heroes were erected. However her ideological lapses are apparent in many cases and contexts. Due to her wrong policies, frustrations, self-centred thinking and individualistic principles, she has caused great harm and disappointment to the Bahujan Samaj.
Behenji, who used to raise the slogan 'Hathi Nahin Ganesh Hai, Brahma Vishnu Mahesh Hai', didn't allow erection of Periyar Ramasamy Naicker's statue in front of Vidhan Sabha Bhavan because he had  criticized Hindu gods and goddesses and was an atheist.  His book, 'Sacchi Ramayana', was burnt when Behenji was in power. Literary organization like Dalit Sahitya Sanskriti Manch had opposed the move and called it contempt of the High Court which had given a verdict in favour of 'Sacchi Ramayana'. Periyar Ramasamy Naicker, the champion of social justice, was a contemporary and associate of Baba Saheb Dr. Ambedkar. He is also known as 'Socrates of South Asia'
During her five year rule, neither did Behenji publish any regular newspaper for the Bahujans nor did she start any quality magazine. On the contrary, she ordered a ban on a Bahujan magazine because it had criticized the so-called Hindu gods and goddesses. Who did she mean to please?
During her tenure, Behenji had instructed the police at the behest of the Brahmins that 'SC ST Act should not be misused'. She was the one who paved the way for making this Act ineffective, much before the Supreme Court did it.
Behenji had shut down Hindi Sahitya Sanstha during her five year incumbency and did not consider any author, litterateur or artist worthy of being rewarded or honoured. She has been at loggerheads with Bahujan writers. In fact, Mayawati doesn't care about intellectuals. She wants followers who would blindly vote for her, even though she goes to Gujarat to campaign for BJP's Modi.
During the five years of her rule, Behenji was surrounded by Brahmin flatterers and encouraged the spread of Brahmanism. The Muslims distanced themselves from her and resultantly SP government was formed which deprived thousands of Dalits of promotion by ending reservation in promotions. Behenji missed a golden opportunity. She not only lost power herself but also disempowered the Bahujans.
Not only this, Mayawati has shown the way out to BSP's grassroots level workers (like Rampreet Zakhmi) and other leaders such as Swami Prasad Maurya, Naseemuddin etc. who had been long associated with BSP. Many expelled leaders embraced the BJP as they had enjoyed power earlier with the support of BJP only. If these were bad and selfish people, how did they work with you for years? Only Mayawati should be held responsible for this chaos. While SP ended reservation for Dalits, particularly the reservation in promotions, Mayawati failed miserably in keeping people united. No one had expected that the hard earned reputation of Kanshiram and BSP would be squandered away by Mayawati so soon.
The BJP is adept in the art of divide and rule. The incidents of atrocities and oppression of Dalits and Backwards have increased rapidly. Therefore, Mayawati will have to devise effective strategies to give her party the right direction in such adverse circumstances. Instead of sticking to traditional feminine attributes like being in love with oneself, being self-centred and in love with ornaments, she will have to embrace the qualities of progressive women and learn Einstein's theories of 'time relativity' (i.e. theory of relativity and special theory of relativity). Else, she will find herself out of Bahujan politics.
Time is running out and the challenges are big. Therefore, she will have to connect with the masses while broadening her outlook. A new language of love and friendship has to be devised. Gautam Buddha's concepts of compassion, wisdom and power of union have to be banked on. Support of thousands of small social and cultural organizations has to be sought. Like-minded parties and organization have to be taken on board.
Time is harsh but not for those who keep track of it and move accordingly. Behen Mayawati ji will have to identify her challenges and underscore her strengths. She will have to gain support from all classes while discussing her comprehensive policies with the masses. Only then, she will be able to win the 2019 elections and mark a new beginning in securing the interests of Bahujan Samaj.
Translation: Devina Auchoybur; copy-editing: Amrish Herdenia
---
Forward Press also publishes books on Bahujan issues. Forward Press Books sheds light on the widespread problems as well as the finer aspects of Bahujan (Dalit, OBC, Adivasi, Nomadic, Pasmanda) society, culture, literature and politics. Contact us for a list of FP Books' titles and to order. Mobile: +917827427311, Email: info@forwardmagazine.in)

The titles from Forward Press Books are also available on Kindle and these e-books cost less than their print versions. Browse and buy:

The Case for Bahujan Literature

Mahishasur: A people's hero

Dalit Panthers: An Authoritative History

Mahishasur: Mithak wa Paramparayen