Throwing dignity and decorum of Parliament to the wind, Lok Sabha members indulged in an unseemly sloganeering match on 17-18 June 2019 in the House. Members of the ruling BJP were at the forefront of raising religious slogans to heckle opposition members. In response, TMC members and Muslim MPs also raised religious slogans. Given India's commitment to secularism, all this was utterly disgraceful. And it had nationwide repercussions. On 17 June 2019, Tabrez Ansari, a Pasmanda Muslim, was tied to a pole and thrashed for seven hours in Jharkhand to force him to chant Jai Shri Ram. Later, he died in a hospital. Similar incidents have been reported from West Bengal, Uttar Pradesh and Rajasthan.
In the wake of the huge mandate which the ruling party BJP has won, Prime Minister Narendra Modi had made two significant observations. First, "we should not go just by paksh [ruling party] and vipaksh [opposition] but we should be nishpaksh [neutral or balanced]". Second, for the functioning of a democracy, the opposition is very important, and its opinions will be taken seriously. The question is: Will the ruling party practise what its leader preaches? Going by what happened in Parliament during the oath-taking ceremony, one has to take Modi's words with a pinch of salt.
Asaduddin Owaisi, the AIMIM leader, responded by saying Jai Bhim, Jai Mim, Nara E Takbeer Allahu Akbar and Jai Hind. Another Muslim MP Shafikur Rahman Barq ended his oath with Allahu Akbar and Hindustan Ki Jai. He also explained why chanting Vande Mataram was against Islam: Worshipping anybody other than Allah is not permitted in Islam; Vande Mataram equates the motherland with the image of a Hindu goddess. Yet another Muslim MP said Allahu Akbar and Jai Samvidhan(Constitution). Film-actor-turned-politician Hema Malini chanted Radhe Radhe. The feeble Left's MPs called for defending secularism.
The Trinamool Congress  MPs, when faced with the chanting of Jai Shri Ram, retorted with Jai Maa Kali, Jai Bharatand Jai Bangla. The nature of the chants reflects the politics of their chanters. The act of chanting did come across, to the opposition MPs, as intimidation. The senior leaders of the ruling party did not dissuade their members from "ragging" the opposition members. While the BJP resorted to three slogans in particular, Jai Shri Ram was the dominant one. Parliament sounded like "a religious place of worship", not a "temple of democracy". The opposition MPs would have expected to be treated with dignity, given what Modi had said about the importance of opposition in a democracy. The religious chants, however, show that the BJP is now in a commanding position in Parliament and will turn the august House into a sort of temple for worship of Lord Ram. Afterall, has Lord Ram not been the major
vote-getter for the  BJP?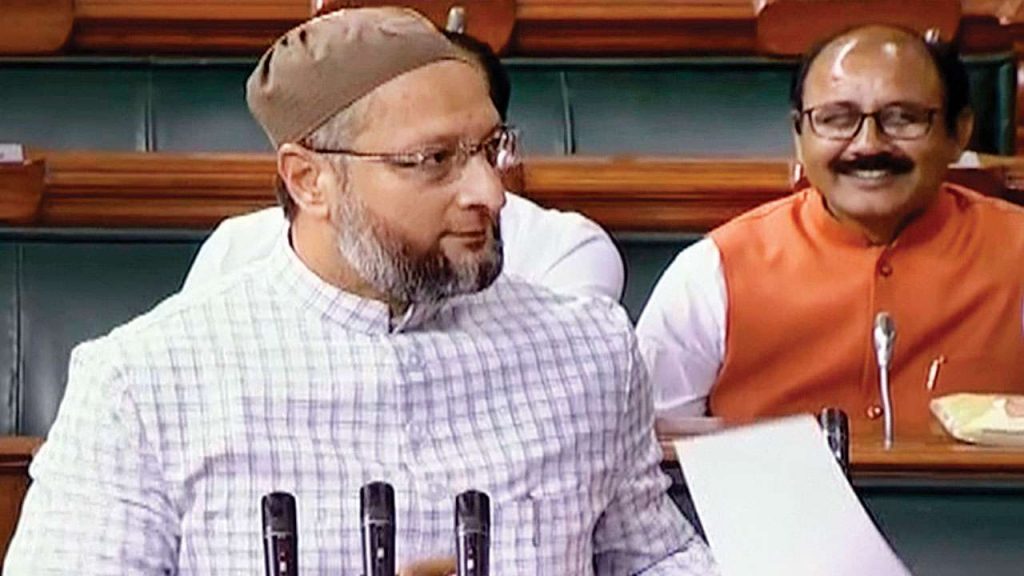 Since the Ram Temple campaign, Jai Shri Ram has become more of a political slogan than a religious-spiritual one. Different people saw Ram differently. Sant Kabir's Ram rose above the narrowness of caste. Mahatma Gandhi, the Father of the Nation, saw Ram as an inclusive god. Gandhi placed Ram and Allah on the same pedestal. Babasaheb Ambedkar and Periyar Ramasamy Naicker's take on Ram was radically different. Ambedkar's book, Riddle of Rama and Krishna, tears into Ram for killing Shambuk and Bali and exiling his pregnant wife Sita to the forests. Periyar's The Ramayana: A True Reading also presents the Lord in a similar vein.
As such, there are many Muslims who have no problem in saying Vande Mataram or Bharat Mata ki Jai. Even our Constitution gives Vande Mataram the status of a National Song, not National Anthem. Jan Gan Man is the National Anthem.
While Lord Ram has been popular in North India, in Bengal, Maa Kali has been the major deity of Bengal. Interestingly, the BJP's chariot is marching on the chant of Jai Shri Ram in Bengal while the TMC is trying to retain its base through Jai Maa Kali and by raking up the issue of outsiders versus Bengalis. Let us see whether TMC can hold on to West Bengal with the blessings of Maa Kali. In Bengal, two Hindu deities are thus being presented as symbols of two streams of politics! Interestingly, the ruling party MPs did not chant Jai Hind. During the Freedom Struggle, Inquilab Zindabad (Bhagat Singh's) and Jai Hind (Subhash Chandra Bose's) were the major slogans.
Such a heckling with religious slogans was never seen in this august House earlier. The religious chants have their own importance but they have no place in Parliament, where issues of public importance are discussed and laws made. The moot point is whether the ruling party will keep snubbing the opposition members and members of the minority community by resorting to religious slogans, reflecting their deeper politics. In such a milieu, will the issues facing the people be taken up? For example, the agrarian crisis and unemployment. In a country where hundreds of children in hospital succumb to encephalitis due to medical oxygen being in short supply or the hospital being short-staffed, a religious-sloganeering competition in Parliament is shameful and contemptible.