What has changed in these 75 years since independence? Different people will have different answers. Savarnas have changed their methods of oppressing Dalits, and Dalits have changed their strategies of dissent. But discrimination, untouchability, harassment, exploitation, and violence against Dalits are very much a ground reality even today. According to the National Crime Records Bureau (NCRB) data, there were 25 crimes/atrocities – registered under the Scheduled Castes-Scheduled Tribes (Prevention of Atrocities) Act – against Scheduled Castes (SC) for every 100,000 of their population in the year 2020. According to the Home Ministry, 53,886 cases were registered under the SC-ST (PoA) Act in 2020, up from 49,608 in the previous year. The rate of crimes against Dalits is in all probability much higher, as the SC-ST (PoA) Act is often not invoked while registering an FIR due to caste prejudices of the police administration. 
When it comes to atrocities against SCs and STs, Rajasthan is one of the top five states, with 4,607, 6,794, and 7,017 cases reported in 2018, 2019, and 2020, respectively, according to the NCRB. The death of a 9-year-old in Rajasthan recently made national and international headlines. This is not the first such incident the Meghwals have faced in Rajasthan though. 
In 1459, when Rao Jodha settled Jodhpur, he built a fort after having Raja Ram Meghwal buried alive under its foundations – as burying a living person was considered auspicious and beneficial for the entire empire and the fort. The Pushkar lake was built after burying alive Jog Chand Meghwal at the site. In 2015, in Dangawas, Nagaur, over 200 members of the Jat community attacked five people of the Meghwal community and crushed them under a tractor over a land dispute. In 2016, 17-year-old Delta Meghwal was raped and murdered by a upper-caste teacher. In early 2017, Pinky, a 17-year-old Meghwal girl in Rajasthan's Jhunjhunu district, was gang-raped by four Jat boys from her village. In 2018, 70 Meghwal families of Kaludi village in Barmer were ostracized after a Meghwal youth had filed an FIR against some Rajpurohit youths under SC-ST (PoA) Act for making derogatory remarks against the community in social media. In 2021, an eight-month-pregnant Meghwal woman and her mother were beaten by a group of Rajput men in Sirana village of Pali district. In 2021 in Girab village of Barmer district, young Rajput boys went to a Meghwal graveyard, stamped on the graves, removed the cloth from the graves and put animal bones there. The same year, in Barmer's Chohtan block, a Meghwal father and his son were attacked by men from dominant castes. On 15 March 2022, Jitendra Meghwal was murdered by upper-caste men in Pali just for sporting a moustache. On 22 May 2022, a 35-year-old Radheshyam Meghwal was starved, kept chained in a cattle shed and assaulted for over 31 hours in Biluba village of Bundi district for failing to honour a pledge. 
Now, we have the killing of a 9-year-old Inder Kumar Meghwal in Jalore just for drinking water from the earthen pot meant for upper-caste principal Chhail Singh. On July 20, Inder Kumar Meghwal is said to have been beaten by Chhail Singh at Saraswati Vidya Mandir, a private school in Surana village, severely injuring him. He was taken to various hospitals in Jalore and Udaipur before being admitted to a private hospital in Ahmedabad, where he died 23 days later on 13 August 2022. These are only a few crimes against Meghwals that have caught the public's attention. There are thousands of cases that were not registered.
The way the upper-caste media, Savarna gangs and administration are covering up the truth and protecting the perpetrator in this case is deplorable. Ambedkar had warned long ago that in a dispute between the Untouchables and Hindus, the former will never receive law-enforcement safeguards or justice from a judge. "The police and the magistracy are Hindus, and they love their class more than their duty".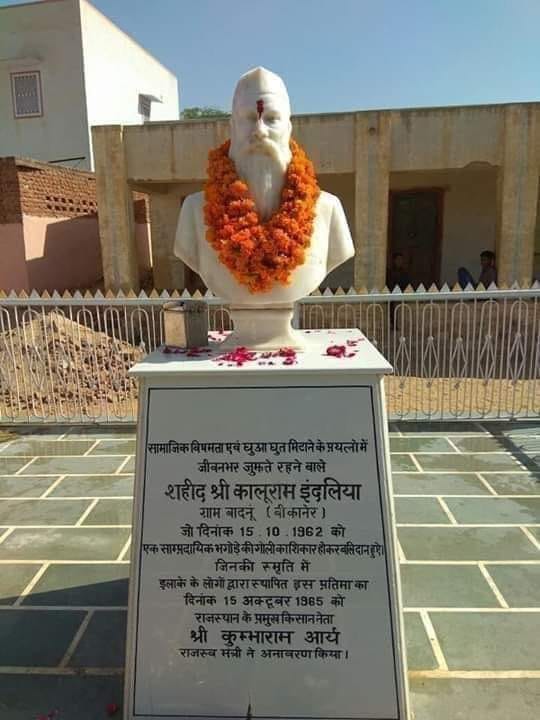 Social activist Bhanwar Meghwanshi writes, "Every day, cow-dung Manustream media licks its own spit. The child was killed on the first day for touching an earthen pot. On the second day, there was no pot. On the third day, the teacher did not kill, children fought among themselves. On the fourth day, the child already had an ear infection. The story is changing by the minute, and eventually, the investigative journalist will write a big breaking investigative story saying, 'Dalit student was not killed by anyone, he died on his own'. Shame on Manuwadi media and a casteist society, where the victim himself is the culprit." 
According to the 2011 Census of India, the total Scheduled Caste population in Rajasthan is 1,22,21,593, which is 17.83 per cent of the total population, and the Meghwal community has the largest population among the Scheduled Castes. Dominant castes such as Rajputs and Brahmins make up only 9 per cent and 7 per cent, respectively. Despite boasting the largest population and the most MLAs, MPs, and other high political posts, this community is subjected to the most atrocities. The Meghwals' economic dependence on the upper castes explains their lack of resistance against this gross injustice. What makes the Meghwal community vulnerable is that with limited resources, especially land, at their disposal even subsistence becomes a struggle. For instance, more than 200 Meghwal families live in Jitendra Meghwal's Barwa village in Pali district, yet they offer little resistance to oppression of the upper castes. Only 6 families own agricultural land, while the rest depend on upper-caste oppressors.
There has been an awakening among the Meghwals in the last few years, the reason being education. Whether it is the IPS officer Ratan Lal Dangi (currently posted in  Bilaspur Range, Chhattisgarh as IG), or social activist and author Bhanwar Meghwanshi, or Bhatta Ram, son of a labourer who went on to become the president of a students' union at Tata Institute of Social Sciences (TISS) Mumbai, or Yash Meghwal, who has an MSc in Economics from Queen Mary University of London, or Anurag Minus Verma who has made his mark as a multimedia artist, or a boy from an ordinary family like me pursuing a PhD in England – there are many Meghwals who have taken huge strides in society.
There is no point having expectations from the members of Meghwal community who are in political positions because the fears expressed by Kanshi Ram have come true and these leaders have emerged as chamchas (stooges). However, a resistance is emerging among the Meghwals against atrocities and Manuwadi traditions even in a feudal state like Rajasthan, which the upper castes haven't been able to come to terms with and have resorted to violent means to quell this rise. Not that this community has only recently begun to question the status quo. Whenever they got the chance, they resisted. On 15 October 1962, Thakurs shot and killed Kaluram Meghwal. The Meghwal community of the Jhajhu village in Bikaner district was faced with a water shortage. Kaluram Meghwal went to the well of the Thakurs of that village, drank the water himself and watered his camel, too. He left one of his shoes at the well to challenge the Thakurs, who responded by murdering Kaluram Meghwal, but his struggle continues to inspire the Dalit community.
During summer, water pots are kept at various points of a village with donations from the villagers. Anyone can drink water from there but if a Dalit wants to quench their thirst, they cannot touch the pot, an upper-caste person will pour water into their cupped hands from above. 
I remember an incident from my childhood. A relative of mine in my village had eloped with a Brahmin girl. The upper-caste section of the village held a meeting and publicly announced the boycott of my community. I went to buy groceries from the shop located at the bus stand, but came back empty-handed, because the villagers had warned the shopkeeper of consequences if he sold anything to members of my community. Upper-caste villagers circulated a blank paper within my community and asked us to sign it. Most people put their thumb impressions (as most of them were illiterate), but my father and uncle refused to sign. Villagers protested, the police arrived and arrested my father and uncle. The irony here, one would notice, is that instead of punishing the unconstitutional casteist people, the police protected them and acted against the Dalits (Meghwals) who stood up for their Constitutional rights. My father and uncle spent the whole night in the police station. There will be thousands of other Meghwals who will have similar stories to share. 
On the one hand, Dalits are being barred from riding horses, while on the other hand, others, such as Tarun Meghwal, are leading the wedding procession in a helicopter. Tarun Meghwal got married to Diya at Bhidhanion Ki Dhani near the Pakistan border in Barmer. He reached Jasedhar Dham by helicopter with his bride. Along with the rest of the country, there is a positive shift in the status of Dalits in Rajasthan, with the Meghwals playing a key role in this process. Perhaps, this is the reason atrocities are also on the rise.
---
Forward Press also publishes books on Bahujan issues. Forward Press Books sheds light on the widespread problems as well as the finer aspects of Bahujan (Dalit, OBC, Adivasi, Nomadic, Pasmanda) society, culture, literature and politics. Contact us for a list of FP Books' titles and to order. Mobile: +917827427311, Email: info@forwardmagazine.in)

The titles from Forward Press Books are also available on Kindle and these e-books cost less than their print versions. Browse and buy:

The Case for Bahujan Literature

Dalit Panthers: An Authoritative History

Mahishasur: Mithak wa Paramparayen