It was Ali Anwar, the author of this book, who first proposed, in the 1990s, the nomenclature 'Pasmanda' (meaning those who have been left behind) for the backward castes and Dalits among Muslims. Masawat ki Jung: The Battle for Equality provides a brief history of the Pasmanda identity, which has now entered mainstream political discourse as the ruling Bharatiya Janata Party seeks votes from among Muslims. This book, originally written in Hindi in 2001, traces the birth of Islam in the Middle East, the coming of Islam to India and its spread as the several castes on the subcontinent embraced the faith. With a focus on Bihar, the author draws on studies of anthropologists, historians as well as his own field trips and interviews, to depict the extent of marginalization of this vast majority of Indian Muslims both in society and politics. 
'This book could pave the way for Pasmanda intellectuals joining hands with Phule-Ambedkarites across India.'
-Kancha Ilaiah Shepherd (from the foreword)
'This valuable study by Ali Anwar, coming as it does at the start of the rise of the exploited, oppressed and deprived classes, gives us a fresh insight into the political structure of India and proposes some crucial changes in the strategy for combating social inequalities rooted in caste and class.'
-Rajkishore (from the afterword to the original Hindi, 2001)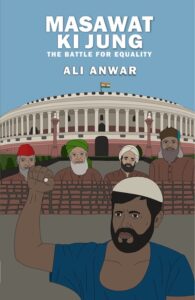 During the 1999 Lok Sabha election, the All India Milli Council held a press conference in Patna and distributed pamphlets that urged support for the RJD-Congress alliance with an appeal to preserve secularism. But their appeal backfired in the Kishanganj constituency. The Milli Council had the Nationalist Congress Party field Vice-President Asrarul Haque through Tariq Anwar's intervention. Consequently, RJD's Mohd. Taslimuddin lost the election to Syed Shahnawaz of the BJP. In Kishanganj, Muslims have 66 per cent of the votes.
The leaders of All India Milli Council and All India Muslim Personal Law Board have always tried to make sure that Taslimuddin does not win. The same Maulana Asrarul Haque tried his luck against Taslimuddin in the 1998 elections as a Samajwadi Party candidate and before that as an independent candidate. In every election he has received tremendous support from the ulemas of All India Muslim Personal Law Board, the Milli Council and Imarat-e-Sharia, but has never succeeded. When Taslimuddin became state home minister in H.D. Devegowda-led central government, the restlessness of the leaders of the All India Milli Council was evident. These ulema were involved behind the scenes in the campaign to oust him. Isn't the only fault of Taslimuddin that he belongs to a backward caste and does not bow to the above-mentioned leaders? This was perhaps the main reason the ulema thought fit to ensure that a syed BJP leader, rather than a kulhaiya RJD leader, won.
(An excerpt from Chapter 6: 'Muslim Politics Standing on its Head')
Where to buy