Maamannan (meaning "Emperor", 2023), directed by Mari Selvaraj, is a Tamil political drama that explores the themes of caste, politics, animal-human relations, and intergenerational conflict. The film stars Vadivelu, Udhayanidhi Stalin, Fahadh Faasil, and Keerthy Suresh.
The film's protagonist, Maamannan (Vadivelu), is a Dalit MLA who is elected from his reserved constituency for the state assembly. Maamannan is a soft-spoken and unassuming man, but he is deeply committed to fighting for the rights of his people. His son, Athiveeran aka Veeran (Udhayanidhi Stalin), is a young man who is passionate about martial arts and pigs. Athiveeran is also a staunch critic of caste discrimination, and he often clashes with his father over his methods of activism. Through the characters of Athiveeran and father, the film suggests that both electoral and non-electoral approaches are necessary, and that it is important to find a way to balance them.
The film's central conflict arises when Athiveeran's friends are brutally murdered by a group of "upper caste" men for bathing in a common village well. Athiveeran is with these friends of his at the time, but he manages to escape from the spot. Maamannan, Athiveeran's father, approaches Salem Sundaram (Azhagam Perumal), who is a minister representing "Samathuva Samooganeethi Makkal Kazhagam" (SSMK, People's Federation for Equality and Social Justice), the party that Maamannan is associated with. The minister is also the father of Rathnavelu (Fahadh Faasil) and Shanmugavel. Maamannan shares his grievances with the minister, seeking a fair resolution. In response, Minister Salem Sundaram advises Maamannan to approach the matter with caution, emphasizing the importance of maintaining peace and harmony in society. He suggests refraining from pursuing any immediate action against the alleged culprits. However, Athiveeran, determined to seek justice for his friends, does not give up. Athiveeran even stops talking to his father because he heeds the minister's advice on not taking any action against the murderers. 
Over the course of 15 years that follow, Athiveeran, falls in love with Leela (Keerthy Suresh) while they are in college. They separate after college, and Leela establishes a free coaching centre for underprivileged students. However, due to opposition from private coaching centres, including one owned by Rathnavelu's brother, she is forced to relocate. Reluctantly, after much persuasion from her friends, she seeks help from Athiveeran. Together, they set up a new coaching centre that positively impacts the education of marginalized students, threatening the business of private coaching centres. In retaliation, Rathnavelu's brother sends goons to destroy Leela's centre. Athiveeran and his friends retaliate by attacking the rival coaching centre.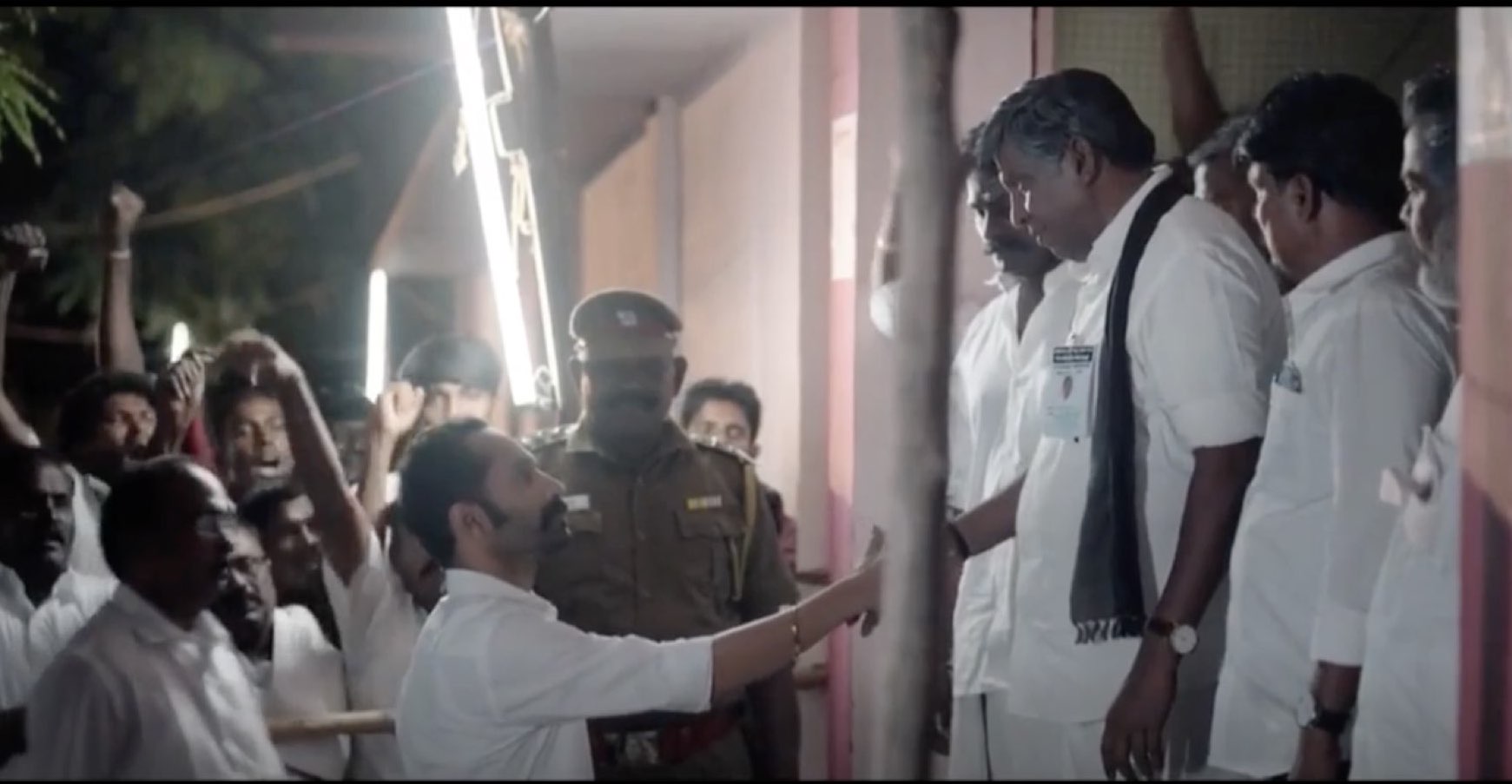 After the incident, Rathnavelu invites Athiveeran and his father Maamannan to his house to discuss the issue. Athiveeran notices that his father never sits on the chair in front of Rathnavelu, which angers him. He becomes determined to make his father sit on the chair, as that to him symbolizes self-respect. For Rathnavelu, it is an insult to see Maamannan sit on the chair, and Maamannan stands before him, even though there is an empty chair, out of respect.
Athiveeran's resolute attempt on this issue of attaining self-respect and not following social norms leads to Rathnavelu leaving his party and joining the opposition, to teach a lesson to Maamannan and Athiveeran and remind them of their social status. However, Rathnavelu loses to Maamannan in the political battle. Unable to accept defeat, Rathnavelu unleashes his wild dogs on Veeran's pigs.
Maamannan is a powerful film that addresses a number of important social issues. The film's depiction of caste discrimination is particularly effective, and it highlights the violence and oppression that Dalit communities face in various forms today. It is also about the political subjugation and humiliation, and the power hierarchy based on caste in the political system. The film also explores the complex relationship between humans and animals, and it suggests that animals can be powerful symbols of resistance and hope. For example, the pigs that Athiveeran raises are symbolic of his resistance to the caste system and his love for the "untouched". The pigs are considered to be unclean animals by "upper-caste" Hindus, but Athiveeran sees them as symbols of strength and resilience. It shows how the caste system is a form of animality, reducing humans to the status of beasts. This symbolism is both insightful and challenging. The film suggests that animals can be more than just pets or livestock. 
Fahadh Faasil's portrayal of the villainous Rathnavelu is a chilling and nuanced depiction of casteist violence. Rathnavelu's dogs, raised as wild animals, are a reflection of his own cruelty and caste supremacy. He frequently takes out his frustrations on them, even killing them for failing to carry out his orders to murder the oppressed. This behaviour is indicative of Rathnavelu's belief that Dalits are subhuman and exist only to serve people like him. He equates his pet dogs with Dalits, whose job it is to obey without question.
The choice of music in the film is also significant. A.R. Rahman's score for the film is both disturbing and beautiful. The music contributes to the overwhelming emotional mood of the film's message. The camerawork for the film is typically handheld and agile, which serves to give a sense of immediacy and "reality". The film also employs a combination of close-ups and long shots to achieve various emotional effects. Close-ups, for example, are frequently utilized to convey the intimate relationship between Maamannan and Athiveeran, and between Athiveeran and Leela. Long shots, on the other hand, are frequently used to depict the vastness of the landscape and the oppression of the caste system. The cinematography in the film is stunning and evocative. To achieve a variety of moods and atmospheres, the film employs natural light and filters. The film uses the squeals of pigs to generate a sense of dread, while drums (particularly parai drums) are used to create a sense of excitement and urgency. 
Mari Selvaraj, like in his previous films, effectively underscores his anti-caste stand through a subtle portrayal of iconic figures such as Buddha, Ambedkar and Periyar. Additionally, he symbolically represents Marxist subaltern politics through elements such as a portrait of Che Guevara and a T-shirt worn by Leela that says "power to the people". An essential aspect of resistance art in the movie is the artwork of the character Athiveeran, which features a piglet with wings. This artwork challenges the conventional association of pigs with filth and subverts prevailing oppressive notions. The wings also symbolize the desire to break free from the oppression of the caste system.
The wings and the mountain in the film have a deeper meaning – that as massive an obstacle the caste system may be, it is not insurmountable. Maamannan is often shown metaphorically at the summit of the mountain, having made the journey from being a common man to becoming an MLA and Speaker of the Assembly. It is a powerful portrait of the struggle to become equal human beings and turn the caste system on its head.
After Maamannan's electoral victory, Rathnavelu shakes hands with him and congratulates him while looking upward, signifying Maamannan's elevated position, standing on the top of the stairs. This visual representation of the reversal of hierarchy, achieved through political reservation and other provisions of the law, is a powerful statement. 
---
Forward Press also publishes books on Bahujan issues. Forward Press Books sheds light on the widespread problems as well as the finer aspects of Bahujan (Dalit, OBC, Adivasi, Nomadic, Pasmanda) society, culture, literature and politics. Contact us for a list of FP Books' titles and to order. Mobile: +917827427311, Email: info@forwardmagazine.in)