Dokra or Dhokra art works are fast becoming a forgotten legacy of the tribal culture of West Bengal. Dokra is a raw material of brass that is mainly used for making the figures of animals, religious figures and most importantly for ornaments.
The ornaments and accessories were once very popular among the women in Bengal. But over a period of time, demand for them declined, especially when more trendy, fashionable and cheaper options became available. Today the Dokra makers are living an awful life. They no longer get the attention they deserve. Very few know that the Dokra name derives from Dhokra Damar Tribe that resided in Bankura, Purulia, Midnapore and Burdwan.
The journey of Dokra started about 4,500 years ago, i.e., during the time of Harappa and Mohenjo-Daro. Some say that this Bengali art form emerged to give expression to the lives of people from the marginalized section of the society. It is also said that Dokra artisans had to meditate for hours to ingrain the image in their minds. It was a tough process but then it was rich in its value. Such works were highly appreciated by art lovers and experts. Dokra was appreciated and demanded till a few decades ago. Women adorned with Dokra ornaments were highly admired. But all that changed quite rapidly with the onslaught of globalization.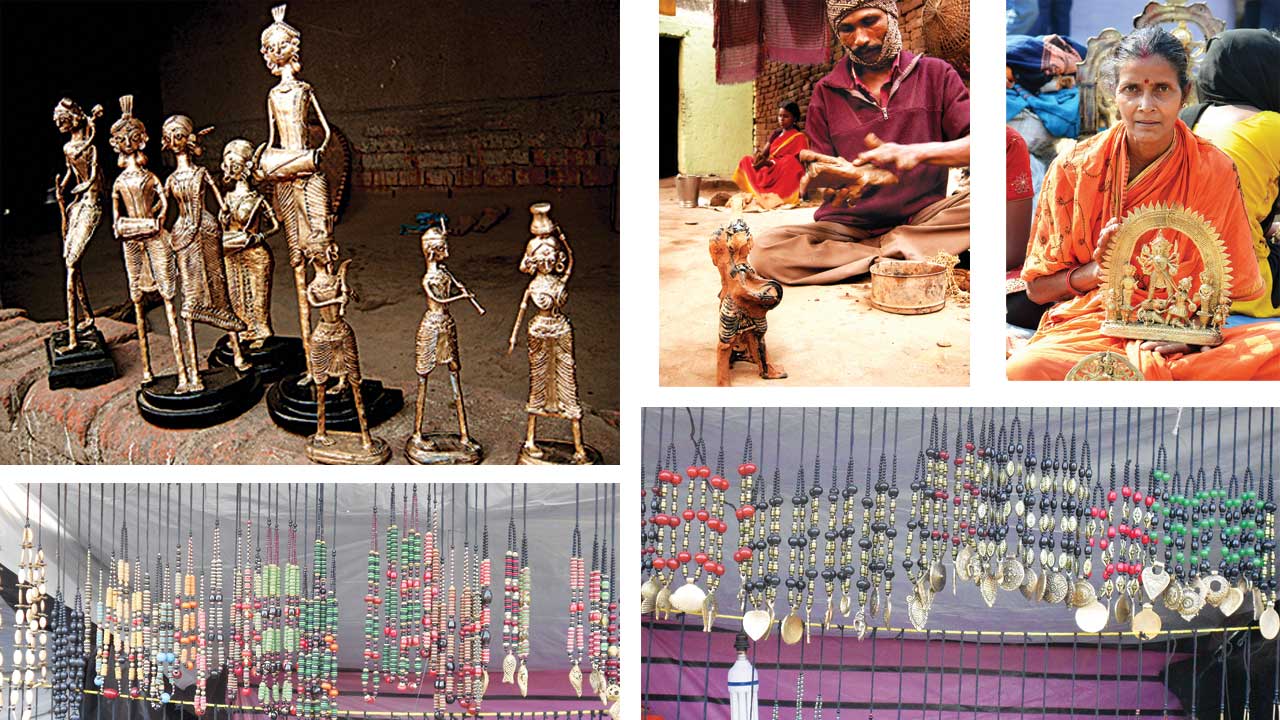 Dokra artisans also blame the government that it does nothing to promote the art nationally or internationally. And initially, there were no NGOs that came in their support either. That, however, is beginning to change.
With the rise in cost of the raw material and poor returns, Dokra artisans are finding it hard even to survive. Many are shifting to other professions.
NGOs, however, find problems with artisans too. They complain that the handicraft have hit the rock bottom due to lack of creativity and fresh imagination. No new sculpture or structure is being made; people come to experience such handicrafts in exhibitions but very few people in today's time place them in their homes, they allege.
The head of the Dokra Artisan Samiti, Nilay Jana agrees that their traditional art form does not cater to modern preferences in images, design, etc. But they are willing to change, provided help, in terms of art workshops, comes from the NGOs and the government. Presently, the new generation of Dokra artisans is moving away from the art form as it does not sustain them despite the hard work they put in. When contacted, Ms Krishna Bhattacharya, Chairperson and Trustee, Artists Welfare Trust, said, "Loss of creativity and modernization of the world is making the art to shrink in its reach and appeal … New and innovative designs have to be thought of; utility items can be made that the buyers find useful, even apart from ornamental value… Proper education and good living conditions should be provided by the government and NGOs for the uplift of the workers."
Fortunately, many NGOs are now coming forward to work with the artists with regard to design innovation as well as making the aware of them preferences of the contemporary buyers. A few internationally acclaimed NGOs have showed interest in making a documentary film on the Dokra art of Bengal and the lives of artisans so that they can get the right kind of exposure even in the overseas market.
Many handicraft wholesalers believe that with innovation this age-old art can woo back the present-day customers. Utility items such as door locks, showpieces, incense stick holders, etc., will also help in bringing in revenue. Efficient co-ordination among various stakeholders involved in the art coupled with inspirational workshops will help the art form survive in Bengal and make it flourish overseas as well.
Published in the August 2013 issue of the Forward Press magazine