Recent history seems to suggest there are two parts to the Modi wave: one that is to be seen and heard before the elections, with the fiery speeches, hoardings and 3D projections, and another that runs underneath, quietly, emerging only after he has been crowned the winner.
On 25 December 2007, two days after Narendra Modi was re-elected as chief minister of Gujarat, the police and journalists in Kandhamal, Orissa, heard 82-year-old Swami Lakshmananda Saraswati telling his followers on his mobile phone: "You are just burning tyres. How many Isai houses and churches have you burnt? Without 'kranti' [revolution] there can be no 'shanti' [peace]. Narendra Modi has done kranti in Gujarat, the reason why shanti's there." And so his followers went on a rampage, doing exactly as they were told. A little over six months later the Swami, along with his aides, was murdered by Maoists. Kandhamal went up in flames again and this time there was bloodshed too. Some 38 people lost their lives and thousands had to flee their homes after they came under attack by mobs.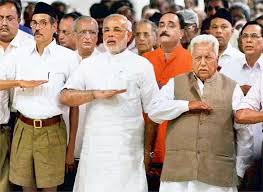 More recently, in the lead-up to and after the BJP's Modi being sworn in as prime minister, Christian tribals in Chhattisgarh's Bastar district are feeling this sinister wave. Some 50 gram panchayats have passed resolutions banning non-Hindu religious activities and entry of "non-Hindu missionaries" (read: Christian) during the past six months, claims Suresh Yadav, president, Bastar district's chapter of the Vishwa Hindu Parishad (VHP).
Modi's victory has emboldened the Sangh affiliates and other like-minded outfits in their Hindutva project. "The villagers came to us with their problems. The VHP only told them about the law. Now that the gram panchayats have passed the orders, it is the responsibility of the district administration to implement it; otherwise we will protest. We will also approach the CM and the governor to get the ban imposed," Yadav added. The state's BJP government has so far been a mute onlooker.
The Chhattisgarh Christian Forum (CCF) has alleged that the ban is "illegal and unconstitutional. It is similar to what khap panchayats do. How can you ask us to block our religious activities on the basis of a panchayat resolution?" asked Arun Pannalal, CCF president.
Some tribals have been attacked. Others haven't been given the subsidized food items they are entitled to. This is not quite the 'achhe din' they heard promised in the rallies and on TV before the elections. "It's been over two months now that we have been denied rations in the village and 10 Christians were attacked when they went to collect their ration," claimed Sonuru Mandavi, whose family converted to Christianity in 2002.
Christian organizations have now appealed to the Chief Minister Raman Singh and Prime Minister Narendra Modi citing violation of Constitutional guarantees of freedom of faith, and the freedom of movement, expression and association, as well as the right to food.
Veteran Communist Party of India (CPI) leader Chhiaranjan Bakshi said, "CPI national leadership has been apprised about the development and we will do something more against such [divisive] tactics by right-wing groups."
Published in the August 2014 issue of the Forward Press magazine
---
Forward Press also publishes books on Bahujan issues. Forward Press Books sheds light on the widespread problems as well as the finer aspects of Bahujan (Dalit, OBC, Adivasi, Nomadic, Pasmanda) society, culture, literature and politics. Contact us for a list of FP Books' titles and to order. Mobile: +919968527911, Email: info@forwardmagazine.in)

The titles from Forward Press Books are also available on Kindle and these e-books cost less than their print versions. Browse and buy:

The Case for Bahujan Literature
The Common Man Speaks Out

Mahishasur: A people's hero