With as many as four presidential candidates locked in a close contest, pundits trying to predict the result of 2014 Jawaharlal Nehru University Students' Union (JNUSU) election had a hard time. Dilip C. Mandal, a senior journalist, author and keen observer of JNU politics, though, appeared confident about one thing: "The result is going to turn in favour of Dalitbahujan candidates," he said.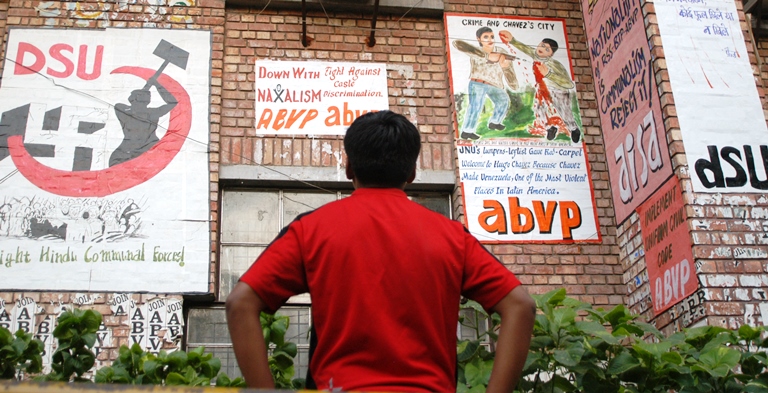 In mid-September every year, when Jawaharlal Nehru University (JNU) covers itself with a blanket of green foliage, thousands of JNUites and outsiders gather at the lawn of School of International Studies (SIS). Over three days, the crowd eagerly listens to the election commissioner's loudspeakers blaring out updates at regular intervals.
Dinesh Kumar Ahirwar, a PhD student of Chinese Studies, who contested the elections for the post of president in the 2011 JNUSU election, had this to say: "Since a candidate can only contest the elections for the central panel once, the opportunities have opened up for lower-caste students. Earlier upper-caste students used to stand for elections year after year and the newcomers didn't stand a chance." Ahirwar, like Mandal, noticed the decline of upper castes' role in the JNU leadership, attributing the trend to the Lyngdoh recommendations that has been in force since 2011. Such an open appreciation of the Lyngdoh recommendations is rare among left, democratic circles, where the recommendations are perceived as the ruling classes' attempt to take the wind out of radical student politics. It is even more noteworthy considering United Dalit Students' Forum (UDSF), with which Ahirwar is associated, has been the part of the Joint Struggle Committee against the Lyngdoh recommendations.
On the third day, when the results were announced, the election of candidates fielded by the All India Students' Association (AISA) to all the four central panel posts made the headlines but what the national media didn't say was that all four were Dalitbahujans and  minority students – Ashutosh Kumar, a Yadav, for president; Anant Prakash Narayan, a Dalit, for vice-president; Chintu Kumari, a Dalit, for general secretary; and Shafqat Hussain, a Kashmiri Muslim, for joint secretary. Mandal was right.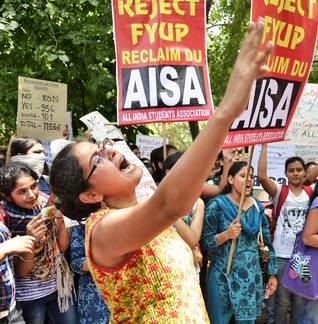 Sharing their views with the media, Ashutosh Kumar and Chintu Kumar were unambiguous in calling it a victory of the deprived section (vanchit tabqa). 'We have been fighting for winning the claim (dawedari) of deprived section,' Chintu said in a news programme on a TV channel.
It was not only the winners but also the runners-up and a large number of other contenders, who came from the lowest rungs of society. For example, Rahila Perween of Left Progressive Front (LPF), who finished asrunner-up for the post of president, is a pasmanda (OBC) Muslim; Sourabh Kumar of Akhil Bharatiya Vidyarthi Parishad (ABVP), who stood third, is a Kurmi; and Pindiga Ambedkar of Students' Federation of India (SFI), who stood fourth, is a Dalit.
Are the results of 2014 JNUSU election a Dalitbahujan assertion on "red soil"? After looking at the recent trend of JNUSU politics, one is persuaded to call it just that.
From upper caste dominance to …
Established in 1969, JNU, despite its claim to be based on the idea of social justice, remained for a long period remained an institution dominated by upper castes and classes. It was only after years of sustained struggle that JNU could provide reservations to Dalitbahujan students and faculty. Umakant, noted human rights activist and former student of JNU, recalled fighting for the appointment of the first SC faculty member in the early 1990s: "For JNU's silver jubilee celebrations, then president of India Shankar Dayal Sharma was invited as the chief guest. We protested and ensured that he did not reach the campus. Our protest was justified because Dalits, Adivasis and Backward castes were denied their rights in a so-called progressive university."
Since the first JNUSU election in November 1971, most of the elected JNUSU presidents have been from the upper strata of society. For example, the first president of JNU was a Brahmin, O. N. Shukla (1971-72, Independent). Even the most 'popular' and 'successful' student leaders were all from the top rungs of society ­– Prakash Karat, a Nair (1973-1974, SFI, now CPM General Secretary), Anand Kumar, a Bhumihar (1974-75, Free Thinkers, now Aam Aadmi Party leader), D. P. Tripathi, a Brahmin (1975-1976, SFI, now a General Secretary of the NCP), and Sitaram Yechury, a Brahmin  (1976-1977, SFI, now CPM Politburo member), etc.
… Dalitbahujan assertion
This Dalitbahujan assertion may be traced back to the implementation of Mandal reservation in the early 1990s. Chandrasekhar Prasad of AISA, a Koiri, and Battilal Bairwa of SFI, a Dalit, became presidents for two terms from 1994-96 and 1996-1998, respectively. Apart from them, there were also a few leaders from among minorities and women: Naseer Hussain (1999-2000, SFI), Albeena Shakil (2001-2002, SFI) and Mona Das (2005-07, AISA) were the presidents of JNU.
But the major change in the social composition of JNUSU leadership was witnessed post-Mandal II. With the implementation of 27 per cent reservation for OBCs in this premier institution, the social demography began to shift in favour of Dalitbahujans. Today, around 50 per cent of JNU's students are from the non-upper-castes. If the other deprived social groups, minorities and women are included, the upper castes and classes will become a minuscule minority.
This change in social demography is seen as a major factor influencing the results of last three JNUSU elections (from 2012-14), in which all presidents were from marginalized communities—V. Lenin Kumar (2012, SFI-JNU or DSF), an OBC from Tamil Nadu; Akbar Chawdhary (2013, AISA), a Muslim from UP; and Ashutosh Kumar (2014, AISA), a Yadav from Bihar.
Yet another proof of this assertion is the growth of a number of student organisations founded on the ideology of Phule, Periyar and Ambedkar in post-Mandal II phase. Some of them are All India Backward Students Forum, Untouchable India, Students for Social Justice, All India Backward Students' Parliament, etc.
Moreover, JNU has been undergoing Dalitisation of public culture. Over the years, the traditionally strong left student organisations of JNU, which, until recently, ignored Dalitbahujan icons, have now no hesitation in wearing Ambedkar, Periyar, Birsa Munda and Phule on their sleeve. The images, symbols and icons of the subaltern are all over the place on the  JNU campus. Last year, the portraits of Phule and Birsa Mudna were installed in the JNUSU office. Unlike in the past, recent wall posters, pamphlets and badges, carrying the slogans and images of Dalitbahujan heroes and heroines, seem to have outshone those of Marx, Lenin, Trotsky, Stalin and Mao.
Another manifestation of this assertion is the inclusion of subaltern agendas. The upper-castes Marxists had contended for a long time that any talk of caste and reservation would fracture the working-class solidarity but now the ideologues of left parties have no hesitation in having their script and speech emblazoned with terms such as "social justice", "inclusion", representation", "reservation", "dignity" and "annihilation of caste".
The critics argued that the representation of deprived sections itself does not necessarily lead to their empowerment and the end of structural inequalities. They contended that elected representatives sometimes put sectarian party interests or individual benefits ahead of the rights of the toiling masses. 'We have to see how far these elected leaders are able to raise the issues of deprived sections within the party and outside of it,' said Chandrasen, a PhD student and 2013 presidential candidate for JNUSU. While this concern is one that Dalitbahujan leaders must heed, this should not stop us from welcoming the newfound dynamism on the campus.
---
Forward Press also publishes books on Bahujan issues. Forward Press Books sheds light on the widespread problems as well as the finer aspects of Bahujan (Dalit, OBC, Adivasi, Nomadic, Pasmanda) society, culture, literature and politics. Contact us for a list of FP Books' titles and to order. Mobile: +917827427311, Email: info@forwardmagazine.in)