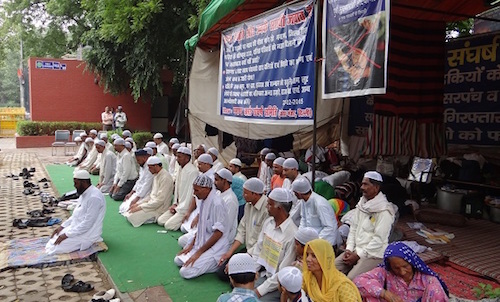 Dejected by the government turning a deaf ear to their demand for an end to their social boycott and for their rehabilitation, around 100 Dalit families claimed they had embraced Islam. Many Dalits and OBCs of Bhagana village in Haryana's Hisar district have been sitting on a dharna at Hisar's mini-secretariat and at Delhi's Jantar Mantar for almost four years.
After a clash between the upper-caste musclemen of Bhagana and Dalits on 21 May 2012, the upper castes started a social boycott of the Dalits – so much so that Dalit children were not allowed to play in the village playground and walls were constructed in front of Dalit homes and in the village's Lal Dore Ke Chowk.
A day before embracing Islam, a delegation of the protesters had met Haryana Chief Minister Manohar Lal Khattar. Vijendra Bagodia, president of Bhagana Kaand Sangharsh Samiti, said, "We took this decision as no one was listening to us. We were suffering at the hands of the upper castes and our cry for justice was being ignored. That is why we were forced to embrace Islam."
Satish Kaajla (Abdul Kalam after conversion) said that he would launch a campaign in Haryana to persuade Dalits to become Muslims. Meanwhile, on 9 August, late in the night, the Delhi Police swooped on the newly converted Dalits sitting on a dharna. Many protesters were seriously injured as the cops rained lathis onto them. This sudden development created a sensation in the district, leading to a tightening of security in and around the village.
Published in the September 2015 issue of the FORWARD Press magazine