Dr Sunil Pareet honoured
CHENNAI: Kesharinath Tripathi, the governor of West Bengal, conferred the Suresh Chandra Kushwaha Sahastraksh Samman on Dr Sunil Kumar Pareet at a function organized by the Tamil Nadu Hindi Sahitya Academy in the DG Vaishnav College here on January 10 – the World Hindi Day. Among those who graced the occasion were chairman of the academy, Ramesh Gupta "Neerad"; general secretary, P. Haridas; Dr P.K. Subramaniam; and Rajlaxmi Rajan. Dr Pareet is a well-known Hindi-Kannada litterateur and Hindi Pracharak. He is the recipient of more than 60 awards and has authored six books.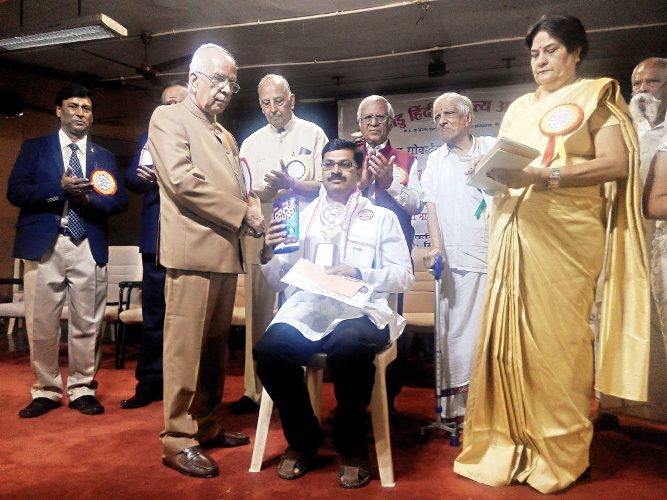 Conventions draw a large crowd of indigenous peoples
Hyderabad: The 32nd convention of BAMCEF and Rashtriya Moolniwasi Sangh and the 5th national convention of Bharat Mukti Morcha were held here from December 25-29. A large number of indigenous Bahujans from all over the country participated in these conventions.
Reservations should be proportional to population
BHADOHI (Uttar Pradesh): The Bahujan Mukti Party and the Gondwana Gantantra Party jointly staged a daylong dharna here on 16 January demanding "52 per cent reservations for the 52 per cent OBCs". The dharna was led by Dr Vinod Samrat Maurya, Dr Mahendra Kumar Gond and R.P. Maurya. A 12-point charter of demands addressed to the governor was handed over to the district collector. -Vinay Kumar
Published in the February 2016 issue of the Forward Press magazine