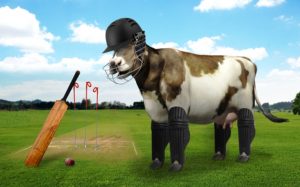 This is a very serious issue.  In 1857, Indian soldiers fighting for the British to make a living had refused to work when they were told that the bullets they were using in their new rifles were greased with beef. This insurrection against the British due to religious reasons was described as the "First War of Independence". Just as the Indian soldiers didn't know for a long time that beef was used to grease bullets, the common man was unaware till recently that high-quality cricket balls are made of cowhide. Incidentally, some time ago, scientists stumbled upon the fact that there is gold in the urine of cow – the only animal to enjoy this privilege. When cow fat in bullets can destroy one's religion, won't cowhide in cricket balls have the same consequence?
Now, a pertinent question is whether this is an international conspiracy to destroy the religion of Hindus. Its international ramifications are evident from the fact that cricket is basically a foreign game which has been systematically thrust upon Indians – so much that it has made its way to every nook and cranny of the country. I fervently appeal to all Hindu cricket players and Hindus who have touched a cricket ball even once in their lives to immediately set out for Haridwar or the Sangam and take a dip in the holy Ganga to purify themselves. The cricket players who have left this mortal world should be freed from this sin by performing appropriate rituals in Gaya. Otherwise, their souls will never rest in peace. After this discovery, all Hindus should boycott cricket matches and should take an oath that let alone playing cricket, they will not touch a cricket ball even with a barge pole.
It is so distressing and horrible to think that the dead Gau Matas are skinned and their hide is used to manufacture cricket balls. The ballers throw these balls without any mercy and the batsmen hit it ruthlessly to score fours and sixes. And everyone claps – even the Hindus! The non-Hindus may have reservations about this pro-cow and anti-cricket stance but they are requested not to take it otherwise. Of course, the Constitution gives them the freedom of religion and they can continue playing cricket, if they so wish.
Another recent revelation is that a draft on India's environment policy is a copy of the American environment policy that does not acknowledge or even refer to the original document. This news is trending on social media. Prakash Javadekar, who was in charge of the environment ministry when this copy-paste policy was drafted, has now moved on to the Ministry of Human Resource Development. In any case, we are already following American educational policy, economic policy and foreign policy. Then why not draft our sports policy too under the able guidance of the US? That will ensure that like its American version, the Indian sports policy too has no place for a third-rate game like cricket. In any case, cricket is a symbol of British imperialism and reports of terror outfits investing in the game keep on surfacing from time to time – even more the reason to banish this game.
The price of quality cricket balls has doubled over the last one year – from Rs 400 a piece to Rs 800. Cowhide was always used to manufacture cricket balls but after the BJP government took over at the Centre, beef has
been banned in Uttar Pradesh. Although cow slaughter is legal/acceptable in many states like Kerala, West Bengal, Arunachal Pradesh, Mizoram, Meghalaya, Nagaland, Tripura and Sikkim, in the Hindutvavadi atmosphere that prevails in the country, transportation and sale and purchase of beef and cowhide has become extremely risky. Remember Akhlaq? That is why the factory in Meerut, Uttar Pradesh, which manufactures cricket balls is in dire straits. But it matters little. When Hinduism is in danger, the source of livelihood of a couple of thousand people is of absolutely no consequence. They can always find some other work to do.
The government and the Hindutvavadi nationalists have adopted a tough approach on cow slaughter, and sale of meat, skin and other remains of Gau Mata. Many have been done to death on the suspicion that they were consuming beef or smuggling cows for slaughter. Looking at the seriousness and sensitivity of the issue, we appeal to the Narendra Modi-led government at the centre to conduct nationwide raids to seize cricket balls made of cowhide and prove its secular credentials by banning this anti-Hindu game in India.