India's insensitivity towards gender minorities (LGBTIQ+) resurfaced recently when the government was faced with a fresh PIL challenging IPC Section 377 and when it was absent during the passing of a UNHRC resolution to appoint an independent expert to end discrimination against LGBTs. However, only a few know about transgenders in Karnataka requesting the state government to recognize them as a separate class instead of identifying their caste or religion. Importantly, it was the first response by transgenders in Karnataka to the government's proposal to categorize them on the basis of their caste so that they could get financial support for housing.
"Caste and class are relevant to transgenders and we must understand these aspects better. Most of us are or have been socially ostracized and economically marginalized. We are united by our gender identity and associated challenges despite belonging to different castes and religions. However, we can learn from the experiences of seasoned activists in the caste, gender and class rights movements", observed Malappa K., a committed activist and member, Karnataka Sexual Minorities' Forum (KSMF), which campaigns for the socio-economic inclusion and dignity of sexual minorities across Karnataka. Mallappa, 28, hails from northern Karnataka and was among nearly a hundred participants at a state-level discussion on "Class, Caste and Gender Identity among Transgenders in Karnataka" held in Bangalore recently. Various community-based groups and organizations working for the rights and entitlements of transgenders had jointly organized the discussion.
Transgenders have been requesting the government to resolve the issue of their housing. They can end up on the streets as they do not find accommodation easily or are charged high rents because of social stigma. But without understanding the associated realities, the Karnataka government asked transgenders to provide the caste categories they belong to and approach the SC/ST commission and similar bodies to obtain financial support for housing. However, transgenders, who prioritize their gender identity and consider themselves a community irrespective of their individual caste or religion, rejected this proposal.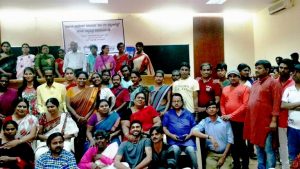 Some transgenders do not reveal their gender identity or sexual orientation due to the risk of ridicule, harassment, discrimination, stereotyping or sexual and physical violence from known and unknown persons. Additionally, family members of many young transgenders try to have healers or counsellors cure them, for they believe their gender identity is an illness and means instability. Some transpersons are forced to marry heterosexual people of the opposite sex. Owing to such insensitivity, transgenders leave home when young. Some of them do not "cross-dress" or undergo nirvaan (a traditional castration procedure) or the sex reassignment surgery to alter their physiology. Some transwomen join a hamam (a household where hijras or transwomen live under the tutelage of an older hijra), contributing part of their earnings to the hamam.
Kumar B., a 27-year-old transgender from Bangalore, said: "I discontinued my studies after completing my 10th grade as my family and society rejected my gender identity. Leaving home, I lived with a friend for two months while working at a factory, where I faced sexual harassment. However, when my parents discovered my whereabouts, they accompanied me to a non-profit organization in Bangalore, which counselled us." Soon after, Kumar joined a non-profit organization in Bangalore doing human rights advocacy. He also reunited with his family members, whom he supports and wears shirt and trousers as they requested.
Later, Kumar moved to the crisis intervention team in the same organization and then co-founded Payana, a Bangalore-based NGO working for the rights of sexual minorities. Crisis intervention roles are crucial as transgenders could be arrested if they oppose harassment or assault by the police and ruffians. In fact, the state and society often falsely accuse transgenders of harassment, especially at traffic signals, bus stations or trains, without understanding what pushes them to public spaces. Further, in 2011, section 36A was unjustly introduced in the Karnataka Police Act allowing police to register complaints against hijras whom they suspect of kidnapping or "converting" youngsters to transgenders forcibly. This is based on the Hyderabad Eunuchs Act.
As public appeals, protests and private meetings with ministers barely helped, KSMF filed a public interest litigation in the Karnataka High Court in 2015 challenging Section 36A and sought its revocation. After adjournments, in January 2016, the court postponed the hearing for six months to give time to the Karnataka government to amend the Act. It instructed the government to replace the derogatory word "eunuch" with the word "person" or a suitable alternative and stop harassing transgenders, while also telling the latter not to harass them [the government]. "The condescending behaviour of the judges shows their insensitivity and ignorance towards our harsh realities", noted Umesh P, a co-petitioner in the Karnataka PIL, sexual minority rights activist and founder, Jeeva, a Bangalore-based NGO focusing on community media and mental health of sexual minorities. He edits a quarterly Kannada magazine titled Ananya that features voices from the sexual minorities and also produces Jeeva Diary, a weekly radio programme on the lives of the sexual minorities and issues concerning them.
Questioning caste divisions, Yashodha P., a seasoned human-rights activist and state convener, Karnataka Dalit Mahila Vedike, said, "The Indian Constitution guarantees the right to equality and non-discrimination and bans untouchability. Yet, socio-economic inequality and discrimination and untouchability are rampant." She said that caste, gender, religious, ethnic and other minorities were not fully implemented, reiterating that the government and society must recognize and respect transgenders and their culture without imposing their perceptions on them.
 Kantharaju, chairperson, Karnataka State Backward Classes Commission, said the "historic" NALSA judgment passed by the Supreme Court in April 2014 recognized transgenders as citizens (or the "third" gender). "However, we must assess and publicize its implementation status. Further, transpersons need education and employment opportunities as mandated under Article 16 of the Constitution.
He added: "Caste and class are interlinked. Opponents of caste-based reservation often mistakenly state that it was meant only for 10 years. However, the plan was to have reservation until discrimination is completely eliminated. Essentially, policies must be framed prioritizing the needs of the transgender community after consulting the community."
Transgenders find it hard to obtain voter identity and ration cards as the documents on the basis of which the cards are made usually have their birth name and gender. Veena S., southern India's first transsexual woman candidate for public office, struggled to obtain her caste certificate while contesting the Bangalore municipal elections in 2010. Also, few transgenders, like Anu, a Karnataka High Court clerk, have formal employment as most such jobs require a graduate or post-graduate degree, which many transgenders lack; stigma, discrimination and harassment force them to discontinue academic education early. As many transpersons barely complete the prerequisites for higher education, relevant government scholarships are barely used. Hence, many of them beg or do sex work.
Transmen (female-to-male transgenders) like Sonu N., a human rights activist, and Christy Raj, a videographer, in their thirties and twenties respectively, are even less understood and therefore "invisibilized". All transgenders face challenges in accessing washrooms, seating, hospital wards and other facilities that are segregated heteronormatively as "female" and "male". To address these problems, the Karnataka transgender organizations' representatives at the state-level discussion also requested the government to draft a transgender policy, form an autonomous transgender commission and create a transgender welfare board. And Akkai Padmashali, Karnataka Rajyotsava award-winning transgender rights activist, co-petitioner in the Karnataka PIL and founder, Ondede, a Bangalore NGO championing the rights of children, women and sexual minorities, remarked, "Why call us 'third' gender? Which are the first and second genders?"