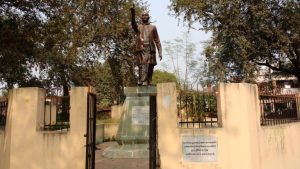 Bihar's Lenin, Babu Jagdev Prasad, was the harbinger of the "revolution of the exploited" in north India, a great protagonist of Arjak culture and literature, an inspiration for the setting-up of the Mandal Commission and the founder of Shoshit Samaj Dal and later the Bahujan Samaj Party. A great hero of the proletariat, Jagdev Babu laid the path on which the non-savarnas of the country today are marching towards social, economic, political and cultural progress.
Jagdev Prasad was born into a poor family on 2 February 1922 in Kurhari, Kurtha block, Bihar – close to Bodh Gaya, where Mahatma Buddha attained enlightenment. His father Prayag Narayan Kushwaha was a teacher in a primary school in the neighbourhood while his mother Raskali was unlettered. After passing his middle-school exam, he went to Jehanabad for high school. Having been born into a lower-middle class family, he became a struggler from his early days. When the adolescent Jagdev Prasad went to school wearing clean clothes, the upper-caste students made fun of him. One day, he lost his temper, thrashed his tormentors black and blue and threw dust into their eyes. His father had to pay a fine and tender an apology for his son's outburst. He was also given a severe dressing-down in the school. Another day, a teacher slapped Jagdev Prasad for no fault of his. A couple of days later, that teacher fell asleep in the class and began snoring. Jagdev Prasad slapped him hard across the face. The teacher complained to the headmaster. When confronted, he told the headmaster, "Everyone should get the same punishment for committing a mistake – whether he is a teacher or a student."
When he was a teenager, Jagdev Prasad succeeded in putting an end to the "Panchkatthiya" system prevalent in the area. Under the system, the farmers were supposed to provide five katthas (one kattha equals 933 grams) of their crop for the elephants of landlords. The farmers were unable to oppose this extortion. One day, when a mahout brought the landlord's elephant to a field to graze, Jagdev Babu and his friends asked him to go back. When he did not yield, they beat him up. This incident put an end to the devious practice in the area.
When he was living away from his home for studies, his father was taken seriously ill. Her mother was deeply religious. She performed pujas and begged to the gods to spare her husband's life. But his father passed away. This made Jagdev Babu revolt against the Hindu religion. He collected all the photographs and idols of gods and goddesses in his home and put them on his father's bier. His disillusionment with the brahmanical Hindu religion lasted his lifetime. He countered Brahmanism with humanism.
Despite all the problems at home, Jagdev Babu acquired higher education. He did his graduation and postgraduation from the Patna University. It was during this period that he came in contact with Chandradev Prasad Verma, who persuaded him to study and understand different political ideologies and thinkers. He started participating in sociopolitical events and eventually took to politics. He got associated with the Socialist Party and edited its organ Janata. As a committed journalist, he wrote prolifically on the problems of the Dalits, OBCs and the exploited. In 1955, he shifted base to Hyderabad where he edited the English weekly Citizen and the Hindi weekly Uday. His revolutionary and thought-provoking write-ups pushed the circulation of the two journals to lakhs but the publisher had to face threats. He was asked to tone down his writings, but instead of compromising with his principles, he resigned and returned to Patna.
At the time, the socialist movement was at its zenith in Bihar, but there were ideological differences between JP and Lohia. When JP and Lohia parted ways, Jagdev Prasad sided with Lohia. He strengthened the organizational structure of the Socialist Party and indigenised the socialist ideology so as to make its reach wider. JP quit active politics and joined the Bhoodan Movement of Vinoba Bhave. JP was a sham revolutionary who served the interests of the socialists of the forward castes. The land that the landlords donated after a "change of heart" was largely barren. It was distributed among the poor and the landless, who, through their industry and toil, turned it fertile. But once that happened, the landlords started staking a claim on the land and assaulting and forcibly evicting Dalits and OBCs from their fields. At that time, Karpoori Thakur openly flayed Vinoba Bhave and described him as a "Havai Mahatma" (an airy Mahatma). (Karpoori Thakur Aur Samajwad; Narendra Pathak).
In 1967, Jagdev Babu contested the assembly polls as a candidate of the Samyukta Socialist Party (formed by the merger of Praja Socialist Party and Socialist Party in 1966). He won convincingly from Kurtha. Due to his untiring efforts, for the first time, a non-Congress government was formed in Bihar with Mahamaya Prasad as the chief minister. Besides Jagdev Babu, Karpoori Thakur had also played a key role in its formation. But then, Jagdev Babu developed differences with Lohia on policy and ideological issues. He realized that he was in a party where few were enjoying the fruits of the labour of many. He quit the Samyukta Socialist Party and on 25 August 1967 founded the Shoshit Dal. He felt that a socio-cultural revolution was needed to give a pro-people orientation to the politics in Bihar. He joined the Arjak Sangh, which Ramswaroop Verma established on 1 June 1968. He said that only the principles of Arjak Sangh could help annihilate Brahmanism and only a cultural revolution could help establish humanism. He emphasized values and conduct in consonance with the principles of Arjak Sangh. At that time, this slogan was very popular:
Manvvad kee kya pehchan, Brahmin, Bhangi ek samaan,
Punarjanm aur bhagyavaad, inse janma Brahmanvad
 [In humanism, Brahmins and Bhangis are equal
Fatalism and (belief in) rebirth has given birth to Brahmanism]
On 7 August 1972, the Shoshit Dal merged with Ramswaroop Verma's party Samaj Dal to form Shoshit Samaj Dal. A philosopher and a revolutionary had joined hands, energizing the new party. As the national general secretary of the party, Jagdev Babu began whistle-stop tours of the country. He was very adept in coining new slogans. His oratory was impressive. Addressing a public meeting in Jehanabad he said,
Das ka shashan nabbe par,
Nahin chalega, nahin chalega
Sau mein nabbe shoshit hain,
Nabbe bhag hamara hai,
Dhan, dharti aur rajpaat mein,
Nabbe bhaag hamara hai
(The rule of ten over ninety cannot continue
Ninety of hundred are exploited
We are owners of ninety parts
We have ninety per cent share in wealth, land and power)
Every time he spoke, Jagdev Babu broadened the horizons of the exploited sections. He exemplified political thinker T.H. Green's belief that "Human consciousness postulates liberty; liberty involves rights; rights demand the state".
The people of Bihar began describing him as the Lenin of Bihar. A massive students' movement was launched under the leadership of JP against the authoritarian Congress government of Bihar but the leadership of the movement was in the hands of the Anglicized dominant sections of society. Jagdev Babu did not agree with this kind of a students' movement. He tried to give a wider sweep to the movement. In May 1974, he addressed a series of public meetings all over the state in support of his six-point charter of demands but the corrupt administration and the brahmanical government were unmoved. He announced a statewide satyagraha from 5 September 1974. On that day, he was marching on the streets in Kurtha, holding the black flag of his party in his hands, followed by thousands of supporters, when the DSP on duty asked him to stop. Jagdev Babu refused and fell into a trap so meticulously laid by his rivals. The police opened fire and a bullet hit him on his neck. He fell down but instead of taking him to hospital, the policemen took him to the police station. The police even tried to secretly dispose of his body but failed due to public pressure. His body was brought to Patna on 6 December. People from all parts of the country reached Patna to join his funeral procession. Lakhs bid their last farewell to him.
Not much has been written about Jagdev Babu. The magazines that he edited were not preserved, because of which people never came to know the sweep of his thoughts and his dazzling intellect. Thankfully, famous linguist Dr Rajendra Prasad Singh and Shashikala have jointly compiled his statements, speeches and interviews in Jagdev Prasad Vangmay.
References:
Patel, Anoop (2016) Mandal Ke Baad Ka Bharat Aur Pichhda Varg, Lok Sangharsh, pp 9-21
Patel, Anoop (2016): Student politics today: Yes to Mandal, No to Kamandal, Forward Press, accessed on 7 August 2016; https://www.forwardpress.in/2016/07/yes-to-mandal-no-to-kamandal/
Pathak, Narendra (2008) Karpoori Thakur Aur Samajvad, Medha Books, Delhi
Singh, Rajendra Prasad, Dr and Shashikala (2011), Jagdev Prasad Vangmay, Samyak Prakashan, New Dehi.
Shoshit, 7 November 1969.
Shoshit, 16 April 1970.
---
Forward Press also publishes books on Bahujan issues. Forward Press Books sheds light on the widespread problems as well as the finer aspects of the Bahujan (Dalit, OBC, Adivasi, Nomadic, Pasmanda) community's literature, culture, society and culture. Contact us for a list of FP Books' titles and to order. Mobile: +919968527911, Email: info@forwardmagazine.in)