Modi won the election and was sworn in as prime minister of India in May 2014. After a year in office, on 26 May 2015, he enacted The Black Money (Undisclosed Foreign Income and Assets) and Imposition of Tax Act.
In September 2015, Narendra Modi declared that about Rs 6500 crore had been recovered from 638 Indians who hoarded their money in the international banks. Finance Minister Arun Jaitley added after 45 per cent of the amount was paid as tax to the Government of India, the remaining Rs 3700 crore had gone from being "black" to "white".
Mr Arunkumar Dhawe, an economic analyst from Tamil Nadu, has said that you are already making a false claim when you say around Rs 80 lakh crore lying in foreign countries is black money. According to him, it is impossible to have that much money without leaving a trail. Further, he said, large chunks of the black money had come back to India through many channels in the past two decades.
My dear friends, because black money has already found its way back to India, Mr Narendra Modi's announcement that he would bring back the black money is a big scam in itself.
On 8 November 2016, he declared that Rs 500 and Rs 1000 notes were invalid all over India starting at midnight. He also said that new Rs 500 and Rs 2000 notes were going to be introduced. When the BJP and Mr Modi's supporters claimed this was a "surgical strike" on black money and corruption, the second scam unfolded. This defies belief. Let's see how:
Double Taxation Avoidance Agreement – DTAA
Since 1965, India has signed the Double Taxation Avoidance Agreement (DTAA) with many countries. In 1965, India and the Republic of Austria signed an agreement for the avoidance of "double taxation with respect to taxes on income". (Notification no. GSR588, dated 5.4.1965)
By 1990, India had signed more such agreements with Egypt, Malaysia and Mauritius, and at the United Nations. At present, DTAAs with 85 countries are in force.
The agreement allows a multinational company, or for that matter even a fake multinational company, to register their trade and run a business in India without any certification to pay tax if they have an office and a bank account in any of the 85 foreign countries. For those who want to run a business in this manner, a company by the name of Mossack Fonseca based in Panama, serves as the mediator. On 4 April 2016, the International Consortium of Investigative Journalists exposed the transnational corruption in which Mossack Fonseca was involved.
If India-owned black money was remitted to Mossack Fonseca, the company could make a fake registration in any of the 85 countries with which India has signed DTAA and then invest the black money in India, where the "black" turned to "white". Mossack Fonseca masterminded such fraudulent practices between 1977 to 2015.
Through DTAA and Mossack Fonseca, several lakh crore rupees is turned white with legal protection and sent back to the launderers.
Participatory Notes & Foreign Institutional Investors (FII)
Securities and Exchange Board of India (SEBI), the statutory body of the Indian government, regulates the stock market in India. In 1992, the SEBI laws were changed, allowing a foreigner to make a direct investment in the Indian stock market and get benefits. For investing through participatory notes and foreign institutional investors (FII), there is no need to disclose the name of the investor, company's name or the address of the investor. From 1992 onwards, black money has been invested in the Indian stock market through participatory notes and FII. This has been another way of converting black money to white money. Foreign direct investment in India, capped at 48 per cent in India, continues without a fuss through participatory notes and FII.
In various ways, starting in 1965, successive Indian governments have left the door open for turning black money into white money. This practice has grown post 1991 and peaked during Modi's regime. Truth be said, making a promise, as Modi did, that 80 lakh crores hidden in foreign banks as black money would be brought back to India so that 15 lakhs can be distributed to each Indian is the greatest deceit.
Black Money Brahmins, Black Money Redeemers
In April 2010, Dr Ketan Desai, former president of Medical Council of India and a Brahmin from Gujarat, was arrested on corruption charges. About Rs 1800 crore and 1,500 kg of black gold were seized from him. Moreover, according to the CBI report, that was around Rs 2500 crore black money. He was sent to prison and his licence to practise medicine was revoked.
He was released on bail in November 2013 and then elected as a member of the Gujarat University senate. The senate elected him after new members were nominated to the body when Mr Narendra Modi was the Gujarat Chief Minister. In 2014, when Ketan Desai's daughter's extravagant wedding was held, the special guest at the ceremony was none other than BJP national president Mr Amit Shah.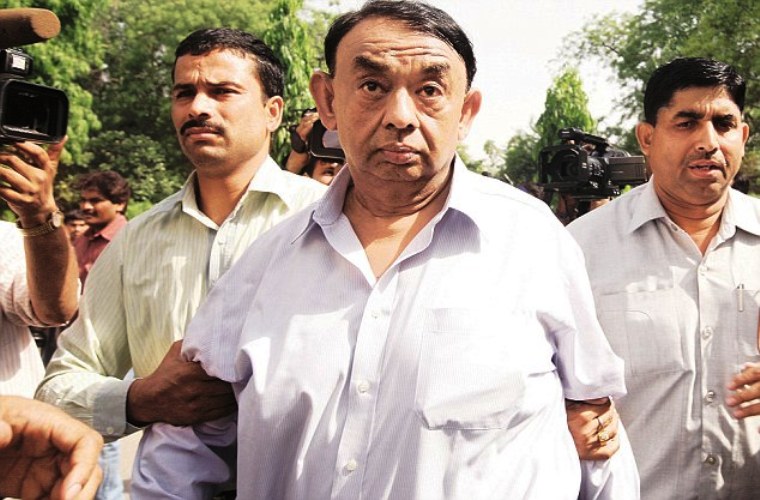 One day, Mr Arun Jaitley, finance minister in BJP government at the Centre, says he is going to punish those named in the Panama papers. Then he invites Dr Ketan Desai as a special guest to his daughter's wedding. In October 2016, Dr Ketan Desai was elected as the president of World Medical Association with the help of the BJP. Do you think these people will eradicate black money from India?
Among those whose names appear in the Panama papers published by the International Consortium of Investigative Journalists on 4 April 2016 include Vinod Adani, the brother of Mr Modi's close friend Gautam Adani, Indiabulls Group founder Mr Sameer Gehlaut, DLF chairman Mr Kushal Pal Singh, and Bollywood actors Amitabh Bachchan and Aishwarya Rai. In this scenario, it is Mr Modi who has the authority to take action against such black-money hoarders. But while he does not want our focus to turn to that issue, he does want to build an image for himself as the saviour of an India plagued by black money. Hence, he makes the dramatic announcement that Rs500 and Rs1000 notes are invalid.
Successive Indian governments have created ways to turn black money into white money – through DTAA, participatory notes and FII. Also, Mr Modi's government hasn't taken any action against the black-money hoarders linked to Mossack Fonseca. Therefore, it is quite obvious that Mr Modi and Mr Amit Shah have been protecting these corrupt people.
India's major industry leaders, Hindu-religion-based indigenous entrepreneurs like Sri Sri Ravi Shankar and Baba Ramdev, Brahmin CEOs of multinational companies, the Hindu politicians and their coalitions will never allow the eradication of black-money corruption in India. They intend to exploit the Indian economy, transform it into a cash carrier, and will do anything to continue their domination.
(This is an edited transcript of the speech T. Thamaraikannan delivered in Bhopal on 17 November 2016 at Bharat Mukti Morcha's sixth national conference.)
---
Forward Press also publishes books on Bahujan issues. Forward Press Books sheds light on the widespread problems as well as the finer aspects of the Bahujan (Dalit, OBC, Adivasi, Nomadic, Pasmanda) community's literature, culture, society and culture. Contact us for a list of FP Books' titles and to order. Mobile: +919968527911, Email: info@forwardmagazine.in)