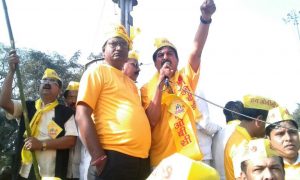 On 8 December, a massive demonstration was held in the immediate vicinity of the Vidhan Bhavan in Nagpur under the aegis of Rashtriya OBC Mahasangh while the state assembly was in session. The demonstrators marched from Diksha Bhoomi up to the T-junction of Morris College. Their 21-point charter of demands included reservations in proportion to population under Article 340 of the Constitution, caste census to determine the exact population of OBCs, a separate ministry for the community, pension for farmers and labourers after attaining 60 years of age and scholarships for OBC students. The demonstration was led by Dr Babanrao Taywade, convener; former MP Dr Khushalrao Bopche, co-ordinator; and Sachin Rajurkar, joint convener. Among others, MP Nana Patole, MLAs Parinay Phuke, Sunil Kedar and Ravi Rana joined the demonstration. Also present were Ashok Jovtode, Khemendra Katre, Sharad Wankhede, Manoj Chavan, Babanrao Phund, Guneshwar Aarikar, Sheshrao Yelekar, Bablu Katre, Ajay Tumsare, Jiwan Lanjhe, Sushma Bhad, Sanjay Mafle, Vijay Pidurkar, Vinay Dahake, former MLA Sevak Baghaye, and former MLA from Madhya Pradesh Ajay Chaure.
A large number of OBCs from Maharashtra and Madhya Pradesh joined the aggressive yet peaceful demonstration. They gathered for a huge public meeting at the T-junction. Maharashtra Agriculture Minister Panduranj Phundkar and Animal Husbandry Minister Mahadev Jankar, who had reached the venue to accept the memorandum of demands, also addressed the meeting. Phundkar said, "We all are OBCs and you are fighting for the just and legal rights of our community. I am with you. I will convey your demands to Chief Minister Devendra Fadnavis and will arrange a meeting of the Mahasangh office-bearers with him."
In his speech, Mahasangh convener Taywade said, "The OBCs are being denied their due since Independence. They should get representation in government jobs in proportion to their population. OBC ministries should be established in the central and the state governments for the development of the community." He said the Mahasangh would intensify its agitation demanding implementation of the recommendations of the Mandal and Swaminathan Commissions and the Nachiappan Committee. Rajurkar said, "The national convention of the Mahasangh will be held in Delhi on 7 August 2017." He appealed to the OBCs to attend the meeting in large numbers.
Dr Khushan Bopche, the political coordinator of the Mahasangh, said, "Article 340 of the Constitution, which has provisions regarding the OBCs, was never implemented. Even today, the OBCs are deprived of education and employment, and the 27 per cent reservation for the community has not been implemented properly. The OBC youth are unemployed. We should try to find out who have cornered the jobs meant for us." Nana Patole said, "We have been pleading for a separate OBC ministry with the central and the Maharashtra governments but our demand remains unheeded. If the governments continue to ignore our demands, we will intensify our agitation." The public meeting ended with the passing of resolutions."
---
Forward Press also publishes books on Bahujan issues. Forward Press Books sheds light on the widespread problems as well as the finer aspects of the Bahujan (Dalit, OBC, Adivasi, Nomadic, Pasmanda) community's literature, culture, society and culture. Contact us for a list of FP Books' titles and to order. Mobile: +919968527911, Email: info@forwardmagazine.in)