Prof Jairam Prasad Singh, national patron of Shoshit Samaj Dal and chief editor of the weekly Shoshit published from Patna, who fought all his life to take martyr Jagdev Prasad's cause forward, has died. He was suffering from cancer of the kidneys. He was telling everyone meeting him that the caravan should march on.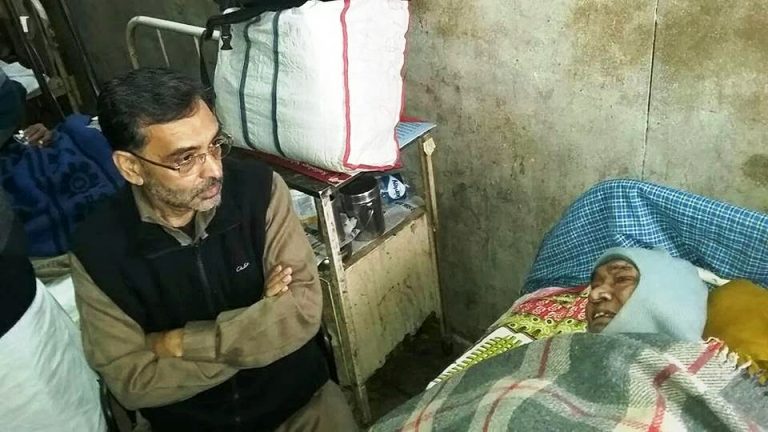 Known for his principled, crisp writings and speeches, Prof Jairam gave no one any reason for complaint in his 50-year-long political, social and journalistic life. Never could anyone point a finger at him. There would be hardly any political leader in Bihar, Jharkhand, Uttar Pradesh, Madhya Pradesh and Chhattisgarh who didn't know Prof Jairam or didn't share the stage with him. Shoshit Samaj Dal consistently worked for promoting socialism in the field of politics and Prof Jairam toiled untiringly for establishing humanism in the social and cultural fields.
Born into a poor peasant family of Paliganj, in Paigambarpura, Patna on 1 January 1938, when he was just 7, Jairam Prasad's father Rampati Singh was murdered. His mother Ricobiya Devi somehow brought him up on her own. Jairam, who was the youngest of three brothers, used to say that his elder brother Muneshwar Singh sold tea at the Dhanbad Railway Station to pay for the family's upkeep, his education and expenses on his political activities. Later, his brother found employment at the Layakdeeh colliery in Dhanbad.
In 1950, Jairam Prasad passed the middle-school examination with a first division. He completed his high-school education while staying with the family of his maternal grandparents at Kahrol village, near Imamganj, Patna. He met Jagdev Babu for the first time when he was he was in the ninth grade. He completed his BA and then MA (1965) from Patna University and was appointed head of the Hindi Department at the Rammohan Rai Institute, which later came to be known as RPS College. He had a Sahitya Ratna degree from Prayag and a diploma course in Russian language from the Acharya Badrinath Sarvabhasha Mahavidhyalaya, Patna. He then decided to go to England for a PhD. His brother agreed to pay for his travel. But destiny had something else in store for him. Jagdev Babu, whom he met again, convinced him to quit his job and join politics.
At the instance of Jagdev Babu, he joined the Shoshit Dal. In 1969, he contested the assembly election from Paliganj Assembly constituency but lost by a slender margin. His brother had given his entire savings of Rs400 to Jairam Prasad to contest the election. In 1972, he contested from Dawoodnagar and in 1977 from Kurtha ­– both as a Shoshit Samaj Dal candidate – but lost both the elections. He again tried his luck from Chandauli in Uttar Pradesh and Jehanabad in Bihar but his first electoral victory eluded him. Explaining his string of defeats, Prof Jairam said the rich sections of Koeris did not back him. They felt that a poor man would not be able to do anything for them.
Ramprasad Singh of Auranagabad, who is also associated with the Shoshit Samaj Dal, says that when Jairam lost the election from Rafiganj, he was virtually in tears. He was asking everyone why he did not get votes even from Baligaon, a Kushwaha-dominated village in the constituency, when he was the only Kushwaha in the fray.
Political saint of Bihar
Ramanuj Singh Gautam, another admirer of his, says that Jairam Prasad was the political "saint" of Bihar. Despite being in politics, no charge was ever levelled against him. Ironically, it was his clean image that came in his way. The unscrupulous politicians felt that, if elected, he would only harm their interests.
N.K. Nanda, former MLA from Paliganj, writes on his Facebook page that Professor Saheb is "my political guru". Former minister Basavan Bhagat says that Professor Saheb is "Our guardian and it is our duty to take his caravan forward". Satyadev Singh Kushwaha, MLA from Kurtha, and Mundrika Singh Yadav, MLA from Jehanabad, are among the scores of politicians who consider Jairam Prasad their ideal. He was a respected figure on all political platforms of Bihar.
On many occasions, other parties indirectly offered tickets to him but he never agreed. After the death of Jagdev Babu, senior Socialist Party leader Kapildev Singh offered him his party's candidature from Paliganj. Had he agreed, he would have surely won. But that would have halted his efforts to take Jagdev Babu's legacy forward. He again received a similar offer in the 1990s but he again turned it down. Obviously, he could have become an MLA or a minister anytime. Jairam Prasad was close to Karpoori Thakur, Sumitra Devi, Ramlakhan Singh Yadav and Jagjivanram, who had written more than 25 letters to him. In 1975, he was arrested from Kurtha under DIR for delivering a speech against the then prime minister Indira Gandhi and was sent to the Jehanabad jail. After a few days, he was shifted to Gaya Central Jail, where student leaders Lalu Prasad Yadav and Jai Prakash Narayan Yadav welcomed him. The very next day, he was transferred to another jail. Around that time, Naxalite leader Charu Mazumdar was killed. Jairam Prasad, who chaired a condolence meeting in the jail in his memory, was branded a Naxalite.
Jagdev Babu had appointed him editor of weekly Shoshit and national secretary of Shoshit Dal way back in 1969. Later, he came in contact with Nandkishore, editor of the weekly Arjak published from Lucknow, and through him he met Ramswaroop Verma, former finance minister of Uttar Pradesh and founder of Arjak Sangh and the Samaj Dal. He was the link between Ramswaroop Verma and Jagdev Prasad and arranged several meetings between them. The effort bore fruit and in August of that year, Shoshit Dal and the Samaj Dal merged to form Shoshit Samaj Dal. Ramswaroop Verma became the national president and Jagdev Prasad national general-secretary of the new party. Jairam Prasad was appointed national secretary. On 5 September 1974, the police shot dead Jagdev Babu while he was demonstrating at the block office in Kurtha. After Jagdev Babu's death, Jairam Prasad was given the important responsibilities of national vice-president of Shoshit Samaj Dal and chief editor of weekly Shoshit. After the death of Ramswaroop Verma, he was elected president of the party. Because of his poor health, he was later appointed national patron.
Jairam Prasad never sought donations for his party from moneybags. The Shoshit Samaj Dal sustained itself on small amounts collected from the common man. The party is known for its clean image and fighting spirit. The party can legitimately claim some credit for the implementation of the Mandal Commission Report and Right to Free and Compulsory Education Act, besides the programme to issue voter ID cards to all citizens. There is ample evidence to show that it was the Shoshit Samaj Dal that first mooted these ideas and agitated for their execution.
Prof Jairam Prasad was instrumental in the establishment of Shaheed Jagdev College, Kurtha; Jagdev Memorial School, Angari; Parasnath Kushwaha College, Achhua; High School, Paigambarpura; Jagdev High School, Dihuli; and Jagdev High School, Araap.
Hundreds of his articles have been published in different newspapers and magazines. He was a poet at heart and dozens of his poetic works have appeared in different publications. He has also participated in numerous poets' conferences and seminars.
In 1988, Dalit Sahitya Parishad honoured him with the Dr Ambedkar National Award. Gyani Zail Singh presented the award to him.
A man of principle
Well-known Dalit thinker Sheoraj Singh Bechain has written in his PhD thesis that Jairam Prasad was probably the only leader and journalist who went from door to door seeking subscriptions for his newspaper and kept his publications alive with small donations.
Making money was never his objective. He was not interested in material comforts. He never did anything that he considered wrong or immoral. His sons Ravindra Singh, Abhay Singh, Sanjay Singh and Ajay Singh were well aware that thinkers were a committed lot and that for them society was their family, so, they said, they had no hard feelings about their father being able to do little for them. His wife Rasmani Devi says that she has spent her life wearing torn saris but has no complaints. But what pains her is: "He devoted his life for promoting the principles and politics of Jagdev Prasad and never did anything for his family. Jagdev Babu's sons have become millionaires. But today, when he is seriously ill, they have not even cared to pay him a visit, let alone offer any help."
In an interview at the Indira Gandhi Institute of Medical Sciences, Patna, Jairam Prasad had said that thousands of workers have contributed to the growth of the Shoshit Samaj Dal and the Arjak Sangh but the contribution of Laxman Chauhdhary, Raghuram Shastri, Ramchandra Katiar and S.R. Singh could never be forgotten.
When I asked him about his weaknesses, his prompt reply was "tea". "I can drink as much tea and as many times as I get. My other weakness is that I cannot tolerate baseless criticism. When anyone does that, I cannot stop myself from giving a strong reply, even though it may hurt the other person."
He had reflected on being probably the only person to have had the good fortune of working in close proximity with humanist philosophers like Ramswaroop Verma and Jagdev Prasad. "That was the best period of my life. Their thoughts, policies, principles and programmes are very useful for the exploited, the oppressed and the deprived sections of the country. I have no regrets that I could not become an MLA, an MP or a minister. But what I regret is that we are yet to realize who our real enemy is and who our real friend."
---
Forward Press also publishes books on Bahujan issues. Forward Press Books sheds light on the widespread problems as well as the finer aspects of the Bahujan (Dalit, OBC, Adivasi, Nomadic, Pasmanda) community's literature, culture, society and culture. Contact us for a list of FP Books' titles and to order. Mobile: +919968527911, Email: info@forwardmagazine.in)