141st SANT GADGE BIRTH ANNIVERSARY SPECIAL
Baba Gadge is one of the great personalities who contributed to the 20th-century social reform movement. But his contribution went off the radar as historians did not give adequate importance to him. That's changing now as scholars have been turning their attention to him and writing on his life and works.
Baba Gadge belonged to the tradition of Sant Kabir and Raidas. His writings show that he was deeply influenced by these two medieval poets. It is a coincidence that the birth anniversaries of Raidas and Baba Gadge fall in the same month. Baba Gadge was born on 23 February 1876 in Surji village, Anjan tehsil, in Amravati (today's Maharashtra), into a poor family that belonged to the Dhobhi caste.[1] His mother was Sakhubai and his father was Jhingraji.[2]
Baba Gadge's full name was Devidas Debuji Jhingraji Jadokar. His parents addressed him affectionately as Debu ji. He always kept an earthen pot-like utensil with him. He ate food and drank water from it. In Marathi, a broken piece of earthen pot is called "gadge" and thus many people started calling him Gadge Maharaj and Gadge Baba. Later, he became famous as Sant Gadge.[3]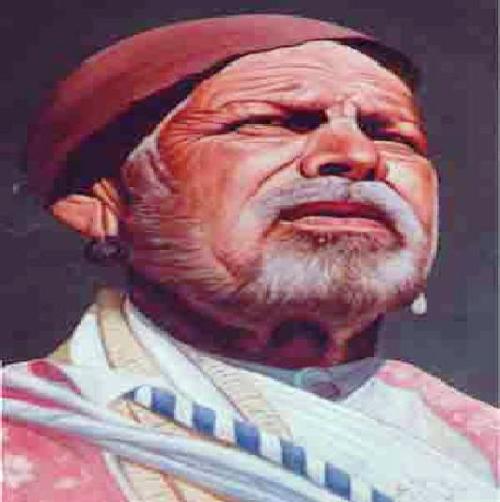 Gadge Baba was a contemporary of Dr Ambedkar and was 15 years his senior. He was in touch with many politicians but he was impressed with the work being done by Ambedkar. What Ambedkar was doing through politics, Gadge Baba was doing through his sermons and "kirtans". That was why Dr Ambedkar, who scrupulously kept himself away from sadhus and sants, had great respect for Gadge Baba. Ambedkar used to meet him frequently and discuss social reform. Writing about the relationship between Ambedkar and Gadge Baba, Prof Vivek Kumar says, "Today's Dalit leaders should take a lesson from him, especially the modern leaders educated in universities and colleges who look down on social activists, reformist missionaries and Dalit workers who are devoid of bookish knowledge. How many of them have as many academic degrees as Ambedkar had? Babasaheb discussed with Gadge Baba his movement and issues related to social change, even though he was both a scholar and a powerful politician. We have to realize that working on the ground and being a scholar are two different things. And a co-ordination between the two is crucial for the success of any social-reform movement."[4]
Like Sant Kabir, Gadge Baba was dead opposed to Brahmanism, religious hypocrisy and the caste system. In his sermons, he would say that all humans are equal and everyone should practise brotherly love. He laid special emphasis on hygiene – he always kept a broom with him as a symbol of cleanliness. He would say, "Instead of offering fragrant flowers to idols of gods, offer your blood for the service of the people around you. If you feed a hungry man, your life will become meaningful. Even my broom is better than those flowers. But probably you will not be able to understand this."[5]
Gadge Baba fought social injustice all his life and worked tirelessly towards spreading awareness. Social work and service was his religion. He kept away from rituals, idol worship and hollow traditions. He considered caste system and untouchability to be irreligious and despicable. He believed that these were the interpolations of brahmanical elements in the religious tradition and were aimed at serving their interests. He would say that the Brahmanvadis exploited the common man and earned their living with the help of these flawed concepts. He used to urge the people to keep away from blind faith and religious superstitions.
Like most of our saints, Gadge Baba had no formal education. He learnt to read and write on his own. It was probably due to the influence of Ambedkar that he laid great emphasis on education – so much so that he used to say that even if it comes at the cost of the plate in which one eats food, one should not hesitate in getting an education. "You can always eat from your hands but without education, life is incomplete." He used to cite the example of Ambedkar while urging the people to get educated. "Look, how Dr Ambedkar became such a learned man by dint of sheer hard work. Education is not the monopoly of any class or caste. The son of a poor man can also obtain many degrees."[6] Baba Gadge founded more than 100 institutions, including 31 educational institutions. Later, the government formed a trust to preserve these institutions.
Dr M.L. Shahare – probably the first Dalit chairman of the UPSC – in his autobiography Yadon Ke Jharokhe writes, "Gadge Baba met Babasaheb Ambedkar many times. He was very impressed by the personality and work of Ambedkar. He had a photograph of him taken with Ambedkar. That photograph can be seen in many homes even today. Gadge Baba had donated the building of his hostel at Pandharpur to the People's Education Society founded by Dr Ambedkar.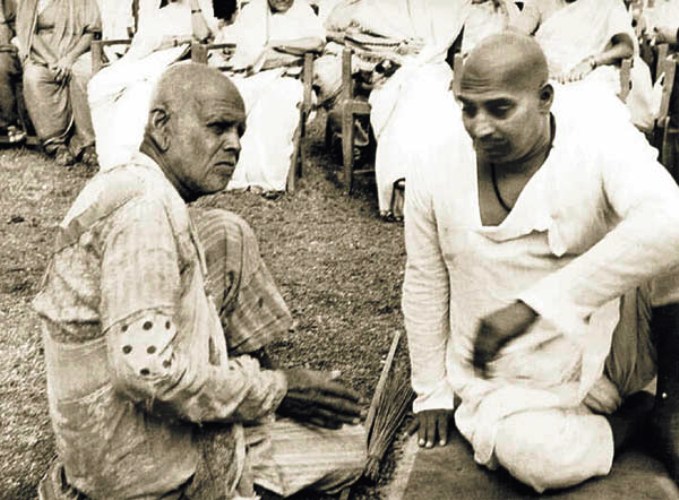 Gadge Maharaj had his own unique style of delivering sermons through kirtans. He used to quote the great saints, especially Kabir, Sant Tukaram and Sant Gyaneshwar. In his kirtans, he used to forcefully say that violence should end, liquor should be prohibited and untouchability and animal sacrifice should be abolished."[7] Coincidentally, Gadge Baba breathed his last on 20 December 1956, just 14 days after the passing of Ambedkar.[8] The news of his death spread like wildfire in what is today's Maharashtra. Thousands of his followers paid tributes to him and took part in his funeral procession. Today, Gadge Baba may not be physically with us but his teachings are still relevant. We need to draw inspiration from them. He is a beacon not only for Maharashtra but for the country as a whole.
On 1 May 1983, the Maharashtra government established Sant Gadge Maharaj University in Amravati as a token of respect to him. On 20 December 1998 – his 42nd death anniversary – the Government of India issued a postal stamp to commemorate him. In 2001, Maharashtra government launched Sant Gadge Baba Gram Swachchta Abhiyan.
Gadge Baba was an institution. He was not only a great saint but a great social reformer, too. Dr Ambedkar had described him as the greatest servant of the people after Jotiba Phule. Dr Ambedkar had extolled Gadge Baba's sacrifices. We salute this great personality on his 141st birth anniversary.
[1] Gadge Baba Sachitra Jeevni, Dr Vimalkirti, Samyak Prakashan, New Delhi, third edition, 2013, p 10
[2] Ibid p 10
[3] Forward Press, August 2013, p 52, Sant Gadge: Jeevan Aur Darshan, Rajendra Prasad
[4] Gadge Baba Sachitra Jeevni, Dr Vimalkirti, p 5
[5] Ibid p 54
[6] Yadon Ke Jharokhe (autobiography), Dr M. L. Shahare, Shri Natraj Prakashan, New Delhi, first edition, 2005, p 25
[7] Ibid p 25
[8] Gadge Baba Sachitra Jeevni, Dr Vimalkirti, p 104
---
Forward Press also publishes books on Bahujan issues. Forward Press Books sheds light on the widespread problems as well as the finer aspects of the Bahujan (Dalit, OBC, Adivasi, Nomadic, Pasmanda) community's literature, culture, society and culture. Contact us for a list of FP Books' titles and to order. Mobile: +919968527911, Email: info@forwardmagazine.in)