We have to establish political and economic democracy. We have directive elements as our ideals. The objective of the Constitution is to follow these ideals. These directive elements will be people's orders to the government. People are the force behind the government and the people are stronger than any law. ­– Dr Ambedkar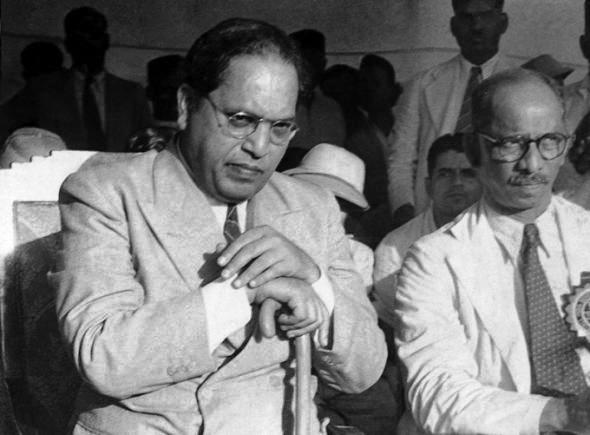 Dr Bhimrao Ambedkar was the greatest personality of modern India. Innumerable adjectives are used to hail his greatness – architect of the Constitution, builder of modern India, symbol of knowledge, true patriot, Bharat Ratna, Bodhisatva, "Pratah Smarniya" (one who should remembered the first thing in the morning), sentinel of humanity and the list goes on. Mahatma Gandhi's India lived in villages. Ambedkar's India – as it was or is – never satisfied him. He wanted to turn it modern. The Constitution, his speeches, writings and books – all reflect this desire. He said, "The India of our dreams lives in the Constitution." What exactly was this India that he pursued all his life? It was an India which could ensure socio-economic and political justice and equality for all. Today, we talk of social harmony, of social justice. Given the cultural diversity of India, these are essential. There is no contradiction between social harmony and the India of Ambedkar's dreams. But today's India is not the one he dreamt of. Had he been alive today, he would be a sad man. A poet used these words to describe the Emergency:
Aaj veeran apna ghar dekha,
To kayee baar jhankh he dekha,
Ek thehra hua safar dekha,
Hosh mein aa gaye kayee sapne,
Aaj hamne woh khandhar dekha
-Dushyant Kumar (Saaye Mein Dhoop)
(I saw my desolate home. I peeped in many times. I saw a journey that had come to a standstill. I was jolted out of my dreams when I saw those ruins)
Perhaps, Ambedkar, had he been alive today, would have used these words to express his pain. Where are the dreams that Ambedkar had woven into the Constitution? The present situation shows that nothing has changed. You all must have heard or read about this incident in his life; when he returned from abroad after completing his education, the Maharaja of Baroda, impressed by his scholarship, appointed him to the state's service. A Parsi woman rented out her house to him. But this was unpalatable to many. After opposition mounted, the Parsi woman threw him out of his house. Why? Because he was an Untouchable. Although Parsis had nothing to do with the caste system, this is how the woman treated a highly educated and accomplished person like Ambedkar. This happened in 1917.
Cut to the present. A girl from Dehradun, an untouchable girl, comes to Delhi to realize her dreams, to acquire higher education. She rents a house in Mukherjee Nagar. Her younger sister and brother are also with her. They also plan to study in Delhi. Then, the landlady comes to know that the girl is an Untouchable. She asks the girl to vacant the house immediately. The girl seeks some time. The landlady has none of it and with the help of the police, she has the house vacated at 9pm that night. The girl is taken to the police station. Distraught, she phones her father. Her father comes to the city and gets an FIR registered under SC,ST (Atrocities) Act. The lower court dismisses the case. Then it goes to the High Court and ultimately the Supreme Court. The Supreme Court has recently ordered that the case should be tried afresh. What has changed? Things are as they were.
There is one more story. In April 2016, the Indian Express reported that a Dalit scholar of the Institute of Dalit Studies had rented a house in South Delhi. The topic of his research was "Do those who rent out homes in Delhi discriminate against Dalits?" And he himself was evicted from his rented accommodation! My own case is also worth quoting. People often talk of merit while opposing reservations. I was in the second position in the merit list of the UPSC Civil Services Examination (Tina Dabhi broke my record 28 years later, in 2016.) I opted for the IAS. According to the rules, I should have been allotted the cadre of my home state. At that time, P. Chidambaram was the minister of state for personnel and training. S.K. Bhatnagar was the defence secretary. He had handled the Bofors purchases. I was given Assam-Meghalaya cadre so that Bhatnagar could allot the Delhi cadre to his daughter. I met Chidambaram. He lost his temper. "You can move court", he told me. I went to Guwahati and filed a case. I pleaded for myself. I was pitted against four senior lawyers. I won. Despite the court ruling in my favour, I was sent to Arunachal. I had to move to a place on the China border with my three-month-old daughter and a one-year-old son. The place had no means of travel, no newspaper, no radio, no TV, no medicines. I could not even get my children immunized. The case is still pending.
What I want to convey through these anecdotes is that the dream that Ambedkar had tried to realize through the Constitution lies shattered. The dream could have been fulfilled had we been honest. Why am I saying this? It is because India has been blessed with nature's bounty. It can become the world leader. We have enough agricultural land. We can grow three crops a year. The size of India's arable land is the world's second biggest – after the US. We have a long coast. We could have built excellent ports. We are rich in flora and fauna; we are rich in mineral wealth. On the one side, the Himalayas protect us and on the other, the oceans. We have excellent manpower. Despite all this, where do we stand 67 years after the enforcement of the Constitution?
We could have been much better than we are today. I will tell you how. Article 16 of the Constitution had the provision for reservations for poor Dalits in government jobs. But what happened? Reservation policy was implemented decades later, in the 1970s. It took another ten years to implement it rigorously. The "Reservation Act" has not been enacted so far. Reservations have been implemented through government order. That is why courts frequently interfere in reservation policy and make changes to it.
Then, the Constitution had (and does have) Article 31. It enjoins the state to carry out land reforms and eliminate the landlord system. The land seized from landlords should have been distributed among the poor, the Dalits. It was the Bihar government which first enacted the Land Reforms Act. That was the year 1950. It was challenged in the courts and the Supreme Court scrapped it. Later, other states also made similar laws. All of them were challenged in the courts. So, the First Constitutional Amendment Act had to be enacted. The Constitution had Article 38, through which Dr Ambedkar had made the provision that the State and the government would ensure every citizen got economic, social and political justice. What really happened is no secret. Article 39 said that every citizen would have the right to an adequate means of livelihood. Is that happening? Article 39 also had the provision that the state's policy should be such that "Economic system does not result in the concentration of wealth and means of production to the common detriment". On 14 April 2016, a newspaper published the report of Credit Suisse, a Swiss multinational financial services company. It said that one per cent of India's population owned 53 per cent of the wealth and 10 per cent owned 80 per cent. This report pertained to the year 2010. Since then, economic inequality has only grown. Small businesses have been ruined, severely affecting Dalits and small artisans.
There is another Article – Article 41. But Article 47 enunciates the most important Directive Principles of State Policy. It says that the state will ensure that within ten years of the enforcement of the Constitution, ie 10 years from 26 January 1950, all children up to the age of 14 should get free and compulsory education. But what happened? We built IITs and IIMs but had no money to spare for primary education. Writ petitions were filed in the Supreme Court seeking to know what became of the Directive Principles of State Policy. The government said that it lacked resources. How is it that the government had resources to establish IITs and build IIMs, but when it came to primary education, its coffers were empty? Whose sons and daughters got degress from IITs and IIMs? Where are they now? They are all millionaires and billionaires living abroad. They are not even citizens of this country.
What I wanted you to do is to just imagine where we would be today had we worked honestly to fulfil our Constitutional commitments. And just see Babasaheb's foresightedness. While dedicating the Constitution to the nation, he said:
"I am confident that the Constitution will be implemented. It has provisions for necessary amendments. But that does not mean it is a weak Constitution. There is one thing I would like to say. If some problems arise in the country after the enforcement of the Constitution, it would not be because of defects in the Constitution but due to the narrow human tendencies."
And what are these narrow tendencies. I want to tell you something about them too. Babasaheb had warned us:
"In my view, till you change your social system, there will be no progress. One cannot build anything on the foundations of caste – no nation, no morality. Whatever is built on the foundations of caste will crack and never be a whole."
These days, social harmony is being talked about a lot. What is social harmony? Social harmony is just another name for economic participation of all and availability of equal opportunities. Our Constitution is committed to this objective. But that did not materialize. Babasaheb had repeatedly emphasized the need for equal opportunities. All should be treated equally and we should feel for everyone. There should be no discrimination on the grounds of religion, caste, skin colour, region or language. The Constitution provides for an elaborate structure and mechanism to achieve these objectives. We have the executive, the legislature and free and independent judiciary and the Press. But still we could not achieve these objectives. Why? That is because our political institutions are not pluralistic. A pluralistic institution is the one in which every section of society has equal opportunities for participation. Our political system is dominated by a couple of families. They are just like the kings and rulers of the pre-Independence era. Till there are equal opportunities, social harmony will remain a dream.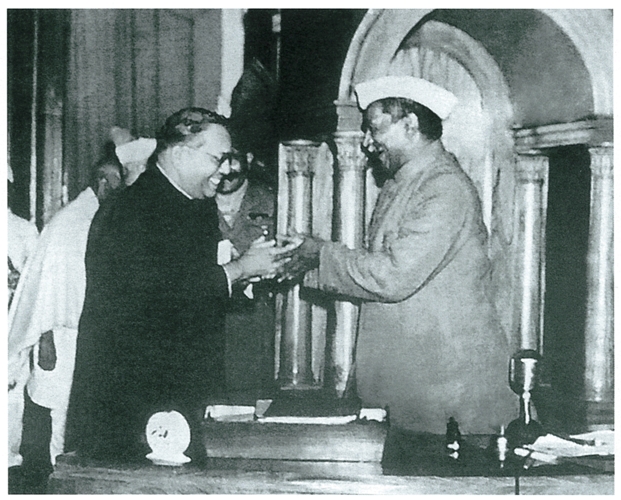 Now, I would like to say something about the caste system – the biggest stigma of Indian society. I would not like to speak much about the caste system, for Babasaheb had said and written a lot about it. The key issue is how to eliminate the caste system. According to Marx, "The philosophers have only interpreted the world in various ways; the point is to change it." To dwell on this question, a meeting was held at Arya Samaj Road about 18 years ago. Leaders of all political parties were there. The meeting's theme was "Arakshan Bachao" (save reservations). Sanghpriya Gautam of Bharatiya Janata Party (BJP) was there, Congress' Shiela Dikshit was there, BSP and Communist Party leaders were also there. I was also there. Addressing the meeting, I said that in the 1990s, when the Indian economy was liberalized and was opened to competition, Rahul Bajaj, a multimillionaire, had said, "We want a level playing field." Why? Because he was afraid of the increased competition after the government liberalized the economy. When the government accepts that even big capitalists need a level playing field, then why does a community that, for thousands of years, has been deprived of land, capital and education not need a level playing field. And what happened? While the government did provide a level playing field to the capitalists, globalization rendered useless the traditional skills of these communities – the skills which were basis of their division into various castes. It was these people who actually needed a level playing field. But they never got it.
At the meeting, I had demanded that a level playing field should be provided to these people, who have been living off their labour and skills for thousands of years. How can this be done? More than 90 per cent of the development of a child takes place in the womb of the mother. The mother needs nourishment, she needs nutritious diet, she needs proteins. Provide these things to her. Secondly, nationalize school education. Thirdly, reform higher education. And from the 18th year after you have done all this, you can reduce reservations by 2 per cent a year and give these reservations to children who are born of inter-caste marriages. If this is done, the 5000-year-old curse of the caste system will be eliminated in 30 years.
But for this, you need political, social and religious commitment. I hope that this commitment will come about. Earlier, there was no media to lend a voice to the Dalits. Today, we have that media – the social media – although, presently, it too is dominated by certain classes. When the Nirbhaya incident took place, it rocked the entire country. Dalit girls have had to go through similar horrific incidents, too, and there was not even a whimper. Why? Because our community has become apathetic, because we have become divided into castes and sub-castes. So, we will have to work for our betterment ourselves. Begin from your home. Dine with each other, inter-marry. First, unite your community. Only then we can move forward.
I recall the few lines of a poem by Pash. He was a revolutionary poet. Terrorists killed him in Punjab on 23 March 1998. Bhagat Singh had been martyred exactly 57 years earlier – on 23 March. The poem is titled "Beech Ka Rasta Nahin Hota" (There is no middle path). When the question is of life and death, there cannot be any middle path. He wrote:
Sabse khatarnak hota hai,
Murda shanti se mar jana,
Na hona tadaf ka, sab sahan kar lena,
Ghar se nikalna kaam par,
Aur kam se lautkar ghar aana,
Sabse khatarnak hota hai,
Hamare sapnon ka mar jana
(What is most dangerous is having the peace of a dead man, not getting wounded, tolerating everything, leaving the home for work and returning home from work; what is most dangerous is the death of our dreams)
 My request to you is this: Don't allow your dreams to die.
(The article is based on a speech delivered at a programme organized by the Delhi Government in the Talkatora Stadium, New Delhi, on 14 April 2016. You can read the full speech here)
---
Forward Press also publishes books on Bahujan issues. Forward Press Books sheds light on the widespread problems as well as the finer aspects of Bahujan (Dalit, OBC, Adivasi, Nomadic, Pasmanda) society, literature, culture and politics. Next on the publication schedule is a book on Dr Ambedkar's multifaceted personality. To book a copy in advance, contact The Marginalised Prakashan, IGNOU Road, Delhi. Mobile: +919968527911.

For more information on Forward Press Books, write to us: info@forwardmagazine.in