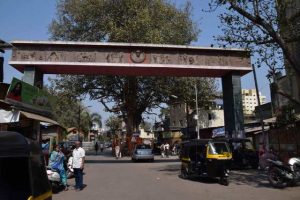 Mahatma Jotirao Phule (11 April 1827-28 November 1890) has played a key role in the building of modern India. We all were very keen to visit the place where he lived and worked and to see and feel the things associated with him. On the 20th day of our journey that began at the India Gate, New Delhi, on 5 January 2017, we were at Phulewada, in Pune. Getting to this locality was not an easy task and even Google Maps weren't of much help. The bitter truth is that even today, the common man knows little about the man who made the Bahujans aware of the need and importance of education.
Travelling – especially being on the road for days – is about moving out of one's comfort zone, and we didn't mind the inconvenience we had to face in reaching Phulewada. At long last, we were standing in front of Phule's house. A huge gateway welcomed us to the lanes where Jotirao Phule once walked and, along with his wife, lit the torch of knowledge. On the gateway was a frieze that illustrated Phule's revolutionary social interventions. The other side of the gateway that faced Phules' home told Savitribai's story. Outside his house, which has now been turned into a museum stood the busts of Jotirao and Savitribai. Inside, the walls were adorned with beautiful paintings depicting their work.
The paintings reminded us of how, despite all odds, Jotirao Phule emerged as the greatest Indian thinker, social activist, writer, philosopher and revolutionary of the 19th century. Braving adverse circumstances, he founded the Satyashodhak Samaj in Maharashtra in September 1873.
We were told that the locality wasn't named Phulewada after Phule but after his ancestors who had settled there. The locality is mostly home to the Mali community, the members of which have traditionally earned their livelihood by growing flowers. Some of them are flower-growers and flower-sellers even today. It has a sizeable number of Dalit homes too.
Just across the road from Phulewada, we came across a peepal tree enclosed by an iron fence, with idols of Hindu deities kept at its base. This was a surprise, because Jotiba had fought all his life against religious hypocrisy. Shankar, Vishnu, Shani and other Hindu deities being worshipped at the place where one of the staunchest critics of Hinduism once lived! Even more surprisingly, amid the idols of Hindu deities, there was also one of Mahsoba, also known as Mahishasur. We saw a man and a woman making flower garlands. When asked, the middle-aged man told us about the idols. It seemed that a large number of people come to the place to pay obeisance to the gods and vendors like this man make ends meet by selling garlands and flowers.
We tried to imagine the life and times of Jotiba Phule. His family had shifted base from Satara to Pune many generations before he was born and was engaged in the business of selling flower garlands, etc. That was why these members of the Mali community came to be known as "Phules". Jotiba first went to Marathi-medium school and, at the age of 21, completed the 7th Grade English course. In the courtyard of the house stood the busts of Jotirao and his wife Savitribai (3 January 1831 – 10 March 1897). Jotirao and Savitribai married in 1840. Seeing the busts of the two, we recalled a poem of Savtribai, which is part of her compilation of poems called Kavya Phule.
The poem titled "Path to Domestic Bliss" goes like this:
Jotiba fills my life with joy
As nectar does a flower
I am blessed with a man renowned
May happiness knows no bounds
Anxieties of bearing and rearing tiny tots
To struggle with this burden is a woman's lot
Running a household is no mean task
Will voicing the dilemma make it easier, I ask?
To maintain peace within the family
In domestic life is the best policy.
This three-room house was witness to their struggles and their tenacious efforts that laid the foundations of modern education in India. Jotirao defied social and familial pressure to first educate his wife and then, in 1848, along with her, establish the first school for girls in India. The members of the upper castes tried to create hurdles in their path and when none of them managed to stop the couple in their mission, they got Jotiba's father to turn the couple out of his home. But this only strengthened their resolve and one after another, they opened three schools for girls.
We also saw the well, on the premises of the house, which Phule had thrown open to the Dalits. This well is a symbol of Phule's efforts to bring the Dalits and the OBCs closer.
While we were elated about being witness to a slice of Indian history, we were also saddened by official apathy. There is no security worth speaking of and the official in charge of the upkeep of the house seemed to be treating his work as an unbearable burden. Just beside the house was a Ganesh temple, mocking at Phule's belief that Brahmanism was the greatest enemy of humanity.
We were getting ready to leave after taking some photographs of the house. There is great dearth of photographs related to Jotirao. That is partly because little has been done to preserve the memories of Jotirao and share them with the rest of the world. What was interesting was that after we had taken dozens of photographs, our eyes fell on a board that announced that photography was prohibited.
Anyway, we were soon on our way to our next destination. We had a copy of Kavyaphule with us. One of the poems in it is on a flower called champa. The poem is titled "The Golden Champa" and goes like this:
The yellow champa flower
Of bright turmeric colour
This blossoming beauty stands apart
And silently does it steal my heart
Also known as
The Golden Champa
A jewel of nature
To my heart gives pleasure
A charming colour
Pomp and style
Its fragrance does
My mind beguile
Of goodness and truth
The crowning glory
An idol of
Perfect beauty
The colour of turmeric
Attaining one's goal
And the virtue of sacrifice
Does extol
 We had left behind Phulewada, the glowing champa and shining legacy of the Phules.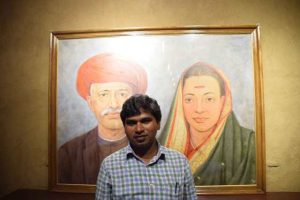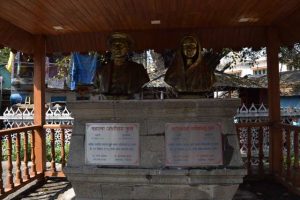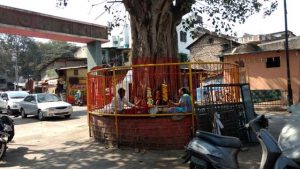 (Text by Nawal Kishore Kumar)
---
Forward Press also publishes books on Bahujan issues. Forward Press Books sheds light on the widespread problems as well as the finer aspects of Bahujan (Dalit, OBC, Adivasi, Nomadic, Pasmanda) society, literature, culture and politics. Contact us for a list of FP Books' titles and to order. Mobile: +919968527911, Email: info@forwardmagazine.in