Written in the early 1870s in the form of a lyrical vandana or a hymn, Vande Mataram has been, one, acclaimed as a national song and, two, "… given rise to intense contestation on account of objections raised on the ground of its imagery and rhetoric and implicit idolatry."[1] Later, in 1881, incorporated in the book Anandamath, Bankim Chandra Chatterjee's song depicted Mother India as a holy icon, as a "… a site for a nation and invested with the divine power".[2] Emphasizing the nation state as a mother goddess, Sumathi Ramaswamy quoted Tagore as saying "have I not told you that in you, I visualize the Shakti [the female principle] of our country?" By the time Rabindranath Tagore wrote these lines in 1915-1916, the practice of imagining India as a female entity – goddess, Bharat Mata, 'Mother India' – had become a habit among patriotic Indians.[3]
This deification of Mother India necessitates an understanding of the relationship between the women and the nation and how society treated them as a separate category that had to be dealt differently. Mother India riding a lion was supposed to resemble power and represent nationalism but in reality Indian women weren't even treated with dignity, let alone given rights on a par with men. They had no voice of their own and were controlled by the patriarchal norms of society.
Ambedkar's idea of a nation
Unlike his contemporaries, Ambedkar rejected the concept of Mother India. Rathered, he coined the term "Bahishkrit Bharat" (Outcast India) to convey the reality of a fractured nation. India comprised multiple identities and communities but they had to contend with the hegemony of brahmanical patriarchy. This brahmanical patriarchy not only influenced social and religious life but also the political arena. The likes of Tilak called for a united nation by raising slogans like "Bharat Mata ki Jai" and "Vande Mataram". These nationalists had no issues with Brahmanism and strongly resented any reforms for women by the imperial power. Tilak strongly opposed the Age of Consent Bill (which raised the age of consent for sexual intercourse for both married and unmarried girls from 10 to 12 years) under the pretext of protection of Indian culture. Thus, even within the political arena, the gendered hierarchy was well maintained. Any reform that benefited women was believed to be a direct attack on the rich culture of the Indian nation and hence met with wide opposition.
The cultural and religious hegemony and the caste system were thus left intact, although with the advent of the British, Indian society was forced to accept the modern notions of a nation, citizenship and so on. According to Sir Herbert Hope Risley, "History affords no warrant for the belief that the enthusiasm of nationality can be kindled in sordid and denigrate surroundings. A society which accepts intellectual inanition and moral stagnation as the natural condition of its womankind cannot hope to develop the high qualities of courage, devotion and self-sacrifice which go to the making of nations."[4]
Encapsulating the whole discussion on the idea of nation Partha Chatterjee wrote that the "Nationalist discourse is historical in form but 'apologetic' in substance".[5] Thus, it is difficult for the nationalists to retain the autonomy of a nation.
While studying how the idea of a nation came to be, Ambedkar developed a theoretical framework of nationhood. He studied the role of women in Indian society and how their subjugation and exclusion led to the dangerous practices like endogamy, child marriage, female infanticide and sati. These malaises had not only social but also political repercussions. Almost half of the citizens were kept out of the political arena.
"For woman was at once the seed bed of and the hot house for nationalism in a degree that man could never be," Ambedkar said. "The part played by woman in sustaining nationalism had not been sufficiently noticed."[6] For him, the idea of a nation was never only political but was also embedded in the social. He believed that, "without social union, political unity is difficult to be achieved. If achieved, it would be as precarious as a summer sapling, liable to be uprooted by the gust of a hostile world. With mere political unity, India may be a State. But to be a State is not to be a nation and a State, which is not a nation, has little prospect of survival in the struggle for existence. This is especially true when everywhere nationalism – the most dynamic force of modern times – is seeking to free itself by the destruction and disruption of all mixed States. The danger to a mixed and composite State lies therefore not so much in external aggression as in the internal resurgence of nationalities which are fragmented, entrapped, suppressed and held against their will."[7]
How were the women entrapped and suppressed? Ambedkar said, "From time immemorial, man as compared with woman has had the upper hand. He is a dominant figure in every group and of the two sexes has greater prestige. With this traditional superiority of man over woman, his wishes have always been consulted. Woman, on the other hand, has been an easy prey to all kinds of iniquitous injunctions, religious, social or economic. But man as a maker of injunctions is most often above them all."[8] He believed that patriarchy in India started with the men controlling women in the family but worked in such a way as to perpetuate caste hierarchies; and the preservation of caste is the basis for the functioning of this patriarchy.[9] The social relation between caste and gender was based on the exercise of power through the use of force. "This power could have many dimensions: it could be simple and direct in its assertions; it could be complex in not permitting the space for the raising of issues outside the parameters it creates."[10]
Gandhi, for example, involved women in various political and national movements like Satyagraha, Non-Cooperation and created a public space for them. He addressed more and more the plight of women in India, first, by questioning existing Hindu practices that limited the involvement of women in national awakening, like the purdah, and later by affirming and establishing the distinct role that women could play in the national movement. It was a slow process that built his ideas. He linked women to the national movement through the spinning wheel, a process in which if he moved forwards he also moved backwards, until by the 1920s he was able to crystallise his thoughts on this problem in a coherent fashion.[11] However, he always stuck to the belief in the binary of the two sexes and in the Varnashrama Dharma that sustained and promoted evil practices like sati, dowry and child marriage. For him, the participation of the women in the nationalist awakening meant spinning cotton at home.[12] Thus, even those who involved women in the national movement were drawing boundaries for them and confining them to within the four walls of their homes.
Therefore, defining the ideal woman as Bharat Mata draped in a white saree holding a flag is a farce because, as Ambedkar said, unless women as individuals were given their due rights and protected, India could never become a democratic nation. In his view, it was imperative to develop State Socialism in our country for achieving socio-economic equality and unity. He maintained that people made a nation by striving for the ideals of liberty, equality and fraternity. Everyone should feel that he has got an equal share in the national wealth, power and opportunities. They should not feel that they are deprived of the social benefits by others. A society of this kind, Ambedkar believed, would constitute a nation irrespective of other differences, such as in language, religion and habits.[13]
He used to say that merely calling this land Matrabhu-Pitrabhu or raising the slogan Hindu Hindu-Bandhu Bandhu was of no use. He emphasized the need for a change in the social structure and social values to turn India into a nation.[14] Ambedkar warned people against the spirit of blind hero-worship because he thought that the service to the people of a nation was nobler than the worship of political heroes. He was of the opinion that "Bhakti" is a path to the salvation of the soul, but in politics, Bhakti or hero worship was a sure road to degradation and eventual dictatorship. He argued that the worship of political heroes had killed the public conscience because the heroes thought only of their worshippers and neglected the common cause of mankind. Rather, he attempted to solve the political, social and religious problems of India using a democratic, humanistic method. Though educated in and impressed by Western culture, he laid stress on the need for cultural regeneration while preserving the best elements of our culture and civilization.[15]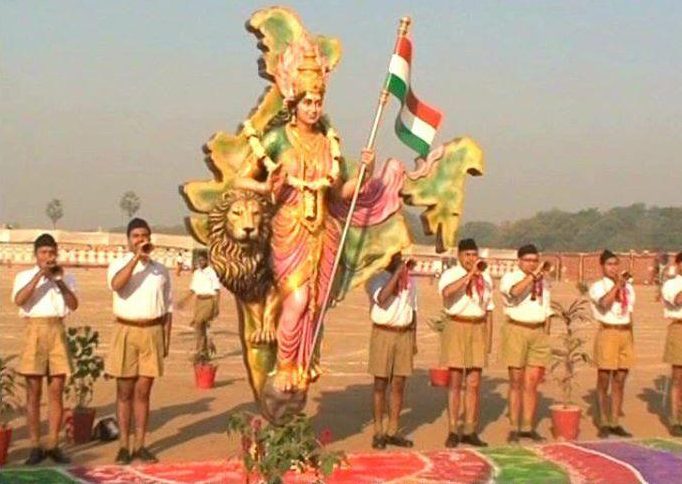 During the framing of the Constitution, Ambedkar saw democracy as an instrument for metamorphosis. The Constitution was not merely for the government. Rather, it operated within society, influencing the political, economic and cultural spheres. It envisaged the principle of "one man, one vote" giving right to equality and freedom to the woman as an individual. Ambedkar thus safeguarded the identity of woman as autonomous and on a par with that of the men. A progressive radical faced with a triumph of myths, customs and religious beliefs over rationality around him, Ambedkar proposed three unique ideas to include women in the formation of a nation.
First, he demanded an autonomous political representation for women not only in the political arena but also in the pursuit of the development, preservation and reproduction. Second, since he doubted the public conscience to allow women's representation, he proposed definitive constitutional measures. This would even enable the women to address common issues and make demands accordingly. Third, he pitched for supportive policy measures of extending benefits to women in the process of development.
Thus his idea of a nation had an inclusive character ­– it protected the rights of the women. Later, he propagated the idea of Prabuddha Bharat (enlightened India) after building his Bahiskrit Bharat on the belief that the pillars of a strong India rested upon the consistency of a heterogeneous society. His idea of a strong nation was built on rationality, democracy, liberty, fraternity and equality.
According to Ambedkar, the formation of a strong nation had the identity of an individual as its centrifugal component – be it a woman or a member of a Scheduled Caste or a Scheduled Tribe. This individuality is always evolving and developing, and engaging with the locality, community, nationality, humanity. The social and the political thought that is attached to this identity (here specifically targeting the woman) has an epistemological capacity to adjust with the facts. For example, the concept of freedom is significant only if the idea of nation is accommodative and pertains to the social reality. Thus Ambedkar rightly said "Educate, Agitate, Organize" – to not only instil morality among the public but also strengthen the Indian woman to speak out and be an active agent/participant in the nation, for the progress of a nation can only be real when the progress of the woman is encouraged.
[1] Sabyasachi Bhattacharya, Vande Mataram: The Biography of A Song (2013), Primus Books, New Delhi, p XIII.
[2] Geeti Sen, "Iconising the Nation: Political Agendas", India International Centre Quarterly, Vol 29, No 3/4, India: A National Culture? (Winter 2002-Spring 2003), p 158.
[3] Sumathy Ramaswamy, "Maps and Mother Goddesses in Modern India", Imago Mundi, Vol 53 (2001), p 106.
[4] Sir Herbert Hope Risley, The People of India (1969), W. Crooke (ed), Oriental Books Reprint Corporation, Delhi, p 171.
[5] Partha Chatterjee, Nationalist Thought Colonial World: A Derivative Discourse (1986), Oxford University Press, Delhi, p 9.
[6] B.R. Ambedkar, "Pakistan or Partition of India", Dr Babasaheb Ambedkar Writings and Speeches, Volume VIII, Government of Maharshtra (1990), Bombay, p 243.
[7] Ibid, pp 193-194.
[8] B.R. Ambedkar, Castes in India: Their Genesis, Mechanism and Development (2013), Critical Quest, New Delhi p 7. Also, it was originally a seminal paper presented by Dr B. R. Ambedkar on 9 May 1916 in the Anthropology Seminar of Dr A. A. Goldenweizer at The Columbia University, New York, USA.
[9] Wandana Sonalkar, "An Agenda for Gender Politics", Economic and Political Weekly, Vol 34, No 1/2 (2-15 January 1999), p 24.
[10] Vasanth Kannabiran & Kalpana Kannabiran, "Caste and Gender: Understanding Dynamics of Power and Violence", Economic and Political Weekly, September, (1991), p 253.
[11] Sujata Patel, "Construction and Reconstruction of Woman in Gandhi", Economic and Political Weekly, Vol 23, No 8 (February 20, 1988), p 378.
[12] Ibid, p 378.
[13] Dr Pradeep Aglave, Dr Ambedkar on Nation and Nationalism, published by Dr Ambedkar Chair, Rashtrasant Tukadoji Maharaj Nagpur University, (2014), Nagpur, p 12.
[14] Ibid, p 15.
[15] Constituent Assembly Debates (2003), Volume XI, reprinted by Lok Sabha Secretariat, New Delhi, p 12.
---
Forward Press also publishes books on Bahujan issues. Forward Press Books sheds light on the widespread problems as well as the finer aspects of Bahujan (Dalit, OBC, Adivasi, Nomadic, Pasmanda) society, literature, culture and politics. Next on the publication schedule is a book on Dr Ambedkar's multifaceted personality. To book a copy in advance, contact The Marginalised Prakashan, IGNOU Road, Delhi. Mobile: +919968527911.

For more information on Forward Press Books, write to us: info@forwardmagazine.in