Dear Adivasi brothers and sisters,
I wish to convey through this open letter how important it is for the Adivasi youth to join politics. By Adivasi youth, I mean those Adivasis who are passionate about working towards securing community's self-respect, identity and the Constitutional rights, regardless of whether they are 20 or 80 years of age.
India is a democratic country and the assembly and parliament elections are the most critical aspects of its democratic process. It is these elections that will decide who will come to power. The most important feature of the election process is that a king's son won't become a king, but the people of the country may elect a poor man's son and make him a king by casting their valuable votes in his favour. We believe in this democratic process even though it has certain loopholes that have kept development away from the poorer sections of society, and money power, muscle power and nepotism have ruled the state.
This has happened because the honest, young leadership has a flawed perspective on politics and has distanced itself from it. If this honest, young leadership finds politics dirty and shuns it, then most certainly money-power, muscle power and nepotism will rule democracy. I appeal to all the deprived and honest people to join politics. Only once they are in politics can we clean up politics and democracy and dream of a better, democratic India.
I speak for the Adivasis and lead the Adivasis. I formed the social organization "Jai Adivasi Yuva Shakti (JAYS)" six years ago. JAYS has a strong presence in 15 states and has more than 15 lakh members. I hail from the Malwa-Nimar region and my main focus today is Madhya Pradesh. After all, why did we feel that Adivasi youth should enter politics and forge leadership? There are many reasons. Sociological and anthropological studies have proved that Madhya Pradesh has been home to Adivasis since before the Christian era. Despite their age-old ties to the region, their progress has not kept pace with the development of the state. Like the geographical diversity of the state, the social, economic and political conditions of the Adivasis are also varied. A common issue facing the Adivasis is that there isn't a single medical college in the large areas where they are they dominant community. If anyone falls sick, they have to travel 250-300 km to Bhopal or Indore for treatment. Yet no Adivasi leaders from the BJP or Congress have raised this issue.
In the past 70 years of familial and dynastic politics, the last person in the queue waiting for the benefits of development to trickle down has been the Adivasi. For generations, a couple of families have dominated politics, due to which the educated and honest youth have not had the opportunity to enter politics. Whenever there is the talk of an Adivasi leader in Madhya Pradesh, few familiar names from the Congress and BJP crop up. They too, have encouraged familial and dynastic politics and have remained loyal to the BJP and the Congress. They could never remain loyal to the cause of the Adivasis. In the last few years, JAYS has created social and political awareness among the youths, because of which those Adivasi leaders of various political parties, who have until now, regarded politics as their hereditary right, are facing an existential crisis.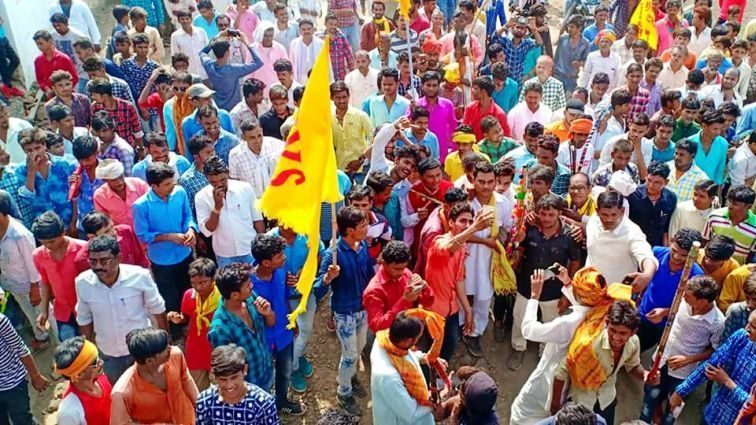 Due to its strong network in 15 states, JAYS has given birth to a new thought in Adivasi politics. Rejecting money power, JAYS has been trying to redefine politics by have poor and honest candidates elected to the assembly and Parliament. It is due to the initiatives of JAYS that the political circles in the country and the state are in jitters and the party leaders, intoxicated with power, are feeling the heat. These leaders kept quiet when the Constitutional rights of the Adivasis over water, forest and land were being blown to smithereens by wresting and handing them over to the corporates. I appeal to Adivasis through JAYS to create a political space for ourselves so that the 5th Schedule of the Constitution, Panchayats (Extension to Scheduled Areas) (PESA) Act and Forest Rights Act are implemented on the ground and the rights over their water, land and forest are given to the Adivasis. For this to happen, the youth have to enter politics. Today, despite thousands of Adivasi or non-Adivasi organizations operating in the country, every day the tribals are forcefully driven out from their lands and forests in states such as Madhya Pradesh, Chhattisgarh, Jharkhand, Orissa, Telangana and Rajasthan, which have large Adivasi populations. The youth who oppose displacement are being shot dead or branded as Naxalite-Maoist terrorists or separatists or thrown behind bars. In the forests of Bastar, Adivasi women are being subject to the heinous act of rape. JAYS wants to be a ray of hope among the Adivasis and instil belief in them that if anyone tries to take away their water, forest or land forcefully, then JAYS will stand up for them and fight for their cause.
Today, some social organizations, claiming to be well-wishers of Adivasis, are advising us to keep away from politics, and also from time to time, suggesting that we should boycott the General Elections. We have a question for all of them: Is it possible to implement the community's Constitutional rights on the ground without political power?
If by repeatedly holding rallies, sit-ins, protests and cultural programmes of song and dance all the provisions of the 5th and 6th Schedule, PESA, and Forest Rights Act could be implemented on the ground, then this is what we have been doing for the last 70 years. And, what is the outcome? Even after 70 years of Independence, conditions in Adivasi regions are abysmal: starvation, malnutrition, unemployment, forced migration, and absence of roads and health services. The community's own political structure that elects MLAs and MPs who don't have an abiding concern for Adivasi issues is entirely to blame for this situation.
Through JAYS we have trained youths on safeguarding Constitutional rights for the last 5 years. We are working towards sending these youths to the assembly and Parliament. This is the reason for the turmoil in Madhya Pradesh politics today.
We, the Adivasi youth, have to come forward to protect the Constitutional and democratic rights of Adivasis.
Your well-wisher,
Dr Hiralal Alawa
Translation: Parmanand Baiga; copy-editing: Anil
---
Forward Press also publishes books on Bahujan issues. Forward Press Books sheds light on the widespread problems as well as the finer aspects of Bahujan (Dalit, OBC, Adivasi, Nomadic, Pasmanda) society, culture, literature and politics. Contact us for a list of FP Books' titles and to order. Mobile: +917827427311, Email: info@forwardmagazine.in)

The titles from Forward Press Books are also available on Kindle and these e-books cost less than their print versions. Browse and buy:

The Case for Bahujan Literature

Dalit Panthers: An Authoritative History

Mahishasur: Mithak wa Paramparayen