LETTER TO THE EDITOR
Respected Editor,
The students of JNU will elect their new union tomorrow. Twitter and Facebook show that many friends are keeping a close eye on the elections. For the past few elections, Forward Press was our means of getting a proper perspective on the elections. But Forward Press has not given the issue much coverage this time. I don't know why it is so. Are you too convinced that the RSS has stormed the ideological fortress of the JNU? And, so there is no use talking about it now?
Last night, the presidential debate was held at JNU. Its videos were put up on different YouTube channels. I saw almost all of them. Emotional appeals in the name of social justice do not matter to me. The truth hidden behind these appeals is now apparent even to outsiders like me.
Chhatra RJD [RJD student wing), Chhatra Samta, Chhatra SP, Chhatra Congress, Chhatra BJP, Chhatra RLSP, Chhatra JDU, Chhatra BSP, Chhatra this, Chhatra that – what does all this mean? There is much in a name. It reveals the thoughts of your godfathers and indicates what your future course of action would be. It also shows whether you have even an iota of noble thoughts.  
The Communist parties have their own student organizations. But they have independent names. CPM has Students' Federation of India, CPI (ML) has All India Students' Association, CPI (Maoist) has Democratic Students Union, etc. Similarly, the RSS has its own students' wing – the Akhil Bharatiya Vidyarthi Parishad (ABVP). The Congress' students' body is called National Students Union of India (NSUI). The "National" and the "Akhil Bharatiya" may have brahmanical objectives, but at least their parent parties recognize that the students are not their political slaves. They have given independent names and independent identities to their student bodies.
It is sad that in a prestigious institution of higher learning like JNU, student bodies have borrowed their names from political parties. It would been better had they called themselves Chhatra Yadav, Chhatra Koeri-Kurmi, Chhatra Brahmin-Musalman, Chhatra Brahmin-Bania, Chhatra Kushwaha, Chhatra Dalit-Thakur and so on. Lacking, as they do, an ideology, their identity ultimately boils down to this only.
But yes, while viewing the JNU presidential debate and reading the various reports on it, I have begun harbouring some hopes from BAPSA. As I said earlier, there is much in a name. The name of this organization indicates its thoughts and beliefs. BAPSA has fielded T. Praveen [who hails from an extremely poor Madiga (Scheduled Caste) family of Telangana]. Madigas are untouchable even for the Untouchables). Its candidate for Vice-President is P. Naik (from an SC family of Kalahandi, Odisha). Its candidate for General Secretary is Vishwambhar Nath Prajapati [from an Extremely Backward Caste (EBC) Kumhar family from Kushinagar in Uttar Pradesh]. Kanaklata Yadav (from a Yadav family of Azamgarh, Uttar Pradesh) is its nominee for Joint Secretary.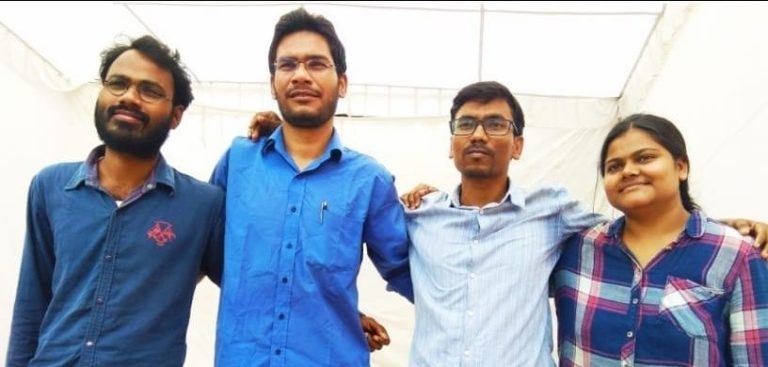 I have referred to the social background of these candidates so that you can understand how the name of an organization has a bearing on its thought process. BAPSA's presidential candidate is a Madiga – the lowliest of lowly castes in India. Even Dalits do not drink water from Madiga homes. The vice-presidential candidate is an SC from the starving Kalahandi. The candidate for General Secretary is from an Extremely Backward Caste while the candidate for Joint Secretary is from a powerful OBC caste, Yadav, but a woman.
Look at the candidates of another student organization that is tom-tomming its commitment to social justice. A family controls its parent political party. The organization has entered the fray in JNU for the first time and has fielded a candidate from the caste of the first family for President. He is crying himself hoarse praising the family. Almost two thirds of his speech at the presidential debate was devoted to singing paeans to Lalu and Tejashwi Yadav. The team surrounding him comprises students from the same caste.
My letter has become a bit too long. But the situation is distressing. I hope the Dalit-OBC and Adivasi students of JNU have come to see the truth and will give a befitting reply to such people.
We would have liked Forward Press to provide us with more material on such issues so that we could understand the situation in its entirety. Despite not getting any answer, I have been acquainting you with my thoughts through emails. I hope you have not taken it otherwise.
Today, a certain Omprakash has written a piece on BAPSA on the News 18 website. I am giving the link. I hope you will go through it.
Kanak Keshari,
Hilsa, Nalanda, Bihar
………………………….
This was how beating BAPSA became a challenge for the Left and the Right
-Om Prakash (News 18)
The JNUSU elections have always been a battle between the Right and the Left. But it is no longer so. BAPSA (Birsa Ambedkar Phule Students' Association), which espouses Ambedkarite politics, has emerged as a big force in the JNU and is challenging both the Left and the Right. It has been giving both the Left Front and the ABVP a run for their money in the past two elections. This time, it is even more aggressive. It is trying to present a new alternative to the students in the bastion of the Left by describing the "Reds" and the "Saffrons" as birds of the same feather.  
The organization, which came into existence on 15 November 2014, has been contesting elections since 2015. In 2016, with 1,545 votes, it came second in the election for President and its candidate for the Vice President emerged came third. In the 2017 elections, of the total 4,620 votes valid votes polled for the presidential election, it got 935. This time, the battle is primarily between the Left, ABVP and BAPSA.
The last two elections have made it clear that BAPSA has struck roots in JNU. What it now requires is a win. In the Red fortress, the Left is now not only facing the Saffron but also the Blue. BAPSA claims that it is treading the path shown by Bhimrao Ambedkar, Jotirao Phule, Savitribai Phule and Birsa Munda. It is the face of Ambedkarite politics on JNU campus. It accuses all Left organizations of being brahmanical.
BAPSA leader Rahul Sonpimple says, "The Left only talks. It does not give SC, STs, OBCs and Muslims their due place in its organization. So, like in the country, Blue Revolution is under way in JNU too."
Since its launch, the organization has focused on SC, ST, OBC, Adivasi, Muslim, Kashmiri and Northeast students.
It has kept away from media and strengthened its cadre. The result is that BAPSA has put up a strong challenge to the Left in its own bastion.
Both ABVP and the BAPSA are determined to stop the victory march of the Left. That is why AISA (All India Students' Association), SFI (Students' Federation of India), DSF (Democratic Students' Federation) and AISF (All India Students' Federation) have closed ranks. As for the ABVP, those unhappy with the Left now have an option – BAPSA.
(Edited excerpts of the story published on News 18)
Forward Press also publishes books on Bahujan issues. Forward Press Books sheds light on the widespread problems as well as the finer aspects of Bahujan (Dalit, OBC, Adivasi, Nomadic, Pasmanda) society, culture, literature and politics. Contact us for a list of FP Books' titles and to order. Mobile: +917827427311, Email: info@forwardmagazine.in)

The titles from Forward Press Books are also available on Kindle and these e-books cost less than their print versions. Browse and buy:

The Case for Bahujan Literature

Dalit Panthers: An Authoritative History

Mahishasur: Mithak wa Paramparayen