The first notable Mahishasur Diwas celebration was held at the Jawaharlal Nehru University in Delhi in October 2011. Since then, this movement, aimed at building a violence-free and egalitarian India, has been growing. Now, the event, which celebrates freedom from the dominant brahmanical culture, is celebrated in hundreds of towns and villages across the country. But there have been other related events too. Cases were filed at several places against different people for making comments against Durga. In Chhattisgarh, Madhya Pradesh and other states, complaints were filed regarding insult of Mahishasur and Ravan. While there were demonstrations against the alleged insult of Durga, massive rallies were held in honour of Mahishasur. In this series of follow-up articles on the Mahishasur-Durga controversy, we will return to what has happened over the years and also update you with the latest developments. – Editor
---
Rightist forces want to banish humanism, Constitution and foist Manusmriti on nation : Dhirubhai Chhotubhai
We, the people of North India, read the name of this place only in general knowledge and geography books. It finds a mention in newspapers rarely. This place is Dadra and Nagar Haveli. The winds of opposition to the cultural domination, which rose from the plains of North India, have reached the Union Territory riding on the wings of social media.
Dhirubahi Chhotubhai Patel, who belongs to the tribal community of the area, and is associated with BAMCEF, was booked for insulting Durga and Shiva-Parvati in October 2017.  But, when the indigenous Bahujan community came out against the arrest, the Bajrang Dal and Vishwa Hindu Parishad beat a hasty retreat.
The police had filed a charge-sheet against him in a court on 15 November 2017, based on a complaint lodged by Bajrang Dal member Sureshbhai Rameshbhai Purohit. Hearing in the case has been adjourned four-five times and the next hearing is scheduled for September 18.
Dhirubhai says, "The earlier observations of the Supreme Court show that no case is made out against me under the sections mentioned in the charge-sheet. Such cases, registered under Section 66A, have been rejected on earlier occasions too." However, the police have imposed sections 295 and 295A also on him.
Dhirubhai Chhotubhai Patel is associated with Rashtriya Mazdoor Sangh and is working for spreading Bahujan consciousness in the area. He hails from the tribal community of the union territory. Tribes form more than 80 per cent of the population of the area but people from outside also have a sizeable presence here and many of them are labourers. This has made the place costlier than even the metropolitan cities to live in.
Dhirubhai adds, "I work for the tribal people through BAMCEF. I keep on writing on social media and share a post if I like it. I shared a post on Durga that I had received during the Durga Puja festival last year. I also shared a post in which a man was shown dressed as Shiva-Parvati and was smoking a cigarette, sitting on a piece of stone. I also shared on my wall a quotation of Swami Vivekananda saying that it is better to play football than read the Gita."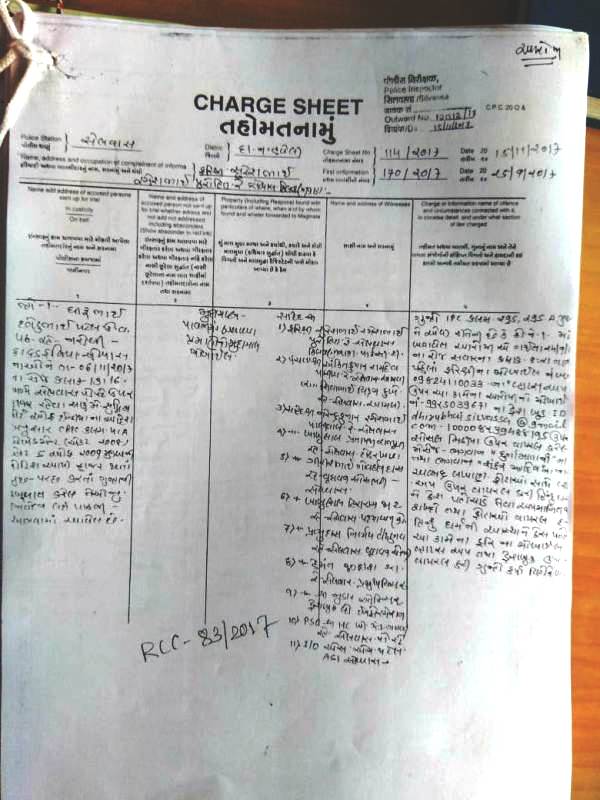 The Bahujan activist claims, "It was not my intention to hurt anyone's sentiments and I did what I considered fit. The Constitution has given me this freedom and I have not done anything for which I should be punished. The important point is that it was not my original post. The members of the RSS and the Bajrang Dal went through my posts of the past four to five years and submitted the printouts to the police."
He says that he has been targeted because he is a BAMCEF worker and has been insisting that tribals are not Hindus. "We have been protesting against the atrocities committed on them."
Dhirubhai adds, "I want to know who Durga and Mahishasur were? After all, why was the king, the messiah of backward class and exploited and marginalized people, was slain by Durga? What was his fault?"
Visibly angry and disturbed, he says, "Considering how the people raising issues of SCs, STs and OBCs are being framed across the country, the people of Dadra and Nagar Haveli too should celebrate Mahishasur Day. We are waiting for our committee to take a final decision on this matter. Mahishasur Day is not celebrated in this union territory in spite of 80 per cent of the population being indigenous.  Mahishasur is associated with the sentiments of the tribal people of the country. In view of the atmosphere prevailing in the country, I too feel that we should tell our people about our own heroes and idols. As far as the case is considered, it is amply clear that I am not involved in any terror-related activity, nor I have violated the Constitution. If sharing Facebook posts is a crime, I am ready to accept the punishment. But the people who have filed the case must prove that I have committed a crime."
Organizational Secretary of OBC Samarthan Samiti, Gujarat, Devendranath Patel says, "BAMCEF, Bahujana Kranti Dal, Rashtriya Mool Niwasi Sangh, Rashtriya Adiwasi Ekta Parishad, Mandal Samarthan Samti Committee and many others showed documents to the police and submitted Bahujan literature which confirms that Dhirubhai has done nothing wrong. We have submitted all the documents and literature opposing Brahmanical system to the police. If Chhotubhai is booked, cases should also be filed against those people, who write books and articles challenging the Brahminical system."
He adds, "As soon as the Bahujan society united against the arrest of Dhirubhai, the VHP and the Bajrang Dal dissociated themselves from the person who had lodged the complaint. The Sixth Schedule of the Constitution applies to Silvasa, which means that non-tribals living in the area have to take permission. The Bajrang Dal-VHP worker, who has filed the case against Dhirubhai, hails from Rajasthan and his family had moved to Silvasa only about 20 years back."
On the other hand, Dhirubhai says that he believes in the policy of 'live and let live' and that everyone should live peacefully. If those who target the people for raising the issues related to the Bahujan society do not refrain from their nefarious activities, they would be driven out of the place. Now, the people have become aware of their rights. An atmosphere is being built. If this process continues, we are hopeful that the country will be ruled by the indigenous people i.e. the Buddhists by 2025."
(Translation Pramode Mallik; Copy-editing Amrish Herdenia)
---
Forward Press also publishes books on Bahujan issues. Forward Press Books sheds light on the widespread problems as well as the finer aspects of Bahujan (Dalit, OBC, Adivasi, Nomadic, Pasmanda) society, culture, literature and politics. Contact us for a list of FP Books' titles and to order. Mobile: +917827427311, Email: info@forwardmagazine.in)

The titles from Forward Press Books are also available on Kindle and these e-books cost less than their print versions. Browse and buy:

The Case for Bahujan Literature

Dalit Panthers: An Authoritative History

Mahishasur: Mithak wa Paramparayen