Like people of all religions, a large number of Hindus have been migrating to all the parts of world. The reason behind this is better opportunities and higher living standards in those places. In most parts of the world one can find a substantial number of Hindus of Indian origin. The concentration of these émigrés is particularly higher in richer countries. Earlier, a large number of Indians migrated to UK, Canada and currently United States is the hot favourite. The émigrés from here do tend to adapt to the countries they adopt but they retain their umbilical cords. Some of them meet to celebrate their Indian-ness; some also meet bearing their religious identity as Hindus or Muslims in particular. There is a large India diaspora in the US. Some Hindus among them recently held World Hindu Congress in Chicago and invited RSS chief Mohan Bhagwat to address the same.
Some of these NRI's, as they are known popularly, identify the RSS as representative of Hindus. At one level it should be surprising as to how RSS combine can be representing all the Hindus. RSS upholds a version of Hinduism, which is wedded to Brahmanical norms. A majority of Hindus all through freedom struggle chose Gandhi as their icon and identified with the freedom struggle. In contrast, the RSS, with its agenda of Hindu nation, kept aloof from the freedom movement. The Hindus behind the WHC may well know that greatest Hindu of twentieth century, Mohandas Karamchand Gandhi was killed by a person who was the follower of RSS ideology of Hindu nation.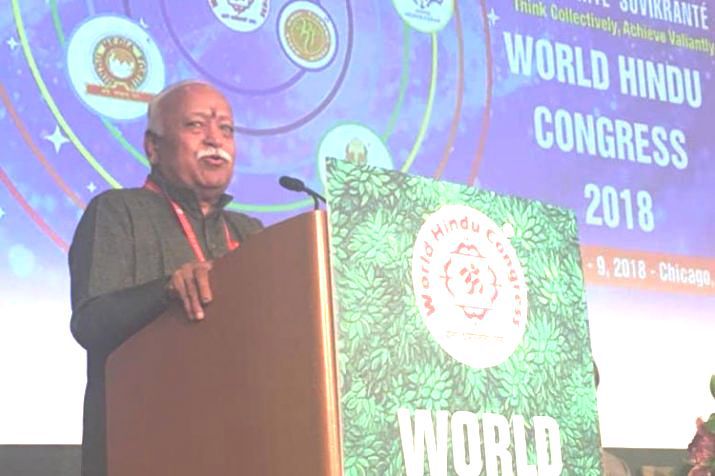 Be it so! Addressing the Congress Bhagwat made many comments which are indirectly insulting to the people of other religions and ideologies in India. While emphasizing the need for Hindu unity he said "Wild dogs can invade and destroy even a lion if he is alone", a remark that was interpreted by some as a veiled reference to the Sangh Parivar's narrative of Muslim invaders dominating and leaving their imprint on India. He also made a reference to pests and the use of pesticides in agriculture, the analogy being to religious minorities in India.
Summarizing his ideology and understanding of history Bhagwat, said, "Why are we suffering for a thousand years? We had everything and we knew everything. We forgot to practice what we knew. We also forgot to work together."
Reacting to this, many a spokesman of Indian political parties poured their anguish. Nawab Malik of NCP stated "The ideology of the RSS and the BJP is anti-Hindu and they only know how to do caste politics…The day they stop dividing Hindus on the basis of caste, every Hindu and people from other religions as well will be lions." Similarly, Sachin Sawant from the Congress said, that "RSS ideology is anti-Hindu. It is known for hatred towards other castes and religions. It is shameful of the RSS chief to describe any religion in this way."
At a more forthright level Prakash Ambedkar of Bharipa Bahujan Sangh felt that that the "dog" reference was for the opposition parties in the country.  "I condemn this 'mansikta' (mentality) of Mohan Bhagwat."
Interestingly at the venue of the WHC there were posters which showed RSS agenda in a blunt way. One such poster, related to Love Jihad, depicted the marriage of Sharmila Tagore to Mansoor Ali Khan Pautadi as love jihad. A poster questioned whether Saif Ali Khan will force his wife Kareena Kapoor to convert to Islam and also as to why they gave an Arabic name (Taimur) to their son. In a loud and clear manner, the posters said that interfaith marriages are a silent holocaust of Hindus, showing the patriarchal mindset of the organizers. These assertions of WHC did not go unchallenged from the progressive Indians community. Many from the Indian origin community challenged the views expressed at the meet and labelled RSS politics as "Hindu supremacist ideology that is spearheading the violation of human rights and religious freedom of minorities in India." Many young activists from Chicago's 'South Asians for Justice' shouted slogans "RSS Turn Around, We don't want you in Our Town," and "Stop Hindu Fascism." These protestors had a fracas with those attending the conference.
Overall, the organizations like WHC have come up cashing on 'identity crisis of Hindus' in US. Many first generation Hindus, who migrate for jobs or better business opportunities to US, get a cultural shock there. The shock is related to equality and to gender equations in particular. The first generation of Hindus landing up in US see women in very different role there, women as autonomous beings, which come as a threat to their own mindset. It is at this juncture that RSS ideology of glorification of the past, a decoy to hide caste and gender inequality, comes in as succour to these troubled souls, longing for their motherland but pinned down to United States by lure of lucre. RSS-type Hinduism gives them the identity they need to sustain their original values. So, for this section; RSS is synonymous with Hinduism, which surely it is not.
This was the ground on which VHP of America, HSS and other parallel organizations started flourishing in US. In elections in Gujarat, many NRI Indians come regularly to campaign for the BJP. Similarly a good amount of donations pour in for RSS combine and BJP's electoral campaign in India. Today Hindu Swayamsevak Sangh has thousands of active shakhas in US. The statements of RSS chief are a clear denigration of the religious minorities in India. One hopes that the progressive organizations like South Asians for Justice will continue to promote secular values, values of amity and counter the divisive agenda, which RSS is spreading there.
Copy-editing: Amrish Herdenia
---
Forward Press also publishes books on Bahujan issues. Forward Press Books sheds light on the widespread problems as well as the finer aspects of Bahujan (Dalit, OBC, Adivasi, Nomadic, Pasmanda) society, culture, literature and politics. Contact us for a list of FP Books' titles and to order. Mobile: +917827427311, Email: info@forwardmagazine.in)
The titles from Forward Press Books are also available on Kindle and these e-books cost less than their print versions. Browse and buy:
The Case for Bahujan Literature
Dalit Panthers: An Authoritative History
Mahishasur: Mithak wa Paramparayen