The indigenous people of Karnataka celebrated the Mahisha Dasara 2018 in Mysore, the cultural capital of Karnataka, on 7 October 2018 at Chamundi Hills. The festival was organized by the Mahisha Pratishtana Samithi in association with progressive institutions such as Urilingipeddi Mutt, Ashokapuram Abhimaanigala Balaga, Dalit Welfare Trust, Ambedkar Abhimaanigala Balaga, Research Scholars Association (Mysore), University Guest Faculty Forum, Dalit Students Federation, and minorities associations. A grand procession featuring different folk troupes was taken out at the Town Hall in the city, its destination being the statue of Mahishasur atop Chamundi Hills. Thousands of indigenous people took part in the cultural procession and the meeting at the end to pay tribute to Mahisha, who came to this region centuries ago to promote Buddhism.
The historical Mysore (Mysuru) city was previously known as "Mahishapuri", "Mahisuru" and "Mahishamandala" since it was ruled by Mahisha, the people's king. Several progressive thinkers, cultural personalities, social activists, research scholars and students actively participated in the grand event.
Satish Jarkiholi, MLA and former minister, inaugurated the Mahisha Dasara procession. He is a follower of Ambedkar and Periyar, both of whom led the indigenous people of India in their struggle for social and economic democracy before and after Independence. Swamy Jnanaprakasha, of Urilingipeddi Mutt, garlanded the statue of Dr B.R. Ambedkar in front of the Town Hall before the procession started. Jarkiholi flagged off the procession and the bike rally. An open vehicle carrying a portrait of Mahishasur began its trudge towards Chamundi Hills, with folk troupes performing behind it.
"Mahishasur had been wrongly depicted as a demon as he did not belong to the upper class [caste]," said Satish Jarkiholi. Addressing the press, he said, "I will hold discussions with the people and academicians on making modifications to Mahishasur's statue atop Chamundi Hills. He was a Buddhist king, who initiated many developmental projects in Mysuru." 
The procession exposed the myth that depicts Mahishasur as a demon, with the indigenous people hailing Mahisha as their saviour and great king who represented the historical Buddhist legacy.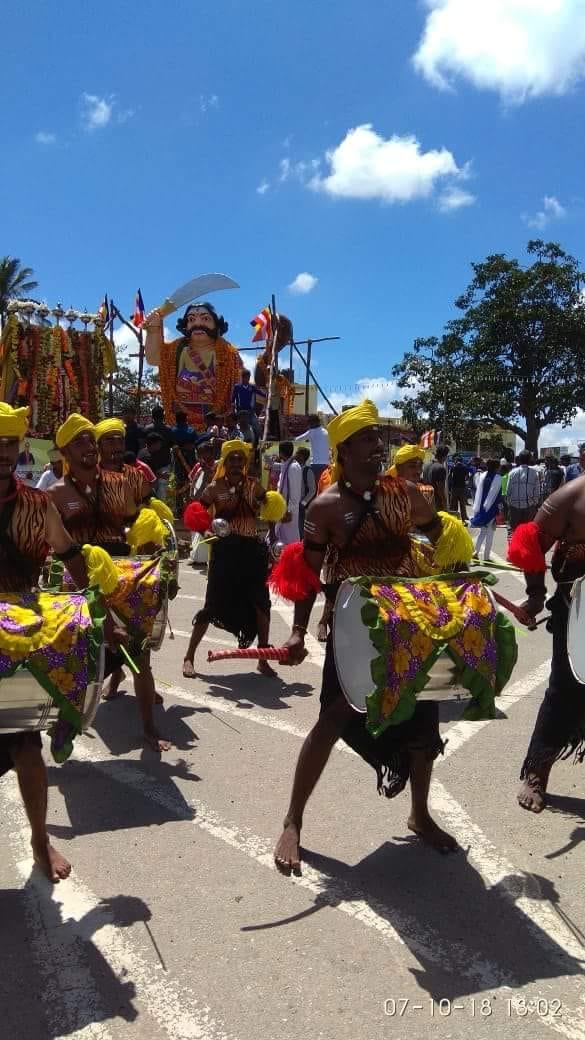 The procession culminated in "Moolanivaasigala Mahisha Samskruthika Habba 2018" and "Mahisha Mandalada Mahadore", a symposium held atop Chamundi Hills, earlier known as Mahabala Hills. Banjagere Jayaprakash, writer and former president of Pusthaka Pradhikaara, inaugurated the programme by reading the Preamble of the Constitution of India. He said: "It was the Aryans who had projected Mahisha, the great king who protected the region, as a demon … The Aryans who migrated from north India along with the farmers tried to destroy the forest for cultivation. When Mahisha opposed the Aryans' attempt, they projected him as a demon … The Aryans provoked Chamundi, who was a community leader of the region, to kill Mahisha. Later, Aryans projected Chamundi as a goddess and named the hills after her. Till then, the hills were known as Mahabalagiri … The Aryans boycotted the indigenous people who opposed their feudal and casteist attitudes, conspiracy and harassments. The inscriptions of King Ashoka's period have mentioned Mahisha, proving Mahisha's prominence. No inscriptions have mentioned the kings of North India."
Media scholar Prof B.P. Mahesh Chandra Guru said: "Asurs were not demons. They protected society and the human values. Chamundi was a bad omen." Prof Guru added that the projection of Mahisha as a demon was imposed on the masses by the Vedic forces. Endorsing Jarkiholi's assessment of Mahisha having been a Buddhist king, Prof Guru said, "He was deputed by Ashoka the Great in the third century BC to promote Buddhism in this region, and govern it justly."
Differing from the commonly held perception of Chamundeshwari being the "Naada Devathe [goddess of the land]", Prof Mahesh Chandra Guru said, "She was a goddess locally known as 'Maramma'. It is the brahmanical forces that have promoted her as the Naada Devathe of the region … We are celebrating the Mahisha festival to cherish the legacy of a great ruler who stood for humanism." He demanded that a statue be installed in a prime location in Mysuru and that the University of Mysore be renamed "Mahisha University".
Writer and rationalist Prof K.S. Bhagwan demanded that Mahishasur's statue atop the hill be pulled down. "In the place of the existing statue, one that depicts Mahisha as a Buddhist monk must be erected. History tells us that Mahisha was a benevolent ruler, who was humane, and worked for the welfare of society. If he were a demon, why would Mysuru be named in his honour?" Bhagwan asked. 
Prof K.S. Bhagwan also rued that nearly half of what was taught as history at schools and colleges was false. He said: "There is a need to teach the truth. Mysuru was originally called Mahisha Mandala. Mahishasur was a noble man and his name lives on. That he was a demon is a misconception. All religions must exist in harmony with each other in the country. But that does not mean vilifying Mahisha. We are not opposed to anyone, but we are fighting for the rights of the indigenous people." 
A book titled "Bouddha Raja Mahishasura" (Mahisha the Great Buddhist King) authored by rationalist Siddaswamy was released on the occasion by Banjagere Jayaprakash, Prof K.S. Bhagavan, Jnanaprakasha, Basava Lingamurthy, Haji Mulistha Chisthi and others. Thousands of intellectuals, social organizers, researchers, students, workers and indigenous people of Karnataka assembled before the statue of Mahisha to celebrate "Mahisha Dasara" and recalled the contribution of Mahisha, the great Buddhist king, to the inclusive development of people regardless of their religion, caste, colour and creed.
The stage was named "Basavalingappa" in honour of the champion of social justice in Karnataka. Basava had implemented land reforms and abolished the system of making manual scavengers carry human excreta on their heads. He sacrificed his life for the cause of rationality and emancipation of the downtrodden communities in Karnataka.
The programme was a memorable event due to the presence and participation of Swamy Jnanaprakasha, Prof Nanjaraje Urs, former MLC Puttasidda Shetty, K.S. Shivaram, Nanda Mahisha, former mayor Purushotham, B.M. Mahadevamurthy, SDPI (Social Democratic Party of India) leader Puttananaiah, BSP (Bahujan Samaj Party) leader Mandya Krishna Murthy, DSS (Dalitha Sangarsha Samiti) activist Harihara Anandaswamy, social activist Bharath Ramaswamy, journalist Somaiah Maleyuru, APMC (Agricultural Produce Marketing Committee) President Javarappa, writer Harohalli Ravinda, Jagroothi online news editor Balaji Kamble, writer Prajval Shashi (Buddha and Ambedkar Association, Nanjangud) Bangalore Siddharth, Shantaraju (honorary president, Dalit Welfare Trust), Prof T.M. Mahesh (president, Dalit Welfare Trust), Siddarama Shivayogi, Basava Lingamurthy, Haji Mulistha Chisthi, Dr Mangalamurthy, Mahadevamurthy, Mahadevaswamy (president, Research Scholar Association), Dr Srinivas, Dr Mahadevaswamy, Dr Ningaraju, Ramesh, Dr Dileep Kumar M. Narasaiah, Gowtham Devanoor, Gurumurthy, Mahesh Sosale (honorary convenor, Mysore University Dalit Students Federation), Khalil (SDPI leader), Krishnamurthy and Sosale Siddharaju (BSP leaders), and activists of Dalit-Minorities Sangh, Gulbarga.
It was a great occasion since Dalits, minorities, Backwards, Tribals, rationalists and other indigenous people joined in the celebrations. Various progressive organizations are already making preparations to celebrate Mahisha Dasara in different parts of Karnataka to restore history and and recapture the glory of Dalits and other indigenous peoples of India.  
Copy-editing: Anil
---
Forward Press also publishes books on Bahujan issues. Forward Press Books sheds light on the widespread problems as well as the finer aspects of Bahujan (Dalit, OBC, Adivasi, Nomadic, Pasmanda) society, culture, literature and politics. Contact us for a list of FP Books' titles and to order. Mobile: +917827427311, Email: info@forwardmagazine.in)

The titles from Forward Press Books are also available on Kindle and these e-books cost less than their print versions. Browse and buy:

The Case for Bahujan Literature

Dalit Panthers: An Authoritative History

Mahishasur: Mithak wa Paramparayen