The Korwa (Pahadi Korwa) tribals have a sizeable presence in the Korba district – known as the energy capital of Chhattisgarh. Located about 200 km from the capital Raipur in the Bilaspur division of the state, Korba has an area of 7,14,544 hectares, of which 2,83,497 hectares is forest land. About 51.67 percent of the total population is tribal. The entire area is covered with green forests and tribals inhabiting them are known for preserving their culture and traditional practices. In keeping with their culture and traditions, Mahishasur and Asur Raj Ravan are considered by them as ancestors.
For the past few years, these tribals have been openly objecting to the practice of displaying the slaying of Mahishasur by Durga during Durga Puja and the burning of the effigy of King Ravan on Vijayadashmi and declaring that if their culture is tampered with and their sentiments are hurt, they will be forced to agitate. Last year, many organizations, including Koitur Yuva Samiti, had organized Mahishasur Martyrdom Day and Ravan Puja publicly. This year too, they are preparing to mount an even bigger show. Last year, tribals had filed a complaint against Mahishasur Vadh and Ravan Dahan. The case related to their complaint is pending in the district court
Mahishasur Vadh and Ravan Dahan should be banned
Koitur Yuva Samiti, an organization of tribal youth, women children and the elderly, has submitted a memorandum to the District Magistrate, SDMs and all police stations of the area.
The memorandum says that, "The Hindus insult Asur Raj Mahishasur by keeping his idol alongside that of Durga. And the effigy of Gondwana Samrat Maharaja Ravan is burnt as a symbol of evil, whereas Ravan is being worshipped as an ideal by the tribals since time immemorial. And hence, a ban should be imposed on both the practices."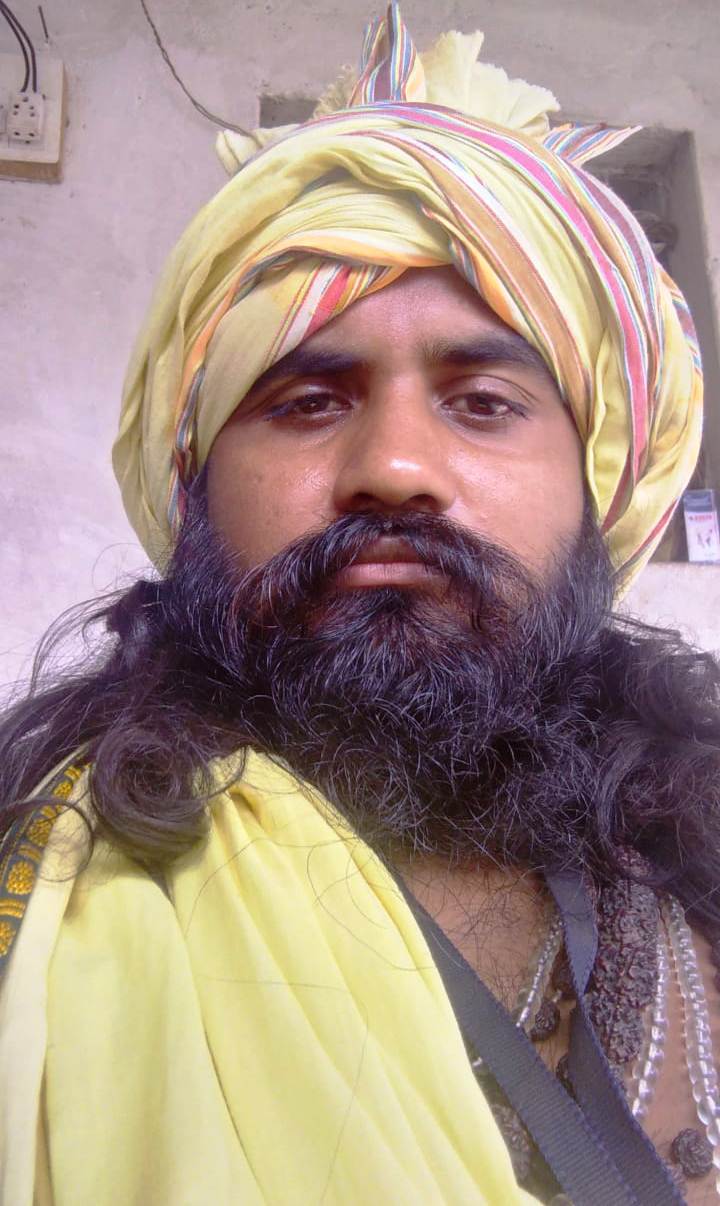 Jeevan Dhurve of Koitur Yuva Samiti says, "Last year, we had submitted a similar memorandum. It had some effect at few places. However, the twin acts that hurt our feelings were committed at most of the places. That is why; we have submitted the memorandum in advance this year. In case of any mishap, the administration will be responsible."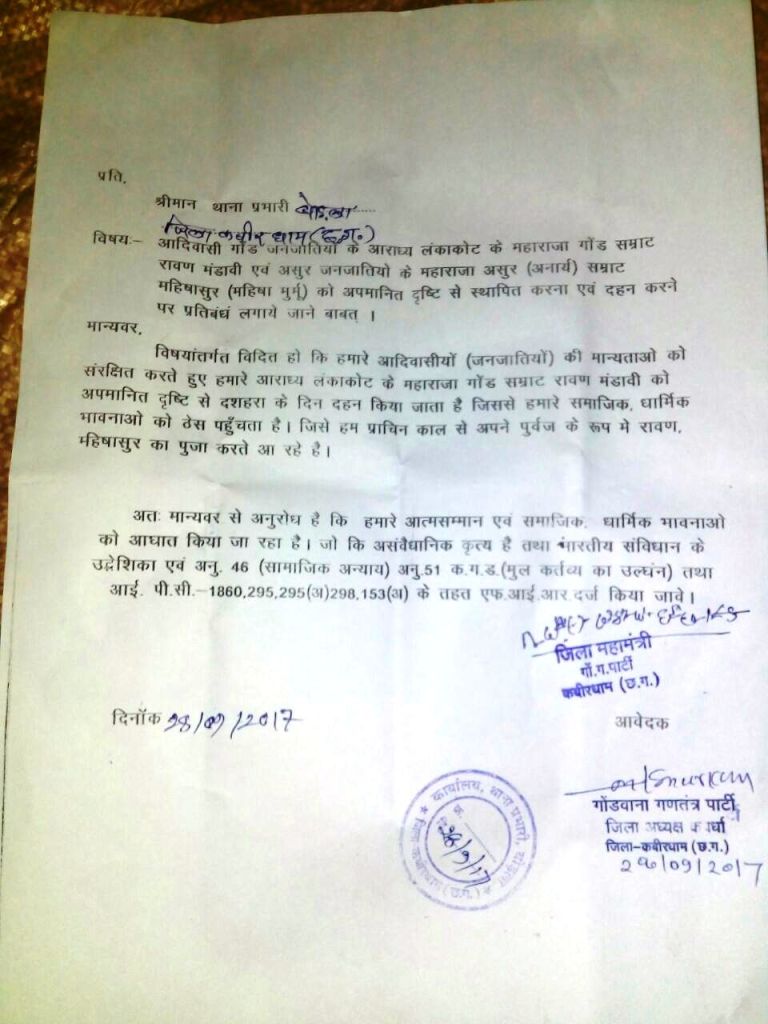 Effect visible at some places
Mahishasur Vadh and Ravan Dahan have been stopped at many places like Kawardha and Lohara. This became possible due to the efforts and co-operation of the tribal rulers of the two places and Koitur Yuva Samiti. It is indeed a great success that in Lohara, 22 km away from Kawardha, Mahishasur Vadh and Ravan Dahan was not done. The initiative is being supported by some savarna youths too.
Jeevan Dhuvey, 35, who has dedicated his life to social service in the tribal, says, "We do not have any objection to the Aryans celebrating Durgaashtami and Vijaydashmi. Our objection is to Mahishasur Vadh and Ravan Dahan. They must stop slandering our idols. However, we know that the ruling party supporters will not do it.  But, if this continues, we will be forced to move the courts."
He also said that "We will also start a movement to protect our culture and objects of our veneration from denigration. If the administration wants to maintain harmony along with law and order, then they will have to ban such practices. We are ready to fight from the streets to Parliament. But we won't let our dignity be trampled upon." According to Dhurve, "After the Modi Government coming to power, the dictatorship of Hindutvavadis has increased and so has violence in the name of religion." Along with Koitur Yuva Samiti, many organizations working among the tribals like Ahir Samaj, Sarv Adivasi Samaj, Gondwana Gantantra Party, Gondwana Gond Mahasabha and Gond Samaj Seva Samiti are also protesting against these events.
It is worth mentioning here that Asur Raj Ravan is worshiped in seven states of our country.  They also believe that Ravan Dahan is also against Hindu scriptures. Tribal Intellectuals claim that showing someone slaying or burning someone in effigy is not only against tribal culture but also against Hinduism.
Tribals are ready to fight for their Identity.
Koitur Samiti was established in 2011 by the tribal youths to create social and educational awareness in their country and made them aware of their traditions and evil practices. Till now, more than 1,000 young men and women have joined this organization. According to members of Koitur Samiti, they provide free education to children of around 45 villages.
According to Vishambhar Markam, a spectacle repairer and district head of Koitur Yuva Samiti, who comes from the Gond community and is educated up to class 12, says that they are protesting against Mahishasur Vadh and Ravan Dahan because it hurts the dignity of the tribals. By submitting memorandum to administration they are demanding that tribal culture should be left untouched.
He says, "We will not tolerate the humiliation of our ideals and our ancestors. We are fully committed to protecting the tribal culture. This year we will celebrate Mahishasur Shahadat Divas. We have started preparations for the day. We hope that the Aryans will understand our sentiments."
Translation: Lokesh Kumar Singh; copy-editing Amrish Herdenia
---
Forward Press also publishes books on Bahujan issues. Forward Press Books sheds light on the widespread problems as well as the finer aspects of Bahujan (Dalit, OBC, Adivasi, Nomadic, Pasmanda) society, culture, literature and politics. Contact us for a list of FP Books' titles and to order. Mobile: +917827427311, Email: info@forwardmagazine.in)

The titles from Forward Press Books are also available on Kindle and these e-books cost less than their print versions. Browse and buy:

The Case for Bahujan Literature

Dalit Panthers: An Authoritative History

Mahishasur: Mithak wa Paramparayen