The ongoing tension on the Indo-Pak border has sparked debates and discussions. In light of the new facts that have emerged, it is almost clear that the ruling party of the country is politicking on the dead bodies of the CRPF jawans killed in the terror attack in Kashmir.
We have published many articles on the issue. In addition, it has sparked an interesting debate on an internal email group (FP Writers) of Forward Press. Among those who have posted their reactions on the group are many prominent Indian and foreign activists, intellectuals, writers, filmmakers and professors. We are presenting selected excerpts from the discussion for our readers:  
Beginning of the discussion
On 14 February 2019, 40-odd jawans of the CRPF were killed in a terror attack in Pulwama district of Kashmir. The IAF conducted a so-called pre-dawn surgical strike on Pakistan on February 26. When the news of the strike became public, Forward Press managing editor Pramod Ranjan put out a request on the FP email group (FP Writers) for articles on the issue for publication. Ranjan wrote, "There are reports that the IAF has launched an attack on Pakistan. It is claimed that hideouts of Jaish-e-Mohammed have been destroyed in the attack. We want to publish analyses of the developments on FP website as soon as possible … As always, we will be taking an anti-war stand. We believe that this warmongering is being done to politically exploit the socially deprived sections of India. This will do no good to either India or Pakistan …"
This email was followed by a flood of reactions on the ills of war, government-sponsored warmongering, the truth of the Mumbai attack, India' security apparatus and the credibility of political parties.
Concerns of Leena Kanal and Vimal Kumar
Leena Kanal, former head of English department in the Bundelkhand PG College, Jhansi, wrote: "War is not good but has Pakistan-sponsored terrorism left us any choice? They keep attacking and killing our people! (This has been) going on for last few decades. Pakistan is actively supporting terrorism. The Pulwama attack can be considered the last straw. We should set aside our social differences and unite in saving our country from more attacks. The terrorists are around us, in our midst, studying in our colleges and conspiring against our country."
The reaction of poet and journalist Vimal Kumar was different. He said, "For the past many years, I have been saying that before Lok Sabha elections, the Modi government would build a war-like atmosphere in the country. I have been proved right. Those in power would go to any extent to win elections. If it is discovered that those in power are behind the Pulwama attack, it would not be a surprise. History stands testimony to the facts that the rulers have done anything and everything to retain power. The rulers do not get killed in wars. It is the poor and the weak that do. Our country's economic condition is already very poor. And a war would only worsen the situation. Foreign debt will increase. But what has the Modi government to do with it? Why no action was taken against Jaish-e-Mohammed over the past five years? Will everything be done on the eve of elections?"
Susan Visvanathan, a professor of Sociology in JNU, said, "Whatever happens affects land and people for generations to come. No war."
Professor Minati Panda, professor of Education, JNU, said, "We require other security measures and not war. Not only generations suffer, but human minds also take a longer time to struggle to escape hate and create a cosmopolitan belief and space. I say no to war."
Mritiunjoy Mohanty, an economist with IIM Calcutta, said, "I agree that war leaves an impact so terrible that it takes decades to reverse, if ever. So no war."
Elias Davidsson raises issue of state-sponsored attack
German author Elias Davidsson gave a new turn to the debate. He wrote, "Due to the fact that Indian authorities have carried out false-flag attacks on their own citizens, at least in Mumbai in 2008, every case of terrorism must be thoroughly investigated by impartial and independent personalities." He wrote, "Pakistan has urged India to establish a joint investigation of the recent attacks in Kashmir.  The refusal by India to accept this offer does not inspire confidence in the good faith of the Indian government."
He also suggested to the members of the email group to read his book The Betrayal of India: Revisiting the 26/11 Evidence  before jumping to conclusions about alleged Pakistani terrorism in Indian territory.
Elias Davidsson is not known to the Forward Press family. According to the information available online, he was born to a German-Jew couple in Palestine in 1941. Some websites say that he has won recognition as a author sensitive to issues related to justice. His book Hijacking American Mind on 9/11: Counterfeiting Evidence (2013) was talked about. Later, in his book on 26/11 (Mumbai attack), he tried to show that more than the Pakistani terrorists, the role of the Government of India and its machinery in this attack was suspicious.
Reacting to Davidsson's comment, Saurabh Bandyopadhyay of NCEAR, asked, "What do you mean by 'false flag-attack on their own citizens?' How come you derived the 'fact'? Could you please elaborate on the evidence?"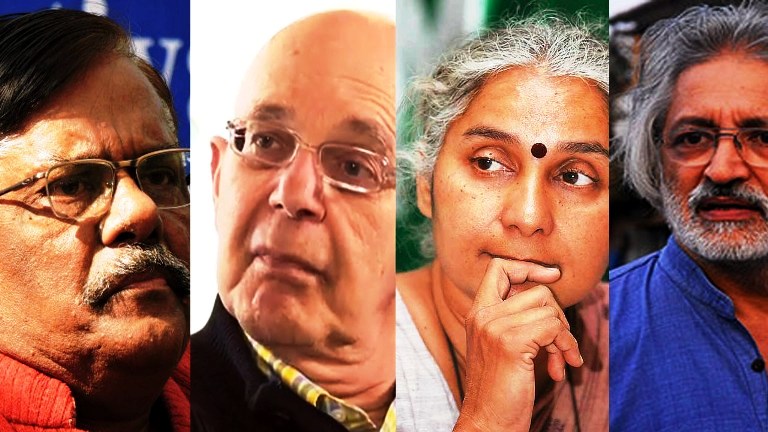 In reply, Davidsson wrote, "In the case of 26/11 (Mumbai attack) India's judiciary betrayed its duty to seek truth and render justice. This applies to all the three levels of the judiciary (Special Court, Bombay High Court and the Supreme Court). Assessing the credibility of the witnesses and the accused is basic to any judicial process. But at all the three stages, the courts decided that the evidence adduced by the prosecution was gospel truth. Not a single reliable witness to the murder of any of the more than 160 individuals killed on 26/11 was produced. The prosecution witnesses were not confronted with their contradictory statements. The courts relied on a 'confession' made by Ajmal Kasab behind closed doors after weeks in police custody."
He further wrote, "Business, political and military circles profited from 26/11. I could identify no gainful consequences that could have potentially accrued from 26/11 to the Pakistani government, to the Pakistani military or to Pakistan-based organizations, such as LeT. None of these parties possessed an interest to provide India with a pretext to strengthen its military capacity, develop its security industry and enhance its economic and military cooperation with the United States and Israel. None of these parties possessed an interest in nurturing an international opinion of Pakistan as a rogue state hosting terrorists. Yet, these were consequences foreseeable to whoever planned 26/11."
The cover of Elias Davidsson's book on the Mumbai attack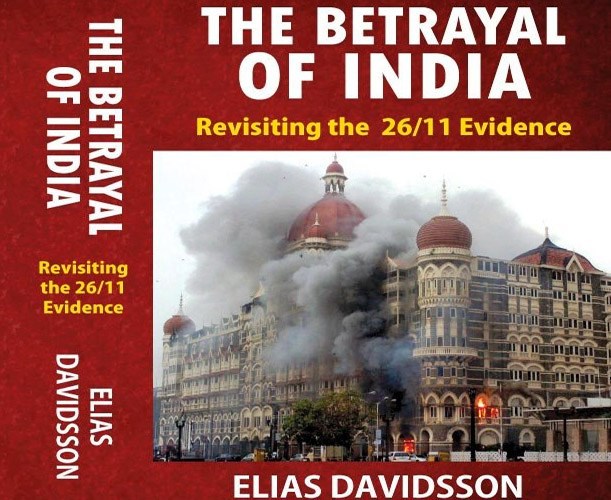 Pramod Yadav objects, Vibhuti Narayan Rai flies off the handle
Pramod Yadav, professor, JNU, responded to Davidsson's comment with these words, "I still have some faith in Indian political groups be it the BJP or the Congress. They may lack vision and compassion but they would not be stupid enough to carry out 'false-flag attack' on their own citizens and be as cruel as the terror groups obviously were in Mumbai. In any case, we are voters for no wars and constructive dialogues as the way forward. We even go for a One World Mission for civilized humanity of tomorrow."
Vibhuti Narayan Rai, former vice-chancellor of Antarrashtriya Hindi Vishwavidyalaya, Wardha, and former DGP, Uttar Pradesh made an acerbic comment on Davidsson. He satirically wrote, "In fact you should say that 9/11 was done by Jews and Christians because Muslims can't do it as Islam is a religion of peace. All the suicide bombers are Sikhs and Baudhs who camouflage as Muslims to discredit Islam."
He said, "I feel that we should discourage intellectuals like Davidsson. Such people are harmful to the cause. If you are really interested in fighting against communalism, fight against radical Hindutva, Islam, Zionism or any other religious fanaticism."
Supporting Vibhuti Narayan, Prof R C Thakran, a historian from the Delhi University, said, "I am in full agreement with you that the menace of fundamentalism cannot be fought in a selective manner. We have to fight it headlong across the spectrum, social and religious."
Anand Patwardhan hits back at Vibhuti Narayan and Medha Patkar's comment
Reacting to Vibhuti Narayan's criticism of Davidsson, filmmaker Anand Patwardhan, who made the film Jai Bhim Comrade, wrote, "Vibhuti ji, have you read Davidsson's book? Have you read Mushrif's two books and Vinita Kamte's book on 26/11? Just refusing to look at inconvenient truths may be expedient but not wise. You cannot fight any kind of fundamentalism without realizing that there is a deep state at play."
In response, Vibhuti Narayan wrote: "Yes I have read both the books – I am sorry to say that both are trash. I had the opportunity to speak to some of the officers who participated in Mumbai attack operations, including some who had first-hand knowledge of the arrest of Kasab. Don't believe police officers but could you disbelieve live visuals seen by the whole world?
"Similarly in 9/11, there are apologists who wanted us to believe that it was a conspiracy of Christians and Jews to malign Islam. They forgot to notice that in 9/11 all the religions of the word were represented in the list of dead. It may be a long discussion, and time and space may not permit us here to go into details. I may submit only one thing – condoning radical Islam may not help us fight Hindutva."
Anand Patwardhan then made another sharp comment on Vibhuti Narayan. He said, "It is both convenient and easy to say 'trash' without refuting substantive portions in the three books. Even the High Court asked the government to refute the findings but they failed to do it. I am sorry Vibhuti Narain, but I cannot trust you anymore, whatever your past contributions may have been. The world changes and so do people."
Veteran social worker Medha Patkar wrote that one doesn't have to read any book to realize the importance of peace.
The arguments went on. Replying to Vibhuti Narayan Rai, Elias Davidsson wrote, "Like you, I am opposed to communalism, Hindutva, religious fanaticism and Zionism. I went to research the Mumbai attacks with no preconceived idea, and hardly any knowledge of India or Pakistan. It was for me just a massive crime, no less and no more. What I discovered during my two-year work of research was shattering and should be a must-read for any democratic Indian. I hope that you will read my book and then comment on this forum."
American jurist hints at American conspiracy
The discussion, which had veered towards the Mumbai attack from the recent IAF action in Pakistan, took a new turn when American jurist Francis A. Boyle wrote on the group: "If I remember correctly, and it has been a long time, there was a US DEA covert agent involved in that terrorist attack, and it took place right when India and Pakistan were about to negotiate a condominium arrangement for Kashmir and solve this dispute, indicating to me that the United States wanted to keep the Kashmir dispute open and use it to play India against Pakistan and vice-versa. At their request, I gave an interview to a major Indian news media source on this, but they refused to publish it."
Santosh Kumar Mamgain's comment
Santosh Kumar Mamgain, who teaches in a Kendriya Vidyalaya in Delhi, steered the discussion on government-sponsored attacks towards the basic issue. He said, "In my view, the discourse should be centred on war and the devastation it brings. We all know that wars cause grave damage to life and property. And wars are often fought to satisfy the egos of two countries. Wars do not only affect the people living in the countries at war. They also affect the people living in the rest of the world."  
Comments on peace and the scourge of war continue to pour in on the Forward Press Writers' Group. The comments may seem contradictory but they have a common thread running through them and that is that wars devastate the young generation – whether of our nation or of the other.
Translation: Amrish Herdenia
---
Forward Press also publishes books on Bahujan issues. Forward Press Books sheds light on the widespread problems as well as the finer aspects of Bahujan (Dalit, OBC, Adivasi, Nomadic, Pasmanda) society, culture, literature and politics. Contact us for a list of FP Books' titles and to order. Mobile: +917827427311, Email: info@forwardmagazine.in)

The titles from Forward Press Books are also available on Kindle and these e-books cost less than their print versions. Browse and buy:

The Case for Bahujan Literature

Dalit Panthers: An Authoritative History

Mahishasur: Mithak wa Paramparayen

The Case for Bahujan Literature

Dalit Panthers: An Authoritative History

Mahishasur: Mithak wa Paramparayen