Dr B.R. Ambedkar had advised his followers to strengthen and speed up the movement by the appropriate use of the pen and intellect. While conveying this message, he had the Russian revolution in mind, which was ideologically inspired by Rousseau and Voltaire, among others.
While Dr Ambedkar was well acquainted with both philosophers' views, he had distinctly given more importance to Voltaire's ideology over Rousseau's. He often asked why not even a single Voltaire had emerged in India.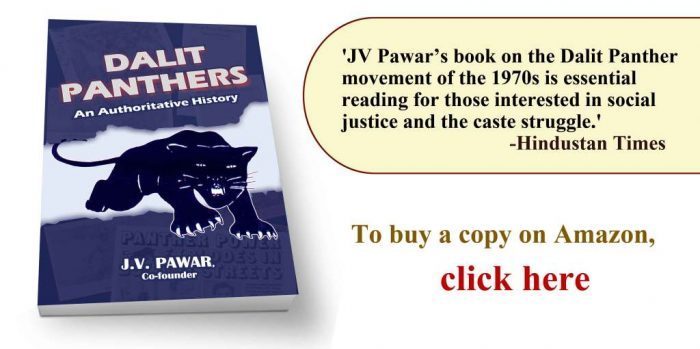 Having studied Voltaire thoroughly, Dr Ambedkar concluded that his writings had brought about radical changes in the entrenched, static social system and transformed the prevalent ruling power. Voltaire, who stood for a revolutionary change, was ready to forgo his religion and life and renounce his country to uphold his ideas.
Putting the religion we adhere to on the dock is no joke. This is the reason Dr Ambedkar had expected revolutionary and intellectually rich literary work from litterateurs. In this context, at Vidarbha Sahitya Sangh in Nagpur, he had said, "I want to explicitly ask writers to bring forth to society, through their literary works, noble values of life and culture. Do not ever narrow and limit your goal. With your illuminating creativity, dissipate the obscurity enshrouding the village life. Do not be oblivious to this fact that there is a huge number of unprivileged and deprived people residing in our country. First, identify with their agony and sufferings, and then make a constant effort to elevate their living conditions by means of your writings. This shall be true humanity."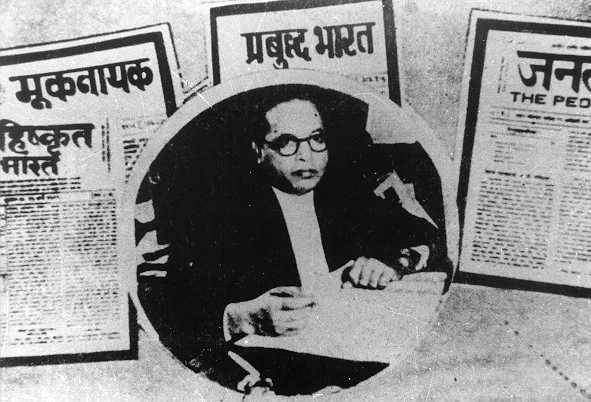 Dr Ambedkar, throughout his life, effectively used his pen to make his social movement successful. He turned the pen and newspapers or magazines into weapons. He started the publication of Mooknayak in 1920. Before launching the mass movement, he made appropriate use of newspapers in the battle for social change. At the time when Dr Ambedkar started editing and publishing Mooknayak, there were only a handful from the untouchable community who were educated and inclined towards writing. Mindful of this state of affairs, with much consideration and firm determination, he started publishing the newspaper and himself donned the mantle of a journalist.
He thus began a revolutionary task to awaken his illiterate community. Through Mooknayak, he set about uniquely building several generations of writers, journalists and litterateurs. The struggle he waged until the last moment of his life has become a motivating factor for the movement of change carried out by him. However, the Marathi so-called writers, journalists and litterateurs of that era disregarded all of his movements. They did not even have the sensitivity and sincerity to document his struggle.
Dr Ambedkar and his publications
Firm on his resolve, Dr Ambedkar took Dhammdiksha and embraced Buddhism on 14 October 1956. This led to the emergence of the lakhs of writers, journalists and litterateurs who believed in his ideology. An atmosphere filled with consciousness of freedom, having been unshackled from all types of bondage, and inspiration and was certainly one of the factors behind the sudden rise of this generation.
Agriculture experts know very well that if a determined farmer ploughs and irrigates a long abandoned piece of land which has been declared barren, it will yield a good crop. Like the barren land, the untouchable Dalit society was also rejected and humiliated. They were made to drink acid so that, even mistakenly, they didn't sing. Pens were snatched were from their hands forever so that they could not muster the courage to express their thoughts. Like the barren land, despite their creative potential, the Untouchables were forcibly barred from the arena of creation. They were deprived of the immanent talent to produce. A massive conspiracy was thus hatched to render barren the creativity of Dalits. Dr Ambedkar worked extremely hard to put an end to these conspiracies, raze these obstacles and turn the barren Dalit community into a productive one. Once he had prepared the ground, he sowed the seeds of his innovative ideas. He nurtured the crops of his thoughts, watered them with his consciousness. As a result, today we can see the lush green crop of writers, journalists, scientists and litterateurs.
Indeed, inspired by the thoughts and actions of Dr Ambedkar, such a massive army of established writers, poets and artists has been established today. This army has breached the monopoly of Brahmins in literature, even though it has not yet been able to challenge their monopoly in the field of journalism.
This has become possible only due to the literary movement based on Ambedkarite ideology. Moving beyond literature and journalism, the writers studied history seriously and exposed the lies and falsehood stated in it to society and scholars through serious discussions. They undertook the responsibility to rewrite history and fulfilled this duty with utmost dedication. Ambedkarite ideology has thus played a significant role in putting an end to the centuries-long monopoly in literature, journalism and historiography. It is worth underscoring the important role of writers, poets, litterateurs, journalists, critics, thinkers and historians who, pursuing the ideas of Dr Ambedkar, have been fighting to bring about a change. This task is still underway. The various volumes of my book, Ambedkarottar Ambedkarvadi Andolan, can surely be noted as a stage in this process. Today, Dalits possess most of the private libraries and bookstores in India and their homes have turned into libraries impregnated with thoughts and ideologies.
With Dr Ambedkar's great efforts, India became a democratic country on 26 January 1950. After the Indian Constituent Assembly ratified the Constitution, Babasaheb received a lot of praise. His followers were extremely proud of him. In his private meetings and discussions, Dr Ambedkar used to express his intent to form a writer's forum or platform. Inspired by his discourses, some youngsters enthusiastically came forward to establish the Dalit Sahitya Sangh in Mumbai on 15 August 1950.
This writers' forum was formed in the presence of Prof R.D. Bhandare and B.C. Kamble. The concept of Dalit literature thus existed well before 1950. Even advertisements titled 'Dalit Sahitya Ke Vitarak' (Distributor of Dalit Literature) were being published in the Janta magazine, during the 1950s. Among the founding members of the Dalit Sevak Sahitya Sangh, Appa Saheb Ranpise and Bhausaheb Adsul were the leading figures. On 19 July 1953, the forum's name was changed to 'Maharashtra Dalit Sahitya Sangh'. After 1960, when Dalit Literature was being written on a large scale, some people, while trying hard to appropriate it, claimed that they were its pioneers and founders.
It becomes necessary to outline these historical developments so as to get a picture of their meanness and falsehood. Dr Ambedkar's initiation of the Dhammachakra in Dikshabhoomi, Nagpur, on 14 October 1956, was the dawn of a new era. It is also known as Dhammadiksha. It was after centuries that a seedling of Buddhism was being planted. He resolved to hold the Dhammadiksha ceremony in the major cities of India. He conceived a plan and framework for its successful implementation. The Dhammdiksha ceremony in Mumbai held on 16 December 1956 was also part of this project.
Upon being informed about Dr Ambedkar's arrival at Jairam House in Mumbai, a delegation of activists of the Maharashtra Dalit Sahitya Sangh went to meet him. In this meeting, the writers expressed their wish to organize a one-day literary conference on 17 December 1956, the day after the Dhammdiksha ceremony. They wanted to hold the conference in the same venue, to which Dr Ambedkar gave his approval. He also agreed to address the writers' conference.
The writers were naturally overjoyed with Dr Ambedkar's support for this conference. During his discussion with the writers' delegation, Dr Ambedkar also conveyed his desire to invite Bapu Chandrasen Kamble and the editor of a Marathi newspaper and satirist, Prahlad Keshav Atre, to the conference. But Ambedkar passed away on 6 December 1956 at his residence in Delhi and the conference had to be postponed. The Dhammadiksha ceremony was planned for 7 December 1956, when the last rites would be performed. This went according to plan. The first Dalit literary conference though had to wait till 2 March 1958, when it was successfully held in the Bengali School auditorium, Mumbai.
This literary conference was to be inaugurated by satirist Prahlad Keshav Atre. However, as he was invited to be the keynote speaker for the birth centenary celebrations of Dhondo Keshav Karve in Pune, he could not reach Mumbai in time for the conference. Anna Bhau Sathe filled in for Karve. B.C. Kamble was in the chair. It was in this Dalit literary conference that Sathe boldly declared in his speech: "The old belief that the Earth rests on the head of Sheshnag is untrue. It actually finds its balance on the palms of toiling Dalits and workers."
This statement is widely discussed and is quite popular. Those associated with the Left movement conveniently quote him, too. However, the leftist activists and writers never mention the occasion in which Anna Bhau Sathe had made this statement. They deliberately try to conceal the truth.
At the conference, B.C. Kamble explicitly told the writers: "The entire corpus of writings of Dr Ambedkar is our ultimate guide and Bodhi Vriksha."
Ghanshyam Talwatkar, who worked for the People's Education Society, was elected president of the association. Maharashtra Dalit Sahitya Sangh's registration number received from Charity Commissioner was 1969/60.
On 14 October 1956, people who had converted to Buddhism through the Dhammachakra Pravartan under the leadership of Babasaheb Dr Ambedkar, especially those who were associated with various people's groups, changed the name of their organizations. Dalit Sahitya Sangh thus became Baudh Sahitya Parishad in 1961. Evidently, Dalit writers turned to the ideology of Buddhist Literature, their role and ideology undergoing a sea change.
The office-bearers of this organization were Appa Saheb Ranpise, Bhausaheb Adsul, Janardhan Waghmare, Vijay Sonawane, Hira Bansode, Sugandha Shende, Ghanshyam Talwatkar, Ram Upashyam, Dinesh Lakhmapurkar, K.V. Umre, Raja Dhale, Yadavrao Gangurde, Keshav Meshram, J.V. Pawar, Sharad Mahantekar, C.B. Khairmode, M.S. Gaikwad, Namdev Hwatankar, M. S. Kamble, Dinbandhu Shegaonkar, Sukhram Hivrale, Vishwasrao, Nalawade Haribhau Torne, V.R. Ranpise, J.T. Kamble and Bhaiyyasaheb Ambedkar. Despite their organization carrying the name "Buddhist", the literature these writers created and propagated was never the traditionalist Buddhist religious literature.
This organization has been holding literary conferences in the nooks and crannies of Maharashtra. Bhausaheb Adsul has compiled and published the speeches the aforementioned writers have delivered at these conferences. By reading them, one can thoroughly analyze and understand the concept of this literature.
By the 1960s, Dalit Literature had emerged as a movement. In 1968, Dr (Prof) Gangadhar Pantawane started the publication of the quarterly journal, Asmitadarsh, which is still being published at regular intervals. Asmitadarsh made Dalit Literature more vocal and writers of Baudh Sahitya Parishad were also engaged in such kind of writing, without giving it any specific name. However, whatever they wrote was ultimately labelled "Buddhist Literature".
That is why the "Buddhist Literature vs Dalit Literature" continues to date. What is or should be the criterion for "Buddhist Literature"? What should be called 'Dalit Literature'? These questions have been discussed and debated.
Dalit Literature had already gained prominence in the media. However, the literary discourse could not be limited to the short stories by Shankarrao Kharat, Anna Bhau Sathe, Bandhu Madhav and Baburao Bagul, because first, literature is created, and then the principles of criticism are formulated. However, since Dalit Literature has mainly highlighted the negation of existing rules, it did not require any literary principles or aesthetics.
The Ambedkarite litterateurs actually only have had to grapple with the "Dalit Literature vs Buddhist Literature" question. The debates among the supporters of this literature have primarily revolved around the nomenclature. The debate continues and a concrete solution or consensus remains elusive. Supporters on both sides have published compilations of their articles with their arguments and references. This continues even today. The poets took the lead in answering the questions raised against Dalit Literature. Hundreds of poets self-published their anthologies in the 1970s.
The celebrated anthologies include Golpeetha by Namdeo Dhasal, Kondwada by Daya Pawar, Utkhanan by Keshav Meshram, J.V. Pawar's Nakebandi, Arjun Dangle's Chhavani Halte Ahe, Dr Nimbalkar's Gao Kusa Bahereel Kavita, Prahlad Chandravunkar's Audit, Dr Yashwant Manohar's Utthan Gufa and Trimbak Rupkale's Shurang. "Can literature be also Dalit?" – anti-Dalit-literature critics were asking to discourage Dalit writers and push them into a state of despair. But the zeal pervading Dalit Literature forced them to cede ground. By then Dalit Literature had been firmly established and critics were forced to withdraw their so-called opposition. But the detractors continued to plot and scheme against the naming of the literature as Dalit.
Meanwhile, the literary world witnessed the emergence of two literary organizations – the "Bauddh Sahitya Sabha" established under the chairmanship of Ghanshyam Talwatkar and the "Dalit Sahitya Sansad" established under the leadership of Baburao Bagul, the veteran writer of short stories. Baburao Bagul's collection of stories Jewha Mi Jaat Chorlii Hoti (When I hid my caste) was published in 1963. Daya Pawar and Arjun Dangle held the position of "General Secretary" of Dalit Sahitya Parishad. But the organization was seen with suspicion. It was often accused of directly or indirectly harbouring Marxist perspective in its ideological orientation. Discussions and debates took a serious turn. The discourse on whether Dalit Literature sought inspiration from Ambedkarite ideology or it also aspired to include Marxism along with Ambedkarism, started gaining ground. A serious debate had already begun on this topic. Dalit litterateurs who strongly opposed intermingling of Marxist ideas with Ambedkarite Dalit Literature would underline Ambedkar's views on Marx by either referring to his speech, "Buddha or Karl Marx", which he had delivered in Nepal or his speech on 15 October 1956 on the occasion of Dhammadiksha in Dikshabhoomi, Nagpur.  
Ambedkar believed that the Marxist ideology projected a movement that would solely bring economic progress and equity. But human beings are not animals whose only need is food. Along with their physical development, they also hope for their intellectual advancement. Wittingly or unwittingly, this aspect does not form part of Marx's economic perspective. This is the main reason Dalit writers do not agree with Marx's viewpoints and tend to reject him. But, due to the lack of mutual accord, Dalit Literature has been divided into two camps. Two different literary conferences were thus held in Mumbai on 14 January 1978. One of them was named "Asmitadarsh Lekhak-Pathak Mela" under the leadership of Dr Gangadhar Pantawane, and the second was organized by "Dalit Sahitya Sansad", led by Baburao Bagul. The former was held in Dr Babasaheb Ambedkar Bhawan in Dadar (East), Mumbai, and the latter was held in Siddharth Vihar, Vadala, Mumbai. Professor Keshav Meshram was elected chairperson of Asmitadarsh Lekhak-Pathak Mela and the Dalit Sahitya Sansad conference was chaired by Prof G.B. Sardar. Even though there was no conformity regarding the name and ideology of this literary movement, some litterateurs had left behind their never-ending dissidence and attended both the conferences.
Furthermore, despite Baburao Bagul's obvious inclination to Marxism, he was asked to chair the literary conference organized by "Bauddh Sahitya Sabha" in Mahad in the then Kolab district, presently Raigad, in the Konkan region. Prof W.L. Kulkarni inaugurated the event. Dr Gangadhar Pantawane, editor of Asmitadarsh, and other dignitaries were also present.
Baburao Bagul, in his address, elaborated on the dynamics of Dalit Literature, which everyone accepted and all the litterateurs, critics and readers, validated the name "Dalit Literature". In January 1976, a literary conference held on the premises of a college in Nagpur, was a collaboration between Asmitadarsh Lekhak-Pathak Mela and Dalit Sahitya Sansad. Dr Bajtawane, Baburao Bagul and M.S. Wankhede were the notable participants.
Because writers have continued to add significantly to the corpus of Dalit Literature, the genre remains a talking point and piques curiosity in the Indian literary world. The creative aspect of Dalit Literature has also become stronger and expanded.
Amid the heated debate of using the nomenclature "Dalit Literature" instead of "Buddhist Literature", Raja Dhale, while addressing a conference in Mumbai organized by Bauddh Sahitya Manch, proposed the name "Ambedkarvadi Prerna Ka Sahitya" (Literature inspired by Ambedkarism).
The discussions and debates around the naming of the literature thus would not cease. The central point of the discourse and debate was to name the literary writings projecting Phule-Ambedkarism as Dalit Literature. In fact, all the writers and poets concerned have been drawn inspiration from Dr Ambedkar's movement, works and thought. Yet, they don't have a consensus on what their literature should be called. Nevertheless, a good rapport between the writers of the opposing camps was maintained. In 1984, the Asmitadarsh Sahitya Sammelan held on the premises of SCS Girls School in Nagpur was chaired by Namdeo Dhasal, even though Marxist influence was evident in his anthology, Murkh Mhataryane Dongar Halvile (The Crazy Old Man Has Shaken The Mountain), published in 1975.
I have been witness to lengthy debates and discussions on Buddhist Literature, Dalit Literature, Marxist Literature, Phule-Ambedkarite Literature, their impacts and levels they have reached. My novel, Balidan, was launched in a literary conference held in Mahad. The Bauddh Sahitya Parishad led by Appa Saheb Ranpise and Bhausaheb Adsul organized a seminar to discuss my novel. But I had begun as a poet. My poem was published in Asmitadarsh, the quarterly considered the mouthpiece of Dalit Literature (whose editor was Dr Gangadhar Pantawane).
I was appointed the general-secretary of the Indian Buddhist General Assembly. I was the chairman of the fourth Phule-Ambedkarite Literary Conference in which I got the opportunity to have a discussion and share my views with literary dignitaries.
After my novel Balidan was published, I compiled two anthologies, Nakebandi and Ucchwas Yugandhrache. It was only then I got recognition as an active worker of Dalit literary movement. We were identified as writers who drew inspiration from the movement and intensified it through our poetry.
In this way, my name figures in the history of Dalit Literature of the 1970s as an active and diligent writer who founded Dalit Panthers, a militant organization to combat caste oppression, exploitation and injustice faced by the Untouchables, who were denied access to literature and entry into temples. Thus, as a litterateur, I have shared an unbreakable bond with Buddhist, Ambedkarite and Dalit literature. Now, I'm faced with that question: By which name shall I refer to the literature and literary movement that I myself have created? Is it Buddhist Literature, Dalit Literature, or Ambedkarite Literature? As I see it, this question is not that simple. It is in fact quite a complex one.
At the last stage of his life, Babasaheb Ambedkar had accepted Buddhism, of which I am also an adherent today. I am firm on the conclusion that I have drawn that the term "Dalit" is not something like a war medal to be worn on one's chest. But I am still active on the literary front to combat the socio-religious, cultural and political systems which have relegated me and my community to a lifetime of suppression and exploitation by stigmatizing us as "Untouchables".  
I know and agree that "Dalit" is the apt term to express the centuries-long oppression and exploitation we have endured. Being a Dalit is a social condition, a tide against which I have been swimming. I am an Ambedkarite fighting for social transformation. I am also aware about the attachment that some people, writers among them, have with the "Dalit" concept.
Keeping this in mind, I am engaged in a struggle to expand the geographical ambit and social sphere of literature and it is my prime duty to involve Dalits, Untouchables, workers and the deprived sections in this attempt. Activists and writers who favour the eradication of class in place of caste may certainly rejoice over their victory, because their goal is a limited one. Those who boast about class annihilation by giving economic equity paramount consideration are oblivious to the fact that India is a country riven by Varnashresthata and caste hierarchy. They themselves assess and evaluate Babasaheb Ambedkar's works through a casteist lens, seeing him as the leader of a particular caste. Hence, the glib talk of rejecting of the Indian Constitution framed by Dr Ambedkar, who had struggled throughout his life to annihilate caste. The ancestors of Dr Ambedkar belonged to an untouchable caste, hence he and his works are shunned. People with such shallow and anti-national mindset detrimental to the national unity and integrity often do not miss the chance to claim that India is politically very strong. But they avoid taking the initiative to unify and strengthen the country in social, religious, cultural, economic, linguistic and geographical terms. They just flaunt their Hindu pride. I strongly believe that any person who claims to be a Hindu cannot be for democratic ideology and values.
Babasaheb Ambedkar was a true supporter of democratic values, principles and ideology. He made every possible effort to secure democratic values. On 13 October 1935, he clearly declared that he was going to abandon Hinduism, and he did just that on 14 October 1956. A study of the movement and works of Dr Ambedkar reveals that he had clearly stated in his memorandum to the Southborough Commission in 1919 that the people considered Untouchables have no relation with the Hindus.
That is to say, the entire world is accepting the democratic system. Owing to my unwavering faith in democratic values, I am a strong advocate of democracy. It clearly means that I am a follower of the Ambedkarite ideology. That is why I unequivocally term my poems, articles and novels as Ambedkarite literature.
I believe that Ambedkarite ideology means resistance against arrogance, suppression, oppression and dominance. The resistance is against domination regardless of whether it is cultural, religious, social, geographical, linguistic, political, educational or literary. The launch pad of struggle against such devastating and anti-humanistic mindset, arrogance and suppression is called Ambedkarite ideology. I have published a book in four volumes and titled it Ambedkarottar Ambedkarvadi Andolan. Since the term "Ambedkarite ideology" is devoid of caste, religious, country-specific, linguistic, lineage-based, cultural and civilizational affiliations, it is free from all boundaries. It is an enlightened ideology. Our literature draws energy and inspiration from Dr Ambedkar, hence our literature can only be termed "Ambedkarite Literature", and nothing else. Until yesterday, our literature was also known as Dalit Literature, but from now on it will only be Ambedkarite Literature.
(Translation from Marathi to Hindi: Shekhar; translation from Hindi to English: Devina Auchoybur; copy-editing: Yuvraj Sakhare/Anil)
---
Forward Press also publishes books on Bahujan issues. Forward Press Books sheds light on the widespread problems as well as the finer aspects of Bahujan (Dalit, OBC, Adivasi, Nomadic, Pasmanda) society, culture, literature and politics. Contact us for a list of FP Books' titles and to order. Mobile: +917827427311, Email: info@forwardmagazine.in)

The titles from Forward Press Books are also available on Kindle and these e-books cost less than their print versions. Browse and buy:

The Case for Bahujan Literature

Dalit Panthers: An Authoritative History

Mahishasur: Mithak wa Paramparayen

The Case for Bahujan Literature

Dalit Panthers: An Authoritative History

Mahishasur: Mithak wa Paramparayen