Lokesh Sori was born on 22 July 1973 in a village called Karketta, in Chhattisgarh's Kanker district. His father was Ramshila Sori and mother Amru Sori. He studied till his pre-university degree and became involved in social work. He was elected as a local corporator and associated with Dalit politics. He was the Kanker district chief of the Scheduled Caste/Scheduled Tribe Cell of the Bharatiya Janata Party. Disillusionment set in and he started opposing the enactment of the killing of Ravan and Mahishasur. On 28 September 2017, he had a case filed against these practices at the Pankhajur police station in Kanker. Instead of investigating the case, the police arrested the complainant, Sori himself, based on the accusations he had shared a provocative message on WhatsApp. He was released on bail one and a half months later. The torture in jail turned his sinusitis into maxillary cancer. He died on 11 July 2019.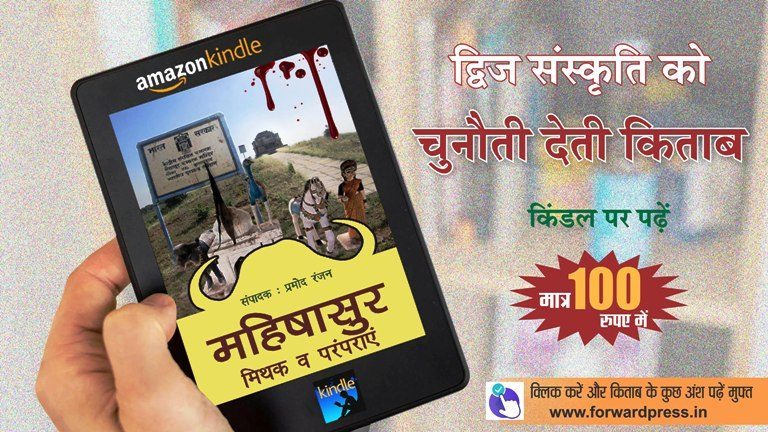 It was not long ago that I received on WhatsApp a message from Lokesh Sori. He had written, "Whatever happens, I'll fight till my last breath. Jai Bhim." Sori passed away yesterday, 11 July 2019. A journalist friend, Tameshwar Sinha, gave me the news yesterday. Two days earlier, on 9 July 2019, I had spoken to Lokesh Sori. His voice wasn't clear. All I could make out was that the doctors had put him on chemotherapy and a result he had been bleeding from the mouth and nose, but the doctors had said that he would recover soon.
Lokesh Sori, you were a brave friend. I remember even today the day 28 September 2017,  when I received the news that an FIR had been registered at the Pankhajur police station, in Chhattisgarh's Kanker district on a complaint that the Bahujan's mythological heroes had been insulted. You were the complainant. This news had shaken Chhattisgarh all the way from Pankhajur to Raipur. You had made history. No one, for centuries earlier, had taken the Dwijs to court for their hegemonic culture and traditions. We felt immense pride about this great initiative.
Later when we came to know that the police had arrested you, believe me I wasn't surprised. I had no doubt those whose cultural foundations you had shaken wouldn't keep quiet. You were bound to be arrested. But was I thrilled when you declared fearlessly on your release from jail one and a half months later that you would continue to oppose the Brahmin culture which is built on superstitions and hegemony. You said you would keep fighting for the honour of your ancestors.
Even when you fell ill, you remained fearless. You had told me, "I have sinusitis. I have been bleeding from the nose. I have visited a doctor." When the sinusitis turned into cancer, and there was no treatment available in Kanker, you didn't lose hope. Every time we spoke over the phone, you would say that you were going to Raipur for treatment. One day, you also told me that people were saying that you had fallen ill because of Durga's curse. Is this what really happened?
I understood your inner conflict. On the one hand, the treatment expenses kept building up, while on the other hand your health was deteriorating. If it was someone else, they would have lost hope much earlier. But you didn't. You would always say that your battle would continue, in life and in death.
Your words will continue to work among people, in keeping with the principle of conservation of energy! That was one of your WhatsApp messages. Those days, you were at the Dr Ambedkar Hospital in Raipur and you called me to say that the doctors weren't treating you. Then I spoke to Adivasi writer and doctor Dr Surya Bali and requested him to help you.
I found out how painful it is after undergoing chemotherapy, after talking with you. Your photo of those days is still with me on my phone. Your eyes were swollen. But still you talked with me and assured me that you would recover. I would also forget for a moment that maxillary cancer affects only one in 100,000 people. This is name for a growth between the brain and the nose, which then becomes infected. I had already asked several doctors about your condition and they had told me that you wouldn't live much longer. But how would I pass on that news to you?
But you knew this too. For whenever you got a chance, you would list all the things you were going to do if you lived. Once you told me that if you got 10 years to live, you would launch a movement all over Chhattisgarh and challenge the brahmanical forces. This gave me hope that the struggle you had initiated was never going to cease.  
Goodbye, my brave friend!
Translation: Anil
---
Forward Press also publishes books on Bahujan issues. Forward Press Books sheds light on the widespread problems as well as the finer aspects of Bahujan (Dalit, OBC, Adivasi, Nomadic, Pasmanda) society, culture, literature and politics. Contact us for a list of FP Books' titles and to order. Mobile: +917827427311, Email: info@forwardmagazine.in)

The titles from Forward Press Books are also available on Kindle and these e-books cost less than their print versions. Browse and buy:

The Case for Bahujan Literature

Dalit Panthers: An Authoritative History

Mahishasur: Mithak wa Paramparayen

The Case for Bahujan Literature

Dalit Panthers: An Authoritative History

Mahishasur: Mithak wa Paramparayen