"Andar se dhikkar uthegi, bahar se hunkar,
Mantri lekin suna karegein apnee jay-jaykaar,
Sau ka khana khayegein, par nahin legein dakar,
Maro bookh se to fauran aa dhamkega thanedar
Likhwa lega ghar walon se – 'wah toh tha bimaar'
(Your may be gloomy on the inside; livid on the outside. But the minister will listen only to the voices hailing them. And will corner the food that could suffice for a hundred. But if you die of hunger, the local police officer will be at your doorstep in no time. And will make your family members write "He was sick". 
– From Nagarjun's poem Wah Toh tha Bimaar (He was sick)
Written in 1955 these lines are not a poignant throwback to the times gone by. They are still very much relevant. In fact, they are a grim reminder that the much-touted digital India is still informed by a stinking, retrograde social order and that we seem to be standing exactly where we had begun our journey. Even today, the philosophy of Manu guides us. Even today, division of resources is governed by the norms of the Varnashrama system. Starvation deaths are a case in point. Among the people who succumb to hunger, there is 100 per cent reservation for Dalits, Adivasis and OBCs.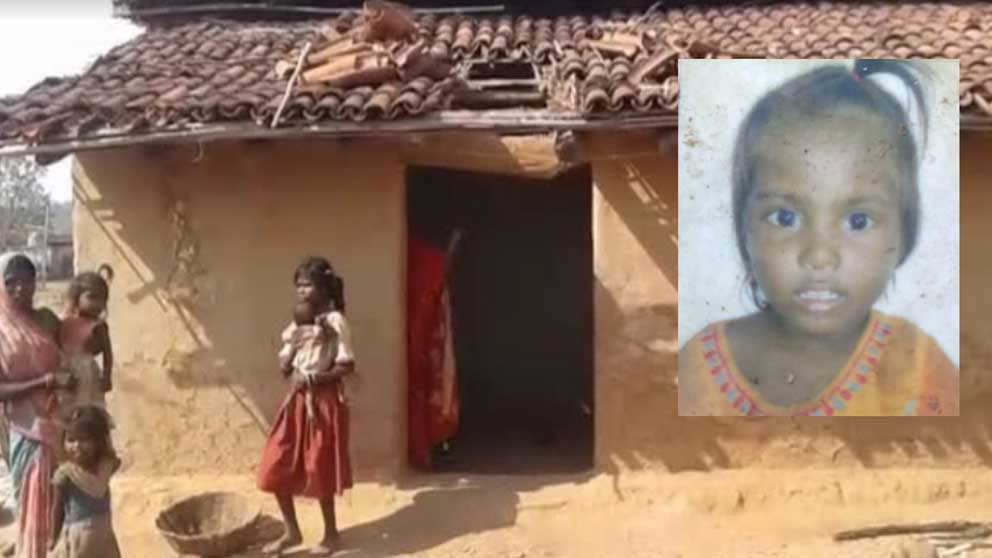 Starvation claimed the life of a 5-year-old Dalit girl in Jharkhand recently. Nimni Kumari of Latehar district died on May 16. However, the state government and its machinery, instead of admitting their failure and taking corrective steps, are in a denial mode. Earlier, on 28 September 2017, Santosh Kumari, 11, also a Dalit, of Simdega district had died of hunger. "Bhaat, Bhaat" (rice, rice) was on her lips till she breathed her last.    
Nimni Kumar lived with her parents and siblings in Hesatu village, Donki Panchayat, Manika Block, Latehar. About 110 families reside in the village, which is about 40 km from the block headquarters. They include Khairwar (Adivasi), Teli and Kumhar (OBC) and about 35 Bhuiyan (Dalit) families. All the Dalit families are landless. Jaglal Bhuiyan is one of them. He had eight children: Rita Kumari (13), Geeta Kumari (12), Akhilesh (10), Mithun (8), Nimni Kumari (5), Rupanti Kumari (3), Meena Kumari (2) and Champa Kumari (4 months). 
Father had brought 15 kg rice on Holi         
Jaglal, along with his two children, used to work at a brick kiln in Sukhalkatta near Latehar town. On his visit to his home on Holi he had brought 15 kg of rice with him. He returned to Sukhalkatta after Holi. A few days later, the brick kiln shut down. He tried hard to earn some money to feed his family but nothing worked. He returned home on 17 May, after learning about the death of his daughter but the villagers had already buried her. 
Nimni's mother Kalwati said she hadn't cooked for five days leading up to her daughter's death and the family had had nothing to eat. She used to beg for food in the village. That kept them going for a while but soon the people started shunning her. On the day she died, the child was perfectly normal. At around 12.30 in the afternoon, she went to the river along with around five other children to take a bath. When she returned, she had a slight fever. In the evening, she vomited and then passed out. Presuming that she has suffered an attack of epilepsy, the neighbours tried some home remedies to revive her. By the time a vehicle was arranged to take her to the hospital at Manika, she had died. 
Sahiya Didi (the village ASHA worker) confirms that Jaglal Bhuiyan's family was starving and that they hadn't had a grain of food grain.   
Jean Dreze: Could not find a grain of food in their home
Economist Jean Dreze, who has worked extensively on the public food distribution system and National Rural Employment Guarantee Scheme (NREGS), visited the house of Jaglal Bhuiyan, along with his associates Pachati Singh and Dileep Rajak. They could not find a morsel of food in the house. On hearing about the death, Circle Officer and Acting Block Development Officer, Nand Kumar Ram, hastily dispatched 40 kg of rice and Rs 5,000 to the home of the dead child. Only that stock of rice was found in the house.   
Jean Dreze says, "Kalawati was desperately trying to arrange food for the children. Barring Rs 500 transferred to her Jan-Dhan account and some food and cash from the school and Aaganwadi, she had received no assistance from the government. The children used to get something to eat from the villagers once in a while." 
He said that Kalawati broke down when they asked her what she and the children were eating in the couple of days leading up to her daughter's death. "What could we have eaten when we had nothing to eat?" she said. 
Neither work nor ration
The incident has bared the hollowness of the government's claims on food security. Under the National Food Security Act, landless Dalit families are automatically eligible for ration cards. But Jaglal Bhuiyan had no ration card. Vinod Bhuiyan, another Dalit of the village, who has five members in his family, has been issued a white ration card (meant for "above poverty line" families). The number of the card is 202100010836. There are thousands of landless Dalit families in Palamu Division that either have no ration cards or have the white ones.  
The residents of Nimni Kumari's village are also deprived of the benefits of demand-based NREGS. The job card of her father (JH-06-004-006-004/59032) was cancelled by the administration on 13 September 2013 on specious grounds. There are around 18 families in the village whose job cards were cancelled 5-6 years ago for no valid reason. It is clear that no work is being done under NREGS in Hesatu and other villages where the residents are in deep distress. 
Jamesh Herenge of Jharkhand NREGA Watch says, "Without actually doing anything, the government is shouting from the rooftops that 10 kg of food grains are being provided to all needy families through village pradhans. It is like adding insult to injury." 
Only Rs 10K for entire panchayat
According to Parvati Devi, head of the village panchayat, the government had given Rs 10,000 to the Panchayat for disaster relief at the beginning of the first phase of lockdown. Since then, the lockdown has been extended twice but no additional funds have been released. She said that about a fortnight earlier, she had written to the Block Development Officer seeking permission to use a portion of the 13th Finance Commission grant, lying unused with the Panchayat, for disaster relief. But the letter had evoked no response. A list of 36 residents of the village who did not have enough stocks of food grains was given to the Block Development Officer through the PDS shop dealer. But no action was taken on it.  
Government goes missing
There is a functional "Didi Kitchen" at Kharbanwa Tand village of the Panchayat. But it is too far from Hesatu for the hungry to make the daily trudge. Hesatu has a primary school and a significantly large population. But it does not have an Aaganwadi centre. In a gross contravention of the Supreme Court orders, a representation made by the residents in 2010 for opening an anganwadi in the village, appended with a list of children in the village, has gone unheeded.  
Pagar and Saildag villages neighbour Hesatu. The district administration has terminated the dealership of the PDS shop of the two villages on the charge of selling the food grains allocated for March 2020 on the black market. But the administration has yet to file an FIR against the dealer under the Essential Commodities Act 1955, and no alternative arrangements have been made for supplying food grains to the consumers attached to the shop. The 175 ration-cardholders of Semri village are also facing the same problem.
Jamesh Herege says: "Social organizations working for securing right to food have been consistently demanding that all needy families, especially landless Dalit and Adivasi families, be given ration cards. Anganwadi centres should be set up in all Dalit and Adivasi villages and Didi Kitchens or similar arrangements should be made in the schools and Anganwadis to save people from starvation. Works under NREGS should be started in all villages on a war footing and a robust grievance redressal machinery should be put in place."  
Measuring hunger 
Dr S.P. Sharma, chief medical officer of Latehar, said that it was not yet confirmed that Nimni Kumari had died of starvation. "We have sent an investigation team to the village. They will test the blood sugar levels of her family members. If the levels are found low only then we can conclude that the family was starving. If the levels are normal, it would indicate that they had no dearth of food."
Doctors, however, say that a blood-sugar reading cannot tell whether a particular death was due to starvation. Dr Shrikant, a doctor in Bokaro, said over the phone that medical science had yet to discover a method of finding out whether starvation had caused a death. He said that starvation eats into the immune system of the body and low immunity makes a person vulnerable to all kinds of afflictions, any of which can cause death. Glucose continues to flow in the veins till all the organs stop working. So, blood sugar levels of the family members of the deceased cannot prove or disprove that she died of starvation. Food or sugary drinks can raise blood glucose levels to normal within half an hour." 
Parvati Devi said, "A government team had visited the village on the night of 17 May. The team included a nurse. They ran some tests on the family members of Nimni Kumari but I do not know the details."
Is this what awaits millions of migrant labourers, their children in tow, making desperate bids to reach their villages? Homes without food and hungry families?   
 (Translation: Amrish Herdenia; copy-editing: Anil)