More than two hundred Adivasi leaders, academics, activists, representatives of people's movements and student organizations and others concerned with Adivasi rights have signed a petition against Kalinga Institute of Social Sciences (KISS), Bhubaneswar, Odisha, being chosen to host the World Congress of Anthropology (WCA) 2023. The petition has been submitted to the Junji Koizumi, president of International Union of Anthropological and Ethnological Sciences (IUAES), and to the vice-chancellors of Utkal and Sambalpur universities, Soumendra Mohan Patnaik and Deepak Kumar Behera, respectively. The signatories have appealed to the respective institutional heads to sever ties with KISS citing grave concerns.
The signatories include professors, writers, poets, intellectuals, scholar, advocates, political leaders, activists, and people's movement leaders like Virginius Xaxa, Ruby Hembrom, Gujarat MLA Chhotubhai Vasava, Jacinta Kerketta, Soni Sori, Gladson Dungdung, Pranab Doley Nandini Sundar, Ashish Kothari, Lalsu Soma Nogoti, and many others. KISS, a "deemed university" based in Bhubaneswar has won the bid to host the 19th International Congress of Anthropological and Ethnological Sciences (ICAES) in 2023, beating the runner-up, Croatia, by a wide margin. KISS will organize the congress in collaboration with Utkal University (Bhubaneswar, Odisha), Sambalpur University (Sambalpur, Odisha), Indian Anthropological Association (Delhi), Indian Anthropological Society (Kolkata, West Bengal) and Ethnography and Folk Culture Society (Lucknow, Uttar Pradesh).
According to information on KISS website, this mega event, which will be held from 15 to 19 January 2023, is expected to be attended by more than 10000 delegates from over 150 countries. The IUAES is the largest gathering in the world of academicians and researchers in the fields of anthropology and ethnology. It is also the oldest conference of the scholars engaged in the scientific study of humankind and will be returning to India after 45 years.
Adivasis against 'cultural genocide'
KISS is a boarding school exclusively for Adivasi children based in Bhubaneswar. Founder Achyuta Samanta is the Biju Janata Dal (BJD) Lok Sabha MP from Kandhamal, Odisha. KISS houses about 30,000 girls and boys of different Adivasi communities from Odisha, Jharkhand, Chhattisgarh, Mizoram, Assam and other states.
The opposition to KISS being awarded the World Congress stems from the position of its critics that KISS disinherits Adivasi children from their histories by painting Adivasi ways of life as "backward", "primitive", "uncivilized" and "uncultured". Referring to the Mankirdiya Adivasi community in Odisha, Achyuta Samanta has said, "…. they fill up their stomachs only with the forest products and cover their bodies with the leaves of the plants. There are 13 primitive tribes in Odisha. They live, they sleep, on the branches of the tree like monkeys."
KISS calls itself the "first ever tribal university" of the world, without a faculty to speak of. Former director of Tata Institute of Social Sciences (TISS), Guwahati campus Virginius Xaxa, who headed a high-level committee on Tribals set up by the Prime Minister's Office in 2014, says "it is a means to detribalize the Adivasi people and fill them with ideas and concepts that suits the current format of mainstream societal norms and ruling class". The first and most important step in this direction is to uproot them from their villages and destabilize their cultural origins. 
Worried about the loss of indigenous culture, Akhil Nayak, prominent author and academician from Kalahandi, says "such a process is not just a method to detribalize the Adivasis but to Hinduize their minds at large. Subjects like history of their ancestors and their gods and goddesses are not part of the curriculum, rather they are trained in conducting Hindu pujas, rites and rituals. The students are asked to practise and perform these rituals back in their homes, thereby creating a state of conflict of culture. Eventually such schooling creates more and more alienation."
Chhotubhai Vasava, a prominent Bhil Adivasi leader, founder of Bharatiya Tribal Party and Member of Legislative Assembly (MLA) from Jhagadia constituency, Gujarat, says, "Factory schools for Adivasi children like KISS, based in the urban contexts, provide an education which amounts to cultural genocide primarily because they delink the children from their communities language, ethos and worldviews." He says, in Gujarat, "many Adivasi people who have been schooled in urban areas do not speak or have forgotten their mother tongue, which is a real shame. They feel alienated because they are unable to communicate with their community elders and relatives back in their villages."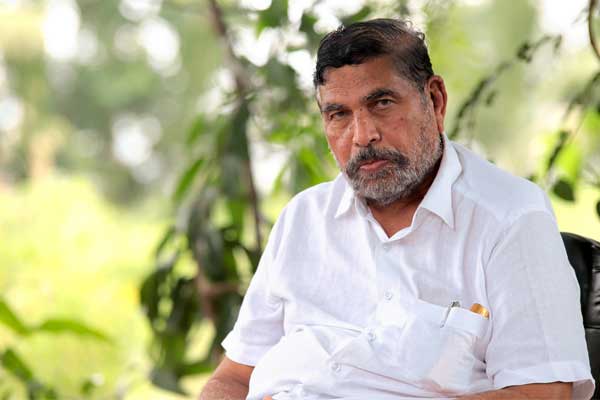 Odia Poet and educationist Hemanth Dalpathi says, "Kandhamal is the land of Kondha tribes. Kui is the main language here. Once the Adivasi child gets into institutions like KISS, they don't like to speak Kui anymore. They learn Odia, English and even Hindi and they start imbibing the idea that Kui is a degraded language, almost an 'untouchable language', and thus keep a distance from their family settings. A new set of value chains are inculcated through this process."
Ankita Andhare, a researcher from Chhattisgarh, says: "This is a common problem when the mainstream social system becomes extremely dominant over the Adivasi cultures, languages and diversity. The mainstream wants one language, one culture, one religion, and the Adivasis stand united against such trends and tendencies. We are different and rich with multitudes of colours of nature and culture. We are not 'primitive' or 'uncivilized', rather we are the original inhabitants and our civilization is more ancient than any other." 
Education or destruction of Adivasi identities
Anthropology and ethnology are two important branches of social sciences which deal with detailed study of institutions and cultures of social groups, including the indigenous people. As a scientific study of humans, human behaviour and societies, anthropology has contributed immensely to the knowledge of indigenous groups, their social life, cultures, languages, norms and values. As a study of specific groups and their members, cultural structures and of the relationship of members to their cultures, ethnology has brought richness to the knowledge of India's indigenous population. 
Institutions like KISS consistently undermine the historical contribution of anthropology and ethnology on indigenous people by "factory-schooling" Adivasi students on the pretext of educating them. At KISS, children are encouraged to speak and read Odia, which is not the mother tongue to most of them. The appeal to the IUAES notes that celebrations of Adivasi festivals are discouraged and instead children observe Saraswati Puja or Ganesh Puja, putting them under the influence of high-caste Hindu practices. A former student of KISS, while describing his experiences there, said: "KISS is delinking Adivasi children from their spiritual identities and our connections to land, forests and spirits. We don't engage in idol worship, but at KISS we are forced into it since childhood."
Narrating the destruction of identities through such institutions, Virginius Xaxa says: "IUAES must not associate with an institution that thinks of Adivasis within the blocks of the colonial mindset. Its promotion of tribes as 'tax consumers' [living off the tax paid by non-Adivasis] is a slur on the tribal people of India on whose lands the temples of modern India in the form of dams, industries and other infrastructure projects stand."
Aghast at the blatant manner in which governments have outsourced their responsibility under Article 46 of the Indian Constitution to private corporations and agents like KISS Deme Oram, an anti-displacement Adivasi leader from Sundargarh, Odisha raises important concerns. He says, "This outsourcing of Adivasi education by policy means the state is handing over the responsibility of ensuring social justice and protection from all forms of exploitation to the corporations, which is an extremely dangerous move."
Pranab Doley, a Mising Adivasi youth leader from Jeepal Krisak Sramik Sangha, Kaziranga, Assam says that the model of education that KISS promotes is anti-Adivasi and anti-children. It is a model for colonizing Adivasi children and uprooting them from their own land and culture.
The appeal to the IUAES states that KISS uses funds from private and public-sector mining and extractive industrial corporations like the Adani Group and NALCO, while also partnering with Vedanta. In addition, KISS has signed Memorandums of Understanding (MoUs) with the National Mineral Development Corporation (NMDC), Emami Group, and Rural Electrification Corporation Limited (RECL). It has recently opened a Adani-KISS school in Mayurbhanj, Odisha, too.
KISS claims that it sustains itself by drawing on the profits of Kalinga Institute of Industrial Technology (KIIT), another deemed university and a parent organization of KISS. However, KIIT is an institution that caters to the elite – students mostly from upper castes and middle classes who depend on these extractive industries, which feed off Adivasi lands and lives, for their careers.
Late scholar and activist Abhay Xaxa once said: "The history of indigenous peoples across the globe has revealed how factory schools were used to steal future generations of indigenous peoples by destroying culture and alternative knowledge systems. The KISS-Adani model of factory schools presently being implemented in Odisha is a living example of how corporate forces in connivance with the state are brainwashing lakhs of poor Adivasi students by unleashing cultural genocide. The young Adivasi minds are being blindly made to learn the language and culture of the dominant society, which is deplorable."
KISS is not the only "factory-schooling" experiment for indigenous peoples in the world. During the 20th century, several countries looked at such models while formulating state policies for indigenous peoples. These countries included Canada, Australia, Russia and Norway. In each of these countries, it has been found that "factory schools" have been a catastrophic failure, leaving behind a trail of abuse, scandals, commissions of enquiry, and sometimes even compensation claims. KISS is implementing these outdated, discredited policies in India today.
IUAES and disciplinary ethics
Critics, with academics among them, have been raising questions on the ethical parameters followed by IUAES in building strategic alliances. Established on 23 August 1948, the IUAES is a global organization of scientists and institutions working in the fields of anthropology and ethnology. It is also of interest to archaeologists and linguists, among others. Its aim is to enhance exchange and communication among scholars of all regions of the world, in a collective effort to expand human knowledge. It hopes to contribute to a better understanding of human society, and to a sustainable future based on harmony between nature and culture.
Globalization has already produced identity variations within Adivasi communities and has reshaped them in other ways. These seem to draw upon a shared memory and ethos. Anthropology, with its critical (and self-critical) attitude, can contribute innovatively to the entire debate on tribalism through the deconstruction of the conventional representation of tribalism as "primitive", "uncultured" and "uncivilized". A substantive analysis about the actual meanings of tribalism, on the one hand, will contribute to the recognition of Adivasi realities, while, on the other hand, will lead to a dismantling of the stereotypes underlying the rhetoric of a dominant caste society like India.
As academic disciplines, both anthropology and ethnology engage ethically by acknowledging and celebrating the cultural diversities of indigenous groups across the globe. In India, several universities and other institutions have done some pioneering anthropological and ethnological work with regard to different dimensions of "indigenous life". KISS has been a clear deviation from these established disciplinary ethics. Moreover, it has started a different trend of alienation and aims at getting the Adivasis to part with their "geocentric" social and cultural life. 
Challenging the idea of KISS hosting the IUAES's World Congress of Anthropology 2023, Adivasi leader Soni Sori from Bastar, Chhattisgarh, says: "Adivasis do not need an education to understand the rights over one's own lands, forests and territories, which they imbibe growing up in their community itself. But when factory schools like KISS take children away from their homes and ecologies, they are consciously displacing children from their everyday realities, with a curriculum that teaches children to be ashamed of their community, its knowledge systems and ways of life. This makes Adivasi children unwilling to stand in defence of their lands and homes from all kinds of occupation, right from corporate takeovers to settler colonialism. I believe that when the Adivasis defend their homes and lands they do so not just for themselves but for the larger good of the country and the ecological health of the world."
Discontented with the alienation of indigenous children from their identity, language, culture, tradition and ethos Gladson Dungdung, an Adivasi intellectual and an activist from the Khadia community of Jharkhand, says schools such as KISS "imprint a negative image in their [Adivasis] minds about their own communities from their childhood. It is part of the state-corporate nexus envisaging to grab the remaining natural resources of the Adivasis under the tag of development and economic growth."
I am not your data: Abhay Xaxa
The petition to IUAES appeals to anthropologists and their allied institutions worldwide to reflect on the adverse impact and trauma that the policy of boarding schools have had on indigenous children across the world and rethink their position on being hosted by KISS. It is a travesty that an anthropology congress which aims at understanding the human condition should partner with an institution whose objective seems to be to erase any understanding of indigenous peoples. One is reminded of the poem "I am not your data" by Abhay Xaxa. It is not just a poetry of resistance but also of a new polity of egalitarianism:
I am not your data, nor am I your vote bank,
I am not your project, or any exotic museum object,
I am not the soul waiting to be harvested,
Nor am I the lab where your theories are tested,
I am not your cannon fodder, or the invisible worker,
or your entertainment at India Habitat Centre,
I am not your field, your crowd, your history,
your help, your guilt, medallions of your victory,
I refuse, reject, resist your labels,
your judgments, documents, definitions,
your models, leaders and patrons,
because they deny me my existence, my vision, my space,
Your words, maps, figures, indicators,
they all create illusions and put you on pedestal,
from where you look down upon me,
So I draw my own picture, and invent my own grammar,
I make my own tools to fight my own battle,
For me, my people, my world, and my Adivasi self!
(Editing: Anil)
Updated at 7.05 pm on 30 July:  "Tax consumers", used by one of the interviewees to refer to those living off the tax paid by others, was misconstrued as "taxed consumers". It has been corrected.