The folk artistes of Haryana have preserved the "ragini" style of singing and are trying to popularize it. However, they have failed to save "saang", which has most probably become extinct. Similarly, "nautanki" of Uttar Pradesh and "khayal" or "khel" of Rajasthan may have disappeared. However, I may be wrong.  
But there was a time when saang and nautanki were immensely popular. In the latter half of the 19th century, two forms of folk musical theatre were dominant in north India – Rajasthani khayal or khel and Hindustani "saangeet" or saang. Prahlad Saangeet (1866) and Gopichand Bharthari (1867) are among the oldest books on Rajasthani saang available in the British Library. Both the books are authored by Laxman Das. The books were published on popular demand after the staging of these musicals. Both were published from Delhi. 
As far as Hindi literary works are considered, today, their print order hardly exceeds 500. But for government purchase, a second edition can be ruled out. But these two books ran into 16 and 27 editions respectively of 1,000 copies each 1866 and 1883. For the benefit of those who could not read the Devanagari script, two editions of these books were published in Persian (Urdu) script, too.
That was the time when a big change came about in "lavni" and "khayal" singing in Hathras, Aligarh, courtesy of the Inderman ka Akhada. Inderman was unlettered but he composed "lavnis" and sang them. He was from the Chipi caste and had come to Hathras from Jahangirabad in Bulandshahr. There were many disciples in his Akhada. He would dictate his poems to them. This Akhada was in existence from 1892 to 1920.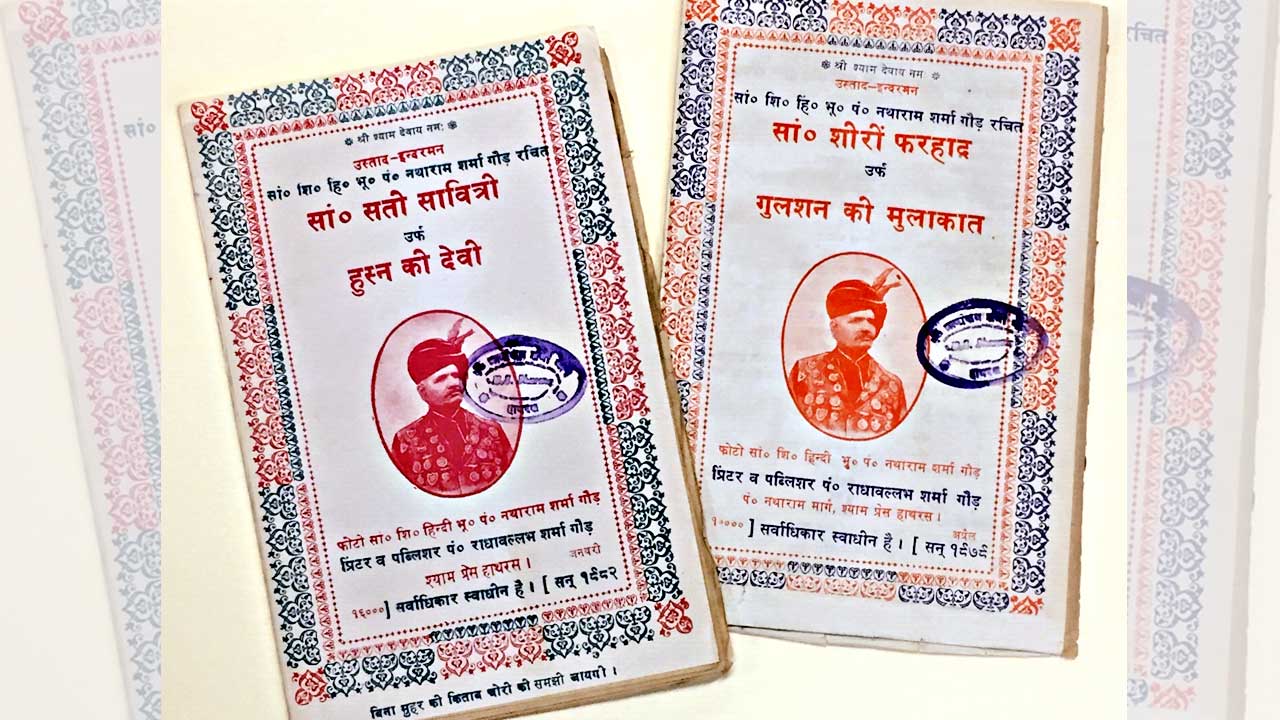 At the time, a poor blind Brahmin would go around Hathras, seeking alms. He was accompanied by his 16-year-old son, who used to sing bhajans. The duo survived on the alms they received. The boy had a mellifluous voice and an attractive face. Impressed by the boy's singing and looks, Chiranjilal, one of the disciples of Inderman, took him to his guru. The boy was admitted to the Akhada. He was brought up well. He was given an education and trained in singing and dance. The talent was evident and the boy soon became the best poet, singer and actor of the Akhada. He later came to be known as Sangeet Shiromani Hindi Bhushan Kavi Pandit Natharam Sharma Gaud.   
He is considered the writer of more than 200 musicals. However, most of them were actually written by Ustad Inderman, Chiranjilal and Roopram. By 1920, all three had died. That was why all the musicals that were published subsequently had Natharam Sharma Gaud as the writer. But every book did say 'Akhada Ustad Inderman'. Till the Akhada set up its own printing press, the books were printed in Kanpur. 
But our story won't be complete without the mention of Shrikrishna Pehalwan. He established Nautanki in Kanpur. Born at Unnao in 1891, Shrikrishna Pehalwan moved to Kanpur at a young age. He came from a family of wrestlers and was a wrestler himself. While in Kanpur, he developed an interest in khayal, that is nautanki. Like Natharam Sharma, he, too, made a name for himself as a writer of nautankis. It is said that he had written a nautanki on Aryasamaji martyr Haqeeqat Rai when he was just 16. The nautanki was staged in 1913. In the same year, he founded Shrikrishna Sangeet Company. He also wrote more than 250 musicals. His books carried the picture of a wrestler wearing a loincloth and holding a mugdar (Indian club). It was him in the picture. His verses were almost the same as those of Inderman Akhada but his tunes were singularly sweet and that set him apart from the others. This great soul passed away in 1972. 
(Translation: Amrish Herdenia; copy-editing: Anil) 
---
Forward Press also publishes books on Bahujan issues. Forward Press Books sheds light on the widespread problems as well as the finer aspects of Bahujan (Dalit, OBC, Adivasi, Nomadic, Pasmanda) society, culture, literature and politics. Contact us for a list of FP Books' titles and to order. Mobile: +917827427311, Email: info@forwardmagazine.in)

The titles from Forward Press Books are also available on Kindle and these e-books cost less than their print versions. Browse and buy:

The Case for Bahujan Literature

Dalit Panthers: An Authoritative History

Mahishasur: Mithak wa Paramparayen