India's top wrestlers are protesting at Delhi's Jantar-Mantar. Seven women wrestlers have filed a petition in the Supreme Court against Brijbhushan Sharan Singh, a BJP MP and chief of the Wrestlers' Federation of India. The Delhi police have told the top court that they would register an FIR in the matter only after preliminary investigations. International wrestler Bajrang Punia is leading the protest. Punia, who comes from the Dalit-Bahujan community, spoke with FORWARD Press. 
Edited excerpts:
When did you feel that it was high time an agitation was launched?
See, there was anger and resentment in the federation against what he [Brijbhushan Sharan Singh] has been doing for a long time. Only, the victims were afraid of speaking out. They did not want to come forward. About three months ago, we told them that they should not fear anyone or anything. We will stand by them. We are ready to sacrifice ourselves. Then, we senior players conferred with each other and decided that we would fight against this injustice.
What were they fearful of? 
There were many fears. The first was that those in power could ruin their careers. Secondly, the victims were women. You know how our society perceives women who declare that they have been victims of this kind of behaviour. So, due to social compulsions the women players were forced to tolerate the atrocities being committed against them. Now they are asking us to produce the women players who had registered the complaint. You can yourself gauge the kind of mindset they have. Seven players have filed a petition in the Supreme Court. We will not back down till we get justice. We will stay put here – whether it takes 5 days or 500.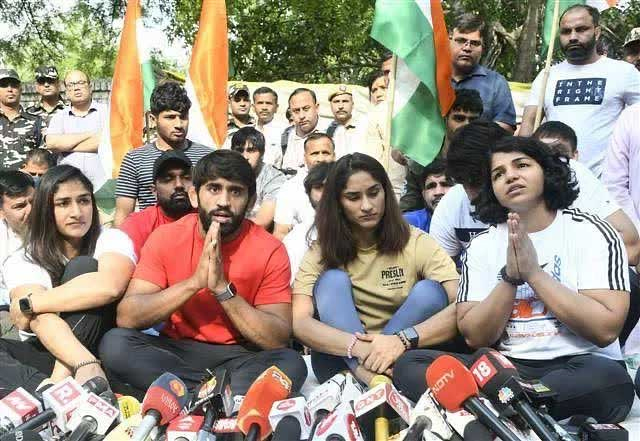 The Dalitbahujan are taking up the sport of wrestling in a big way. And they include women. Do you think this entire episode has a social angle?
There is a social angle. But what we know is that we are not a vote bank. Had we been a vote bank, our voice would have been heard and action taken. 
But you all are players. You have brought laurels to the country. People love you. Where does the question of being a vote bank come in here? 
You see, watching a sport, liking it is one thing. And standing by us on the issue on which we are fighting is another thing. But we are happy that people are backing us. Our stand is that no matter which political party you belong to, which organization you belong to, you should join us in protesting the atrocities committed on our sisters. 
The Delhi Police have said that they would conduct a preliminary enquiry before registering an FIR. Do you think the Delhi Police are under pressure?
You should have put this question to the Delhi Police – asked them why they are doing what they are doing. As for pressure, I have already said that he [Brijbhushan Sharan Singh] is a powerful man. He is in power. He is a six-time MP. Many MLAs and the entire system are with him. 
Do you think you will get justice?
Yes. We have full faith in the courts. We want our voice to reach the Prime Minister and the Home Minister and that they should ensure that we get justice. 
You just said that you have been agitating for the past three months. Is it not affecting your training? Many important sporting events are round the corner. 
You are right. For the past three months, our training has been barely five per cent of what it should be. Asian Games are to begin soon. But we also believe that if we fail to win the battle to secure justice for our sisters, winning any tournament would be of little consequence. 
 (Translated from the original Hindi by Amrish Herdenia)
---
Forward Press also publishes books on Bahujan issues. Forward Press Books sheds light on the widespread problems as well as the finer aspects of Bahujan (Dalit, OBC, Adivasi, Nomadic, Pasmanda) society, culture, literature and politics. Contact us for a list of FP Books' titles and to order. Mobile: +917827427311, Email: info@forwardmagazine.in)