Sasaram (Bihar): The first FORWARD Press Literary and Journalism Award (2012–13) was conferred on young critic Hareram Singh at a function organized here on 28 June. The award carried a cash component of Rs 11,000 and a memento. The award, instituted by FORWARD Press Readers' Club, Sasaram and Bharatiya Lekhak Sangh at the initiative of linguist Rajendra Prasad Singh is given for the best article by an OBC writer published in FORWARD Press in the past year.
A resident of Karup Vikramganj in Rohtas district of Bihar, Hareram Singh teaches Hindi at the DAV school, Ratwaar. He is also conducting a research project on the comparative study of Odiya and Hindi novels in the Veer Kunwar Singh University, Ara. His poems and stories have been published in various newspapers and magazines. His article titled "Sarvhara ke kendra mein OBC Sahitya" (OBC literature is centered on the proletariat) was published in the April 2013 issue of FORWARD Press.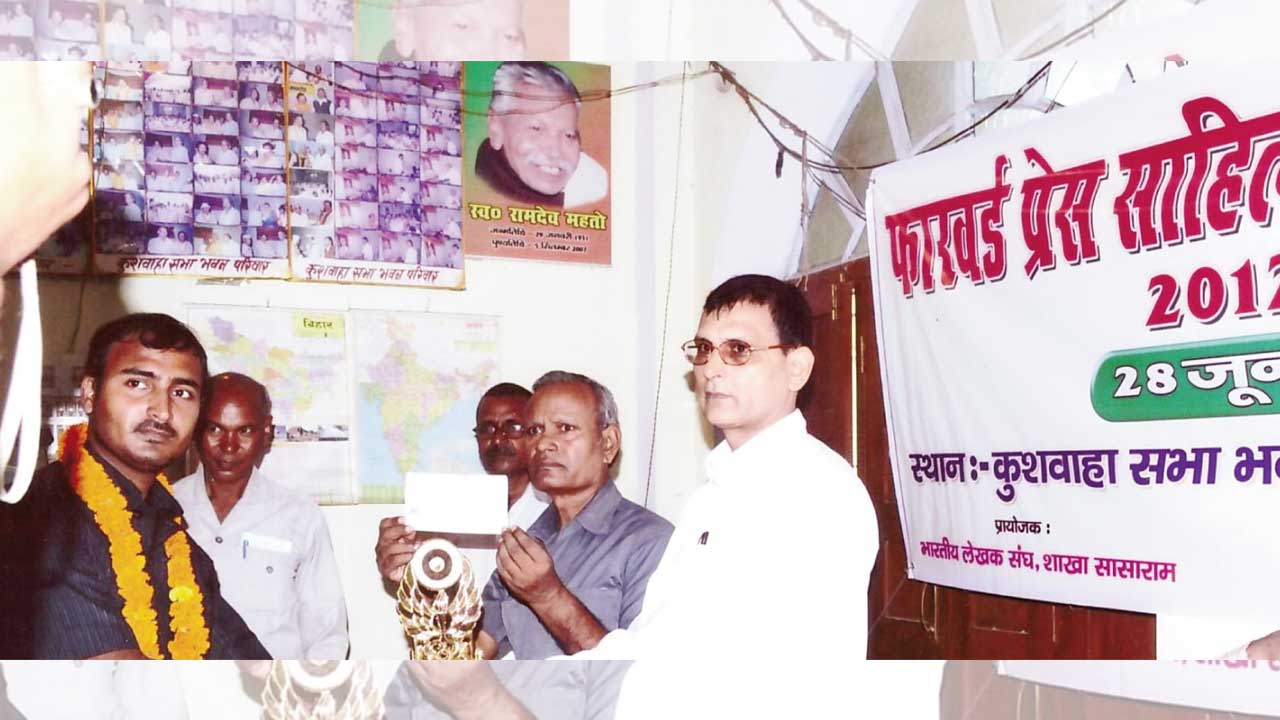 On this occasion, a seminar on the Relevance of OBC Literature was also organized. The broad conclusion of the seminar was that Bahujan literature, basically, was a confluence of Dalit, Tribal, OBC and minority literature and formed the soul of Indian literature. The keynote speaker Lallan Prasad Singh said that this literature reflects the struggles and commitment of the Indian people, striving for equality. The Dalits and OBCs are fighting for justice. He said that FORWARD Press was committed to bringing the oppressed and suppressed sections of the society into the mainstream. Ram Ashish Singh said that literature was the harbinger of social change, the most powerful means for bringing about the development of the Dalit-Bahujans. Makradhwaj Vidrohi was of the opinion that only a person with a powerful pen can be the real leader of the country – a person whose writings protect the rights of the Bahujans; because today the Bahujans have been pushed to the margins, as far as development goes.
Rajendra Prasad Singh, who was in the Chair, said that the ideology of Bahujan literature underlined the value of labour of India's toiling masses, and it will continue to be relevant forever.
A sizeable number of intellectuals, journalists and litterateurs of the neighbouring districts were present at the function. They included Dr Allauddin Ansari, CD Singh, Rakesh Kumar Maurya, Dr Amal Singh 'Bhikshuk', Girja Uraon, Dr Shashikala and Shashibhushan. The programme was conducted by Prof. Singhasan Singh while Ashok Singh delivered the welcome address. Gyati Kumari proposed a vote of thanks.
Published in the August 2013 issue of the Forward Press magazine