Many programmes were organized in different parts of the country on 6 December 2014, the 58th death anniversary of Babasaheb Ambedkar. In Ludhiana (Punjab), a function was organized under the auspices of Bharatiya Valmiki Dharma Samaj (BVDS) at Guru Nanak Bhawan. Sukhbir Singh Badal, deputy chief minister of Punjab, was the chief guest. Dr Dev Singh Advaiti Maharaj, national chief of BVDS, garlanded a statue of Ambedkar. Speaking on the occasion, Badal said that "Valmiki Tirth" would be built in Amritsar at a cost of Rs250 crore and that in Ludhiana, the construction of Ambedkar Bhawan had already begun.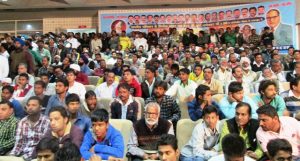 In Bhagalpur (Bihar), Bihar Pradesh Dalit-Mahadalit Yuvak Sangh celebrated the day as Sankalp Diwas. At dawn, the Ambedkar's statue at Ambedkar Chowk, near the railway station, was garlanded. Later in the day, a seminar was organized at the Ambedkar and Social Work Department of the Tilkamanjhi Bhagalpur University. The seminar was inaugurated by A.K. Rai, pro-vice-chancellor of the university while Dalit thinker Dr Vilakshan Ravidas chaired it. In Delhi, a function was organized at Mansarovar Hostel, University of Delhi, by the Mansarovar Hostel Students' Union. Many intellectuals, Ambedkarite thinkers and research students were present. In Basti (Uttar Pradesh) hundreds of people participated in a candle march organized on the eve of Parinivan Diwas. They shouted "Buddham Sharnam Gacchami" and "Jai Bheem". The march was led by Ram Prasad Arya of BAMCEF. At Narnaul (Haryana), the day was celebrated by Haryana Anusuchit Jati Janjati Karamchari Kalyan Sangh with gusto. Retired Tehsildar Lalaram Nahar was the chief guest while B.S. Soonthwal chaired the function.
In Lucknow, Governor Ram Naik and Chief Minister Akhilesh Yadav offered flowers on the urn containing the ashes of Babasaheb. Addressing the function held on the Ambedkar Mahasabha premises at Vidhan Sabha Marg, Naik said that Ambedkar had carried out the daunting task of drafting of the Constitution, adding that he had the good fortune of seeing Dr. Ambedkar as a child. Chief Minister Akhilesh Yadav said Ambedkar was a messiah of the Dalits and Backwards. On this occasion, the governor felicitated Sukesh Rajan, Dalit entrepreneur and vice-chairman of DICCI. The Dr Bhimrao Ambedkar Ratna award was conferred on Dalit student Sakshi Vidhyarthi. Among those who were present on the occasion were Dr Lalji Nirmal, president of the Mahasabha, minister Rajendra Chaudhary, former DGP Shriram Arun, former IGP S.R. Darapuri, president of Kinnar Sangh Sonam Singh Yadav, theatre personality Shyam Kumar and Virendra Kumar, president of Akhil Bharatiya Picchda Varg Karmachari Mahasangh.
-Rajesh Manchal, Om Sudha, Jagdish Saurabh, Kumar Sen, Sanjay Mann, Ankit Pal
Published in the January 2015 issue of the Forward Press magazine
---
Forward Press also publishes books on Bahujan issues. Forward Press Books sheds light on the widespread problems as well as the finer aspects of the Bahujan (Dalit, OBC, Adivasi, Nomadic, Pasmanda) community's literature, culture, society and culture. Contact us for a list of FP Books' titles and to order. Mobile: +919968527911, Email: info@forwardmagazine.in)