From Sarapaka to Bangalore to Delhi and then Hyderabad, Nagaraju Koppula's story was a fascinating one, of an individual's grit and determination against all the odds, till it was cruelly cut short by the casteism that plagues Indian society.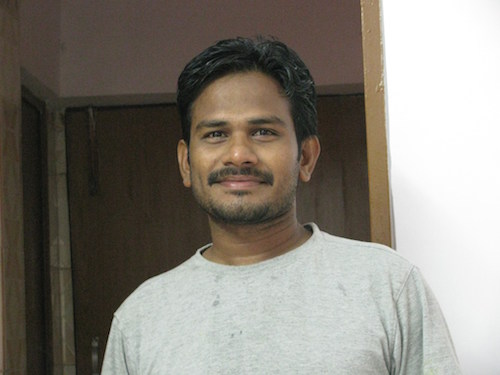 From selling ice outside temples to infiltrating the citadel of brahmanical dominance – print journalism in English – Nagaraju was a brave warrior who suffered much more because of the casteist discrimination in society than the lung cancer that finally took his life. After completing his masters from Hyderabad Central University, Nagaraju won a scholarship to do a postgraduate diploma in journalism from the esteemed Indian Institute of Journalism and New Media in Bangalore. He had a cheerful disposition and was always ready to help people, which won him many friends across caste and class lines in this institution. If there were unpleasant experiences, Nagaraju wasn't the one to go around talking about them. His way of dealing with such things was to "forgive and forget". After completing the course, Nagaraju interned with The Hindu newspaper in Chennai. His job offer from the organization hinged on his clearing a written test in the English language, which begs the question: what is more important for credible journalism – the knowledge of English or good reporting skills? Nagaraju had, as they say, a nose for news, which was put to excellent use in another English-language newspaper in Hyderabad that he joined. But more on that later.
After The Hindu experience, he came to the capital, armed with a scholarship for the Tehelka School of Journalism. His teacher and short-term employer, eminent journalist Paranjoy Guha Thakurta, remembers him distinctly for his sheer dedication and hard work. "He was different from all the other, elitist boys in class who did not know what they wanted to do with their lives. But Nagaraju knew," said Paranjoy at the condolence meeting of Nagaraju organised by the Delhi Union of Journalists in Delhi. Nagaraju was determined to become an English-language journalist and burnt the midnight oil to improve his language skills.
Nagaraju thought his troubles had ended when he landed a job with the English daily in Hyderabad at the end of his Delhi stint. He could not have been farther from the truth. He latched on to the measly salary that was offered to him despite knowing that, compared to his peers, he was being underpaid. But little did he know that this profession of bloodhounds sucks the most from those who have the least. While everybody is paid less, the marginalized are by default paid the least. A Savarna may get a high salary or a low salary but an Avarna will necessarily get a lower salary.
Media organizations are rapidly embracing the contract system, steering towards profit margins rather than quality of editorial content, and this hurts both Savarnas and Avarnas. But the "twice born" are able to escape the worst fates through caste privileges that they have managed to build over years of hegemony. The Savarna journalists have built networks of their caste groups in cities on which the newbies rely, much like the Gujaratis in London or Punjabis in Canada. Nagaraju was the first Madiga Dalit in English print media. There was no network he could piggyback on. The forty-odd Dalit journalists in the English-language media will tell you that they are given the least exciting beats to cover, become the only people in the bureau who cover minority issues, and are then branded as Dalit correspondents. They will also tell you that they have no choice but to look for alternatives sooner or later. The system ensures that they give up. Or else it kills them, as it killed Nagaraju.
Even as Nagaraju was churning out stories by the dozen, several of which made it to the front pages of the newspaper, the daily commute of close to 50 kilometres to and from Hyderabad Central University (where he was staying, as he could not afford accommodation in the city with his measly salary, most of which he sent home or used to repay the bike loan he took) and erratic meals considerably weakened his lungs and he fell ill.
The Government Chest & TB Hospital Hyderabad misdiagnosed him with tuberculosis. When no support from his employer was forthcoming, he went on leave without pay for five months to Sarapaka to get medication for TB under Aarogyasri, the government scheme for those below poverty line (BPL). It would be shameful for any organization if one of its employees is forced to declare themselves BPL, and Nagaraju's employer should have stepped in to assist him in his treatment at least on humanitarian grounds. Instead, the newspaper he toiled for day and night considered him as good as dead from the day he was found to have stage-4 lung cancer. The news organization, which espouses human rights in its stories and presents a very progressive face publicly, dropped his name from its rolls without even informing him.
Nagaraju had helped many people before his health began deteriorating, so when he needed money, they reciprocated. While his employer could not be bothered to help him, his entire circle of friends chipped in to pay for his treatment. Even those who did not know him directly came forward to help, which restored our faith in the goodness of people. Alas, it was not enough to save Nagaraju. On April 12, he breathed his last, and was buried on the banks of the Godavari. He is survived by an old mother, who now stares at an uncertain future without the sole earning member of her family, which consists of, among others, his four siblings, four nieces and two nephews who looked up to him.
Until the very end, Nagaraju never lost hope. He fought the disease that was ravaging his body just as he had fought the societal vices that Manu left behind. Now, Nagaraju has left it to us to fight the battle for justice in the newsrooms and rid them of their cancer – both the subtle and blatant forms of casteist discrimination.
Published in the June 2015 issue of the FORWARD Press magazine