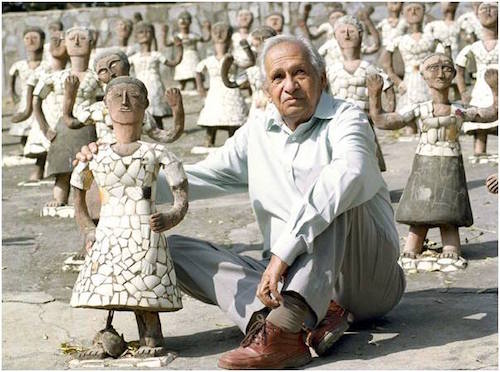 It's the year 1958. A new city is being built. A lowly roads inspector with the Public Works Department has been asked to oversee a storehouse and junkyard near the Capitol Complex, which is made up of the secretariat, assembly building and the high court. The parts of the houses in the old settlements that the new city replaced are being kept here. Most of the time, though, he can be seen in a thatched hut in the yard, rummaging through broken pieces of rocks, tiles, glass, porcelain, washbasins and commodes. Then sometime around 1965, he starts slipping away at nights. Ten years later, a government official discovers what he has been up to. In a wooded area that was originally meant to be the city's green belt, he is building his own city, dotted with lifelike sculptures – of people, animals, birds, imaginary animals, hundreds of them. He has put to use everything he has collected over the years, as well as the rocks from the nearby streams that he transported on his bicycle.
The city in question is Chandigarh, India's first planned city. The famed Swiss-French architect Le Corbusier's master plan for the city hadn't included Nek Chand Saini's Rock Garden. It was illegal. But the locals who had flocked to the garden to get a glimpse of an incredible idea taking shape wouldn't have blind law play villain. The Chandigarh Landscape Advisory Committee gave into public demand and welcomed Rock Garden as one of the city's sights in 1976.
Nek Chand Saini was born in the Shakargarh region of present-day Pakistan on December 15, 1924, into a backward caste whose members traditionally grew vegetables for a living. Following Partition, he moved to a small town in Punjab, on the Indian side of the border and, in 1951, was appointed a roads inspector by the state government. Soon, he was transferred to Chandigarh.
Once the government accepted this unexpected addition to Chandigarh's map, it went further. It relieved Saini from other duties and allowed him to focus on expanding the Rock Garden. The garden was developed in three stages. In the first stage, the work Saini started undercover was completed. The second stage, which was completed around 1983, added a waterfall, several plazas, a small theatre, garden, paths, courtyards and nearly 5,000 pottery-encrusted concrete figures. The third stage put larger structures in place, including a series of arches, with swings hanging from them, pavilions for soft rag sculpture displays, an aquarium and an open-air theatre. Saini also built a smaller, 1.5-acre Rock Garden in Kerala's Palakkad district between 1993 and 1995.
The Rock Garden is an example of Outsider Art. According to Raw Vision, an international journal on outsider art, the creators of this art are "untrained, unschooled and uninfluenced by the art world … They invent their own forms, techniques and create private worlds." Saini would refer to the Rock Garden as his "kingdom". On Saini's passing away, Raw Vision's brief post read: "He had been the foremost self-taught artist in the world and his extraordinary achievement in building the 25-acre Rock Garden, complete with 2000 statues, waterfalls and amphitheatres, is unsurpassed. We will not see his like again …"
In 1983, the Indian postal service issued a stamp with an impression of his Rock Garden sculptures. A year later, he was awarded the Padma Shri. His sculptures were put on display in Europe and the United States, and he was honoured with the French Grande Medaille de Vermeil. However, while these suggested recognition at the national level and globally, the fate of his creation, the reason for his fame, remained uncertain. The local bar association filed against a case against the Rock Garden that dragged on till 1989. While on a foreign tour in 1996, Saini would hear the news that vandals had damaged hundred of his sculptures in the garden.
But when he died shortly passed midnight on 12 June, the Rock Garden was in the safe hands of the Rock Garden Society and received around 5,000 visitors every day. Government offices in Chandigarh remained closed for a day after the news of his death came in, dignitaries paid their last respects, and Saini was cremated with full state honours. A prearranged exhibition of more than fifty of his sculptures began one day after his death at the Pallant House Gallery in Chichester, England, and is on till 25 October.
Published in the July 2015 issue of the FORWARD Press magazine