Tilka Manjhi was India's first freedom fighter. Born in 1750, Manjhi, who fought for throwing off the British yoke almost a century before the 1857 revolt, was never given his due place in history.
He led the famous revolt of the Tribals against the British from 1771 to 1784 and in 1778 wrested the Ramgarh Camp from them by forging a joint front with Pahadia Sardars. In 1784, Tilka Manjhi killed Augustus Clevland, the magistrate of Rajmahal. A major offensive against Manjhi's guerrilla army followed, under the leadership of Ayarkut. It is said that after Manjhi was captured, he was tied to four horses and dragged up to Bhagalpur. Even after being dragged for miles, the tenacious fighter was still alive. His body may have been soaked in blood but his mind was aflame. His blood-red eyes instilled fear in the hearts of the British. On 13 January 1785 he was hanged from a huge banyan tree at a road junction in Bhagalpur.
How this great Tribal hero has been ignored by history is evident from the fact not a single portrait of his is available for the nation to gratefully preserve.
To fill this void, on the occasion of his birth anniversary – 11 February – well-known painter Dr Lal Ratnakar has prepared three paintings specially for FORWARD Press, depicting scenes from the life of Manjhi. The FORWARD Press family is indebted to him.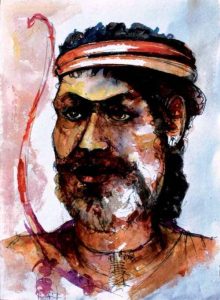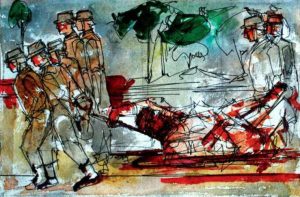 Published in the February 2016 issue of the Forward Press magazine